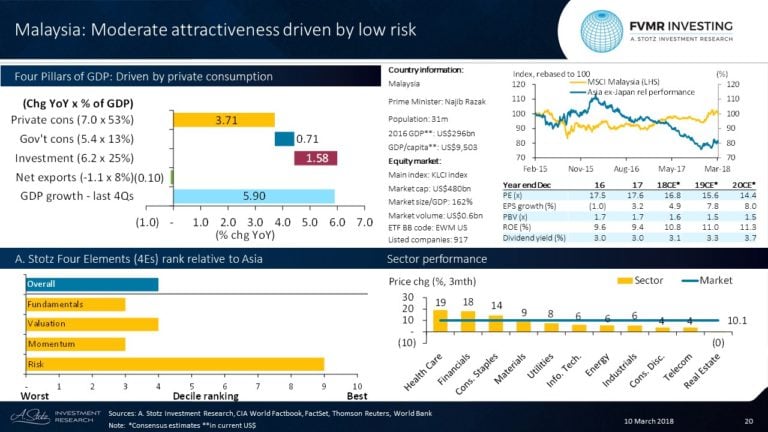 Four Pillars of GDP: Driven by private consumption
Malaysia has relatively fast GDP growth, driven mainly by private consumption and private investments. Net export was a slight drag on GDP growth in the past four quarters.
Exclusive: Dan Loeb's Two New Stock Picks [Q1 Letter]
Third Point's Dan Loeb discusses their new positions in a letter to investor reviewed by ValueWalk. Stay tuned for more coverage. Loeb notes some new purchases as follows: Third Point's investment in Grab is an excellent example of our ability to "lifecycle invest" by being a thought and financial partner from growth capital stages to Read More
Malaysia is not cheap and fundamentals don't impress
Malaysia is not cheap on PE or PB. Fundamentals aren't impressive, slightly below Asia ex Japan, but decent dividend yield.
A. Stotz Four Elements: Malaysia's rank relative to Asia
Overall, Malaysia appears moderately attractive in Asia considering all our four elements: Fundamentals, Valuation, Momentum, and Risk.
Fundamentals: Unimpressive, relatively low ROE.
Valuation: Trades above Asia ex Japan on both PE and PB. Decent dividend yield.
Momentum: Moderate price momentum, slow earnings growth.
Risk: Second lowest volatility in Asia.
Health Care and the largest sector Financials were in top
Top 3 largest sectors: Financials: 23% of the market; Consumer Staples: 14%; Industrials: 12%.
Best sector & stock: Health Care: +19.1% & Top Glove Corporation Bhd: +51.8%.
Worst sector & stock: Real Estate: -0.3% & S P Setia Bhd: -3.0%.
*CE is consensus estimates.
Article by Become A Better Investor