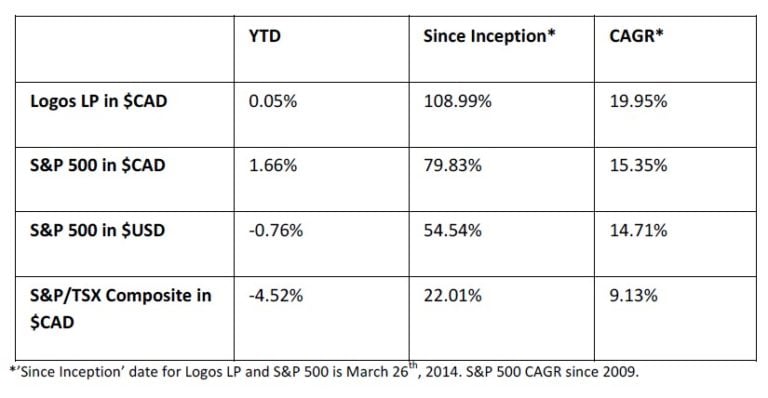 Logos LP commentary for the first quarter ended March 31, 2018.
Q1 hedge fund letters, conference, scoops etc
"Without frugality none can be rich, and with it very few would be poor." – Samuel Johnson
Sohn Investment Conference 2021 Coverage: Octahedron Capital, Glenernie Capital
The following is our rough coverage of the 2021 Sohn Investment Conference, which is being held virtually and features Brad Gerstner, Bill Gurley, Octahedron's Ram Parameswaran, Glenernie's Andrew Nunneley, and Lux's Josh Wolfe. Q1 2021 hedge fund letters, conferences and more Keep checking back as we will be updating this post as the conference goes Read More
The following table represents Logos LP's total return compared a basket of relevant indexes. The price per unit as of March 31st, 2018 is $25.71 compared to $25.59 as of December 30th, 2017:
At 19.95% compounded annually, the fund has achieved a cumulative return that is over 30% above the cumulative return of the S&P 500 ($CAD). There are 22 names in the portfolio with our top 10 comprising 71% of the fund's net asset value. We believe these businesses have very strong long-term earnings growth potential, contain high and consistent returns on capital, and
have management with superior capital allocation capabilities.
Within the first 3 months of the year, we exited certain positions such as Jack Henry and Teledyne which we found exceeded our estimate of fair value. We also trimmed certain positions such as Copart, AAON and Huntington Ingalls Industries. We believe this activity allowed us to seize on a few opportunities to purchase wonderful businesses with capable management at fair prices and thus position the portfolio for outperformance over the next decade. New businesses that we purchased in the fund include McKesson, Booking Holdings, Checkpoint Software and BofI Holdings.
McKesson is one of the largest distributors of pharmaceuticals, pharmacy services and medical equipment globally that operates in a virtual oligopoly (competes with AmerisourceBergen and Cardinal Health). The company is a Fortune 100 corporate titan with over $200 billion in revenues and distributes over 1/3 of all drugs consumed in North America. Despite headwinds from the opioid crisis, fears over declining generic pricing and perceived threats from Amazon, the company has an unparalleled moat with consistently high returns on invested capital in a growing market (industry is expected to grow at 7-10% annually from FY2017-FY2022) and has grown revenue by over 49% since 2014. The company has strong expected earnings growth (11% for FY18) and strong expected revenue growth (7% for FY18), yet the company is currently trading at an EV/EBIT multiple of 5.71 with an earnings yield over 17.50. By investing in McKesson, we believe we were able to purchase a stake in a growing enterprise with a wide economic moat at an attractive price, thus shifting the risk/reward profile in our favor.
Although near-term volatility has made it difficult to generate outsized returns in the short-term, we do believe that this short-term irrationality will present unique investment opportunities for long-term outperformance. We have a larger than usual cash position and continue to evaluate several stocks entering deep value territory in sectors that are currently being disrupted, such as retail (Bed Bath and Beyond), healthcare (Biogen) and financial services (Industrial Alliance). However, we also continue to evaluate very high-quality companies that are trading at reasonable multiples within a variety of sectors, particularly in financial technology (Broadridge Financial) and defense (General Dynamics). Although we remain fully invested to maximize the effects of compounding, we continue to monitor our entire portfolio, particularly our smaller peripheral positions. Our plan is to continue to search for companies that have little debt, strong (and growing) ROIC trading at EV/EBIT multiples that we deem reasonable given expected earnings growth. Although we are tempering expectations for below-average expected returns in 2018, we believe we have positioned the portfolio for above average long-term returns. We are well prepared to make the most of the opportunities we are given. Prepared to do more with less.
We are grateful for your continued support and will continue to dedicate our time and effort on your behalf. In the meantime, if there are any questions please feel free to reach out to us and we would be more than happy to answer.