What the activism world is talking about
Proxy advisory firm Institutional Shareholder Services (ISS) recommended investors of Equifax vote against the re-election of five incumbent directors who sat on the board's audit and technology committees prior to the credit information provider's 2017 data breach. News of ISS' report came three days after union pension fund Change to Win Investment Group (CtW) launched a campaign against three of the five directors, contending they are the most responsible for the company's breach since they failed to act on multiple warning signs and known risks, conducted poor risk management, and provided weak supervision of Equifax's compliance obligations.
How Warren Buffett Went From Hating To Loving Banks
Since the financial crisis, Warren Buffett's Berkshire Hathaway has had significant exposure to financial stocks in its portfolio. Q1 2021 hedge fund letters, conferences and more At the end of March this year, Bank of America accounted for nearly 15% of the conglomerate's vast equity portfolio. Until very recently, Wells Fargo was also a prominent Read More
Shares in Equifax have plummeted nearly 19% since the company's data breach in September. The credit information provider is currently under investigation by the Securities and Exchange Commission, Department of Justice, Federal Trade Commission, and congressional committees in both the House and Senate. In addition, Equifax is facing hundreds of lawsuits, four shareholder derivative suits, and civil investigative demands by 49 Attorneys General. The company already suffers from poor director support compared to the S&P 500, according to Activist Insight Vulnerability.
What we'll be watching for this week
Will a shareholder group succeed in replacing the board of Australia's DataDot Technology at the company's general meeting Tuesday?
Will investors in Parmalat support Amber Capital's nominee at the company's annual meeting Thursday?
Will dissident investors Uniseraya Holdings and Ng Bie Tjin successfully overhaul the board of Singapore-based Datapulse Technology and change the company's strategy at its extraordinary meeting Friday?
Activist shorts update
China Internet Nationwide Financial Services (CIFS) alleged that two individuals posing as journalists had been spying on the company as part of a "conspiracy" by U.S.-based short sellers to manipulate its stock price. "The company hereby declares that it strongly condemns this use of conspiracy means, stealing information, out of context, and making false accusations, and will continue to take legal sections to protect the interests of the company and all shareholders," CIFS wrote in its Friday announcement, which was only available in Chinese.
Muddy Waters Research issued a short report on the lending advisory business in December 2017, accusing it of being "just another worthless China fraud." On Monday, the short seller Tweeted that the company's latest announcement could be a chapter in a book entitled, "Things Real Companies Never Say." Muddy Waters quoted the excerpt, "Don't trust the media, don't accept their interview requests, and don't create opportunities for those malicious investment institutions to short our company's stock." Shares in CIFS have traded down nearly 59% since Muddy Waters first targeted the company.
To arrange an online demonstration of Activist Insight Shorts, email us or view our product brochure to find out more.
Chart of the week
The proportion of Canada-based companies publicly subjected to activist demands with a market cap of over $10bn as of April 13.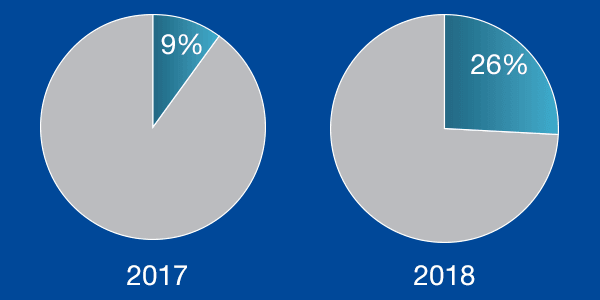 For bespoke data requirements, contact our team at [email protected] or subscribers of Activist Insight Online can visit our interactive statistics page.
Article by Activist Insight