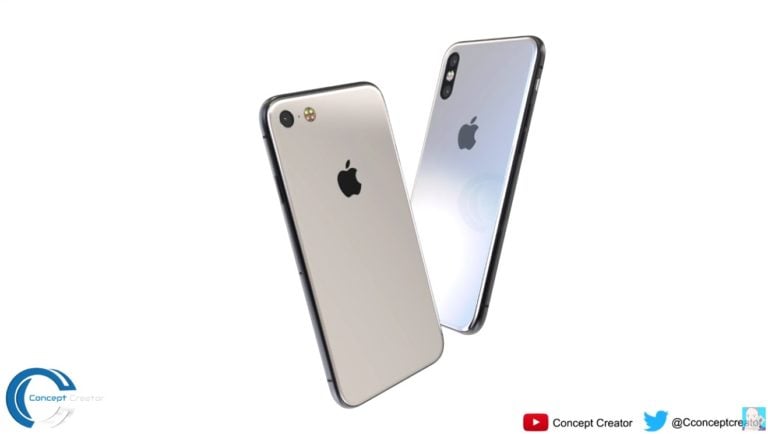 Apple's 2018 flagship iPhones are still a few months away. KGI Securities analyst Ming-Chi Kuo claims the tech giant would launch three new iPhones this year. We don't know whether they would be called iPhone 11, iPhone XI, iPhone Xs, iPhone 9 or something else. Let's call the 2018 flagship iPhone 11 for the sake of convenience. A new report coming out of Taiwan claims the iPhone 11 will be insanely fast and energy-efficient, thanks to its A12 chip.
Sources familiar with the matter told DigiTimes that Taiwan Semiconductor Manufacturing Company (TSMC) has received the full contract to manufacture the A12 chip for the iPhone 11 and iPhone 9 series smartphones. DigiTimes noted that TSMC would post record profits in 2018 due to high profit margins on the A12 chips. The Taiwanese company has ramped up volume production on its 7nm manufacturing lines to meet Apple's demands.
A12 will be the first processor to be based on 7nm process. It will likely be followed by the Snapdragon 855 that would power the 2019 flagship Android phones such as Galaxy S10. The A11 Bionic chip inside the iPhone X and iPhone 8 is based on the 10nm process. The 7nm process would lead to better performance, enhanced energy efficiency, and less heat production. TSMC claims the 7nm A12 chip would offer 20% speed improvement, about 40% power reduction, and 1.6X logic density compared to the 10nm chips. It will also reduce the cost of production on a per-chip basis, reports Apple Insider.
Benjamin Graham GEICO Buy Was Just A Simple Value Play
Was Ben Graham's big purchase of GEICO shares actually a value investment? Perhaps it was contrary to what many believe. "In 1948, we made our GEICO investment and from then on, we seemed to be very brilliant people." -- Benjamin Graham, 1976 Both Benjamin Graham and Warren Buffett can attribute a large part of their Read More
Samsung was also in the race for A12 chip production, but TSMC's technological edge in the 7nm process helped it win all the available orders. The new processor will give iPhone 11 a distinct advantage over its Android rivals such as OnePlus 6, Galaxy Note 9, and Google Pixel 3, all of which are expected to have the 10nm Snapdragon 845 SoC. The Galaxy Note 9 could come close to the iPhone 11 in terms of performance if Samsung manages to ship it with an 8nm Exynos processor.
The A12 chip will likely power all three flagship iPhones releasing in September. Last year's A11 Bionic chip was used in the iPhone X, iPhone 8, as well as the iPhone 8 Plus. The A11 helped iPhone X shatter all performance records, but this year's Galaxy S9 running Snapdragon 845 proved faster in real life tests. It could be because the iOS 11 is a messy software which slowed the iPhones down. Apple will reportedly focus on stability and performance with this year's iOS 12.
DigiTimes reports that TSMC is also working to future-proof its production lines. The company is planning to start construction on 5nm production lines later this year. Construction on the 3nm facility is expected to begin in 2020. Just a few days ago, TSMC had lowered its revenue guidance for the current year from 10-15% to just 10%. The company blamed weaker than expected smartphone demand and uncertainty in the cryptocurrency mining market.
TSMC's statement sparked speculations that the iPhone X sales were declining rapidly. Mirbaud Securities analyst Neil Campling told investors that TSMC's record high inventory levels suggest Apple isn't buying parts for the future iPhone X models. Campling believes Apple would discontinue the iPhone X following the iPhone 11 launch instead of keeping the device around at a lower price point. Mirbaud Securities has been tracking TSMC's inventory for about a decade.
Sources told DigiTimes that 7nm chips will account for only 20% of TSMC's revenue this year. It could help the company post stronger revenues and profits in the second half of this year.
According to Ming-Chi Kuo, Apple will release a 5.8-inch iPhone 11 (tentative name) with an OLED display, a 6.5-inch iPhone X Plus, and a 6.1-inch LCD iPhone. The iPhone 11 will reportedly be priced at $899 compared to the iPhone X's $999. The 6.5-inch iPhone X Plus would start at $999, while the LCD iPhone would have a starting price of $550. All three models would feature a bezel-less display and Face ID, but the LCD variant will come only with a single camera on the back.
Kuo told investors recently that there would be a single-SIM as well as a dual-SIM variant of the LCD iPhone. The single-SIM version is expected to cost between $550 and $650 while the dual-SIM model would be priced between $650 and $750. The dual-SIM variant is unlikely to be sold in the US due to resistance from wireless carriers. Dual-SIM smartphones are particularly popular in emerging markets such as China and India.
According to the Economic Daily News, Samsung will begin producing OLED panels for the iPhone 11 and iPhone X Plus in May. Samsung is expected to remain the sole supplier of OLED screens for iPhones this year. Apple had joined hands with LG Display to reduce its reliance on Samsung. But a recent report from the Wall Street Journal says LG Display is facing manufacturing issues with OLED panels for Apple. LG might not be able to meet Apple's demand.