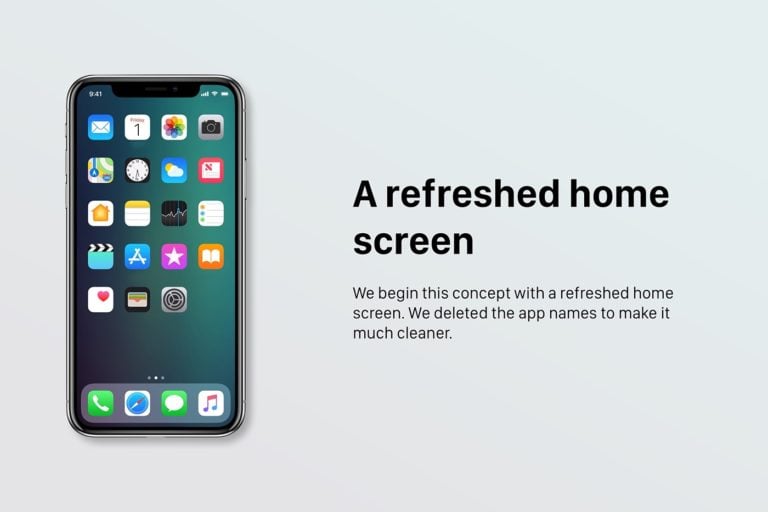 Apple will officially unveil the iOS 12 software at the Worldwide Developers Conference (WWDC) on June 4th. The tech giant would also announce the macOS 10.14, tvOS 12, and watchOS 5 at the same conference. All these operating systems have been under active development for quite a while. Now folks at 9To5Mac report that the iOS 12 and macOS 10.14 distribution is growing rapidly among internal Apple employees.
It is a common practice for Apple employees to test out internal builds of software on their devices. As they browse the web using iPhones, iPads, and Macs running pre-release operating systems, some tech-focused websites begin to see a sudden uptick in visits from devices running pre-release firmware. 9To5Mac reports that they have seen huge spikes in "Safari browser visits from iOS 12 and macOS 10.14 machines." Since tvOS and watchOS lack web browsers, they do not appear in website analytics.
9To5Mac says their website analytics show iOS 12 usage primary from the iPhone X's screen resolution and the iPad screen resolutions. The website visits via iOS 12 devices mostly come from Shanghai, San Francisco, Cupertino, and the Bay Area. The publication also received hits from devices running the iOS 11.4.1, but most of the hits were from iOS 12 and macOS 10.14. Apple is expected to finalize the first beta of iOS 12 in mid-May.
Retail Investing Trends With TradeZero America's Dan Pipitone
ValueWalk's Raul Panganiban interviews Dan Pipitone, co-founder of TradeZero America, and discusses his recent study on retail investing trends. Q1 2021 hedge fund letters, conferences and more The following is a computer generated transcript and may contain some errors. Interview with TradeZero America's Dan Pipitone ValueWalk's ValueTalks ·
Separately, MacGeneration has spotted discussions in the WebKit mailing list that contain references to iOS 12. One of the contributors added testing logs for a WebKit build running on an iPhone 5S simulator. It means the upcoming software could support devices as old as iPhone 5S that was released in 2013. If it happens, the iPhone 5S would get one more year of support compared to iPhone 5, which didn't get the iOS 11 support.
If Apple supports iPhone 5S with iOS 12, it would be interesting to see what would happen to the iPad Mini 2 and iPad Air – both of which were released in the same year (2013) as the iPhone 5S. The 4-inch iPhone SE should get support for at least another couple of years considering it was released in 2016.
However, it's entirely possible that Apple would enable iPhone 5S support only for development and testing purposes, and then drop it from the list of iOS 12 supported devices when the software is rolled out to the public. Apple tends to maintain secrecy around the development of its software and hardware. But the open source nature of WebKit makes it difficult for the company to keep the software development plans out of public view.
Apple has no plans to completely merge the iOS and macOS to offer a uniform user experience. But the company will reportedly introduce a cross-platform framework that would allow developers to create a single app that works on both iOS and macOS. It will help Apple bridge the gap between its mobile and desktop platforms. The tech giant already offers Continuity features that offer a seamless experience across the iPhone, iPad, and Mac.
The upcoming mobile software would focus on performance and stability rather than offering tons of new features. The iOS 11 has a lot of bugs, which Apple has been trying to fix. Recent reports suggest that the company will delay many new features to 2019 in order to focus on performance and reliability with iOS 12. The software would be released to the public in September, though adventurous people can try the public beta versions from June or July.
The iOS 12 is still expected to get some cool new features. Apple fans expect the company to offer a system-wide Dark Mode with the new software. The Dark Mode would be able to take advantage of the iPhone X's OLED display to significantly improve the battery life, besides making the screen easy on the eyes. Apple is planning to release two OLED iPhones this year. So, the Dark Mode makes a lot of sense.
Users also expect Apple to offer an Always-on display that allows you to see time, notifications, and other details without touching or unlocking the phone. It consumes only minimal battery life on OLED smartphones.
Apple will likely introduce better parental controls with the next iteration of iOS. Investors have urged the tech giant to look into the smartphone addiction among young kids. The company could offer a Digital Health tool to let parents see how much time their kids spend looking at the iPhone screens.
Other expected features coming with iOS 12 include an improved Siri with advanced AI and machine learning capabilities, a redesigned Stock app, an improved Do Not Disturb feature, hundreds of new emojis, and some new wallpapers.