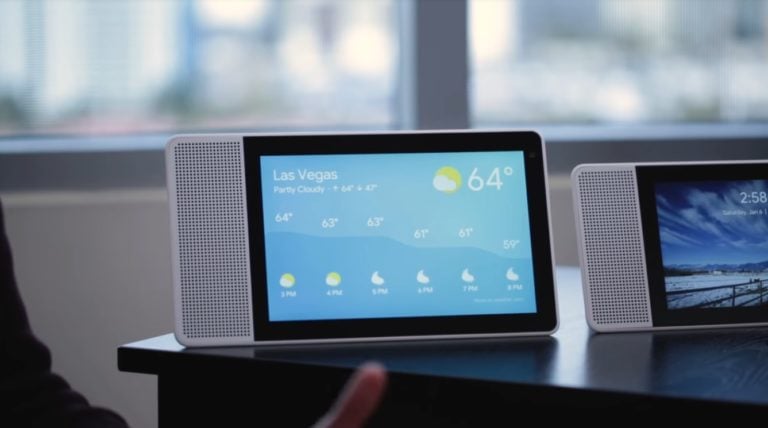 While Amazon, Sony, and Lenovo are the main names in the game when it comes to smart displays, it appears as if a Google Smart Display might be an option the company is looking into – potentially adding another major company to the mix.
Smart displays are essentially a smart speaker with a screen, and is a relatively new niche for the world of these virtual assistant-enabled devices. By adding more contextual information as a visual "hub" of sorts, the smart display can react to the needs of the user and contribute a good amount of utility to a smart speaker industry that is already revolutionizing the way we interact with technology.
Google is already set to provide Google Assistant to both Sony and Lenovo's smart display technologies, so it's clear that the company is interested in the field and in the potential for future growth, but we haven't seen any concrete plans regarding a Google Smart Display so far. According to the company's Vice President, Rishi Chandra, "it's an emerging category…I'm not saying we are not going to do it," suggesting that there are no current plans but that the company recognizes the potential and may dip their feet into the industry in the future.
Corsair highlights SPAC FG New America ahead of OppFi merger
Corsair Capital highlighted its investment in a special purpose acquisition company in its first-quarter letter to investors. The Corsair team highlighted FG New America Acquisition Corp, emphasizing that the SPAC presents an exciting opportunity after its agreement to merge with OppFi, a leading fintech platform powered by artificial intelligence. Q1 2021 hedge fund letters, conferences Read More
While we may not see a Google Smart Display release this year, if the company were to update their Google Home to provide a competing device to the Amazon Echo version, they may be able to capture the attention of a market that has largely been dominated by Amazon. While the Google Home offers a comparable experience, Amazon is the most recognizable smart speaker – and with multiple products in their lineup at varying price points and abilities, it's clear that they have a lot to offer the market. If Google does manage to release a Google Smart Display, it's possible that we'll see the company become more of a major force in the smart speaker arena.
The fact the Google is testing the waters by implementing their software into the products of other manufacturers such as Sony and Lenovo means that they'll have a base to build off of when it comes to entering the market themselves. A Google Smart Display released so soon after they've licensed their Google Assistant technology to potential competitors would be in poor taste at best, so it's likely we're at least a little while away from the company giving their own take on the technology.
This is par for the course for Google, who also didn't provide an Android phone for quite some time despite developing the Android operating system. It's a good way to get in the good graces of companies that could eventually be competitors, and it's likely that a Google Smart Display would sell much faster than a product from Lenovo once they start manufacturing their own hardware products. The Chrome OS is another example – first releasing on Samsung and Acer before Google came out with their own version. It's likely that the company will follow this same philosophy with the release of the Google Smart Display – giving other companies time to get the industry more established before coming in with a version of their own. The strategy has generally paid off for the company but recently it seems as if they're falling behind a little bit when it comes to innovation in hardware. By being late to the party each time, it's possible that Google is doing themselves a disservice by failing to get in on the ground floor.
As for when we'll see a Google Smart Display,we expect it won't be any time this year. A 2019, or maybe even a 2020 release date would be more likely – especially considering that the Google Vice President seemed to suggest that they were looking into it but hadn't even really started development yet. All we can do at this point is wait and see whether the Google Smart Display comes to fruition or if it's just another option that the company will be "looking into" in perpetuity.