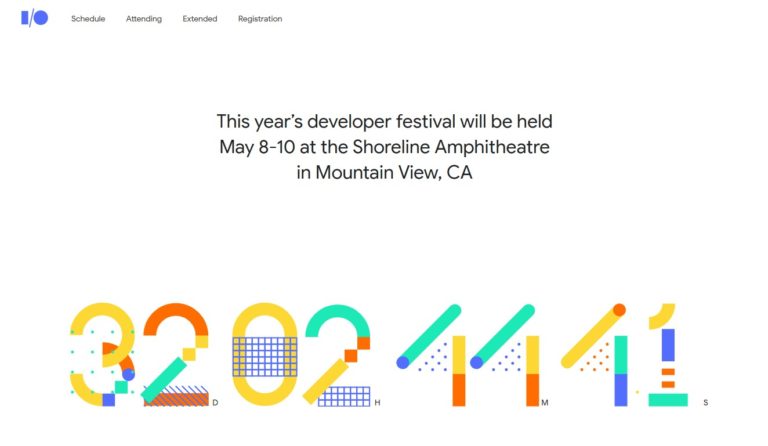 Although we're only around a third into the year of 2018, we've already seen some pretty monumental releases that give us hope that this may be a great year for tech. With the brand new camera features from the Samsung Galaxy S9 and S9 Plus, we saw one of the first major entries into the next generation of phone, and Huawei made a strong showing with the announcement of the powerful P20 Pro. However, despite some big events like the Mobile World Congress already being behind us, there are a number of important conferences yet to come – one of them being the Google I/O Event.
In roughly a month, we'll see the Google I/O Event – the company's annual gathering in order to provide information to developers. The public has taken an interest in these programs as well, due to the fact that we usually see some pretty significant announcements that are exciting for more than just the average developer. Coming hot on the tails of Apple's recent education event, many are wondering what sort of announcements we'll be seeing from this technology behemoth when it comes to software and hardware updates. The following is largely speculation, but considering Google's recent track record it's safe to say that we'll be seeing some announcements from at least a few of these product families.
Android P
Corsair highlights SPAC FG New America ahead of OppFi merger
Corsair Capital highlighted its investment in a special purpose acquisition company in its first-quarter letter to investors. The Corsair team highlighted FG New America Acquisition Corp, emphasizing that the SPAC presents an exciting opportunity after its agreement to merge with OppFi, a leading fintech platform powered by artificial intelligence. Q1 2021 hedge fund letters, conferences Read More
While Google is largely known for their search engine, their Android operating system has become the most prevalent OS worldwide – despite some stiff competition in the west from Apple. At every Google I/O Event we see something fresh and new regarding the Android operating system, and it's a near guarantee that we'll see a focus on Android P at this event.
Android Oreo is the most recent operating system update from the tech giant, and while only a small fraction of smartphone users are moved onto the latest update, Google will likely be charging full speed ahead with the announcement of Android P. As far as what exactly you can expect from Android P at the Google I/O event, we don't feel as it if will offer as flashy of an upgrade as we saw with previous jumps. From the information we've gleaned thus far, it seems as if Android P will focus on beefing up privacy concerns by blocking access to the camera and microphone of background apps unless you explicitly allow it – a welcome change in an environment where many are worried about the spying potential that carrying around a computer in our pockets lends itself to.
Other adjustments include an effort to support the "notch" technology that many Android handsets are emulating after the massive success of Apple's iPhone X, as well as support for "other design choices" such as foldable displays and new aspect ratios.
Google Assistant
Backing up any good Android phone is the Google Assistant, and Google has generally introduced some new features or updates to the popular utility at events like the Google I/O Event. Seeing an update to this feature would definitely make sense, and may include the start of the company's plan to roll out Google Assistant on a worldwide scale. While the utility originally functioned mainly in English, Google has plans to get their device into the hands of a wide variety of language speakers – with support for over 30 languages anticipated in the near future. At an event totally dedicated to Google developments, it would make sense to see the Assistant flaunted at the Google I/O Event.
Google Home
Speaking of the Google Assistant, we may see new features added for the Google Home – the company's wildly successful smart speaker that serves as a valid alternative to products like the Amazon Echo. A new feature called "Routines" may be in development, that may allow you to command your Google Home and Assistant to create a sequence of actions which you can trigger using a certain phrase. Kick up your morning routine with bright lights, your favorite radio station, and a temperature adjustment when you say "Hey Google, Good Morning." This ability to chain separate events into one is certainly a big development that would warrant an announcement at the Google I/O Event
Wear OS
Android Wear has been rebranded to Wear OS in an effort to make their product more appealing in a market that is currently dominated by Apple. If more manufacturers take up the reins and start developing Android smartwatches, we may soon see a market that is far less one-sided. We expect that we may see the first Wear OS update at the Google I/O Event – perhaps bringing in some of the functionality we saw with Android P such as privacy concerns and battery life improvements. This isn't confirmed, but considering that we saw major announcements for Android Wear and the line was just recently rebranded into Wear OS, it's likely that an announcement could be forthcoming.
In addition to these major announcements, it's also possible we could see minor updates to technology like their VR and AR efforts as well as an improved Chrome OS implementation. If there's one thing you shouldn't expect at the Google I/O Event, however, it's the announcement of the new Google Pixel phone. It's certainly a little too early for that, and considering that the company still has their hands full dealing with some issues with the Pixel 2, and impending Pixel 3 release would certainly be stressful rather than beneficial.