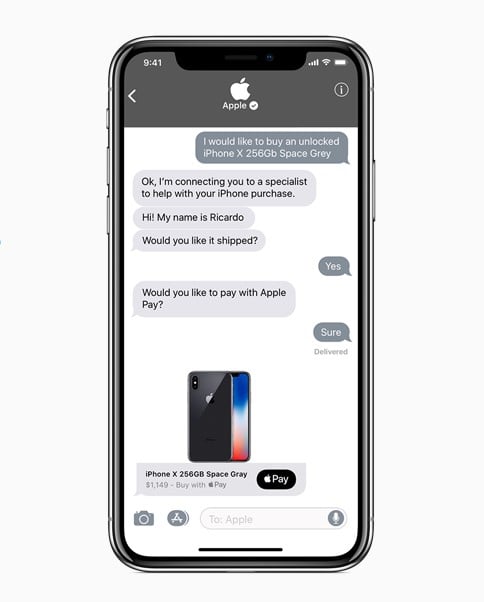 While the feature that most people are excited about with the release of iOS 11.3 is the ability to turn off throttling of older phones, there a number of other additions to the operating system with this latest build – one of them being the iMessage Business Chat feature.
iOS 11.3 brings about a lot of changes for Apple's beloved operating system, with the most notable change being the choice to turn off the artificial slow down of older phones in order to improve the performance of the device (albeit with a risk of more crashes and decreased stability overall). The iMessage Business Chat feature is another cool addition, however, and it gives you a new way to communicate with participating retailers. In order to take advantage of this feature, you'll need iOS 11.3 or macOS 10.13.4 installed. If you'd like to check out iMessage Business Chat, follow the steps below.
While iMessage Business Chat will eventually likely be adopted on a wider scale, at this point the selection of participating retailers is quite limited. However, there are a number of early adopters that you can chat with in order to test out the early stages of this exciting new feature. Companies like 1800Flowers, SalesForce, Nuance, Zendesk, Marriott, and even Apple themselves are all early adopters of this new technology. The first step is finding the business you'd like to communicate with and making sure that they support iMessage Business Chat.
Sohn Investment Conference 2021 Coverage: Octahedron Capital, Glenernie Capital
The following is our rough coverage of the 2021 Sohn Investment Conference, which is being held virtually and features Brad Gerstner, Bill Gurley, Octahedron's Ram Parameswaran, Glenernie's Andrew Nunneley, and Lux's Josh Wolfe. Q1 2021 hedge fund letters, conferences and more Keep checking back as we will be updating this post as the conference goes Read More
iMessage Business Chat is designed in a way that allows you to interact with your favorite companies in a variety of ways, and the exact way in which you'll receive the information and support you need will vary based on the company you're interacting with. While some businesses like 1800Flowers may prompt you to start an iMessage Business Chat from their website, others may encourage you to use the feature from within an app or through the Apple Maps business listing.
Once you've started the iMessage Business Chat, you'll see the standard Messages app on your device in a conversation with the business you've contacted. The app should look pretty much the same as a normal iMessage, although the companies do have some control over the color of the interface – often adjusting it to match brand aesthetics.
At this point, you'll be able to start your conversation with the business in a similar way to how you would receive support via an online chat – except the whole process is streamlined and included in iMessage Business Chat app. If you contact the company outside of standard business hours, you'll likely receive an automated reply. Otherwise, you'll be connected with a support representative that can help you address any issues you're dealing with.
Unfortunately, iMessage Business Chat is currently only available to users in the United States, and said users can now access the feature by updating to iOS 11.3. An international rollout is likely soon to follow.