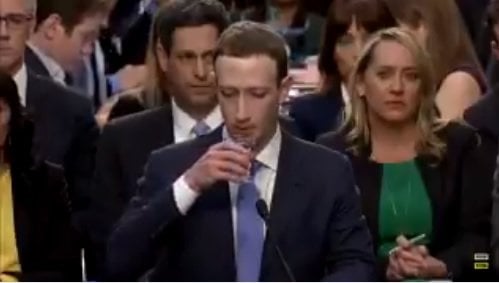 Today is the second day of congressional hearings for Facebook CEO Mark Zuckerberg. If you've been watching the company's stock price, you might think that he had some brilliant things to say because investors have gone back to lapping up the shares like they just can't get enough. However, a closer look at all the commentary reveals a different story. It seems like most U.S. lawmakers think some form of Facebook regulation is needed, but they have no clue how the company works, what it does, and what kind of regulation is in order.

Let's just hope lawmakers will take the time to check out the photo of Zuckerberg's notes that was snapped by an Associated Press journalist during the hearing today because they contain a very interesting line about the General Data Protection Regulation. The irony of Zuckerberg's privacy being violated by everyone on the internet who has taken time to peruse the viral photo of his notes isn't lost on us.
This Long/ Short Equity Firm Sees A Time-Arbitrage Opportunity In This Pest Control Merger
Yost Partners was up 0.8% for the first quarter, while the Yost Focused Long Funds lost 5% net. The firm's benchmark, the MSCI World Index, declined by 5.2%. The funds' returns outperformed their benchmark due to their tilt toward value, high exposures to energy and financials and a bias toward quality. In his first-quarter letter Read More
Lawmakers are clueless about Facebook regulation
Vox made a very interesting observation about the questions Zuckerberg fielded from lawmakers during the hours-long hearing on Tuesday. Although the hearing was sparked by the Cambridge Analytica data scandal, the questions ranged far and wide as lawmakers sought to get their jabs in—all while struggling to understand Facebook and its business model.
Some Twitter users noted that the lawmakers who participated in Tuesday's hearing have an average age of 62, but even some of the younger senators were confused about what Facebook does. For example, 45-year-old Sen. Brian Schatz repeatedly questioned Zuckerberg about whether Facebook sees the data that's inside messages sent over WhatsApp, which it also owns.
Although it's understandable that people in their 50s or 60s don't understand how Facebook works or what it does with users' data, it seems like most people would agree that they don't really understand either—no matter what their age. Apparently, it took something like the Cambridge Analytica scandal to draw people's attention to the question.
Although many of the questions that were asked seemed a bit off-topic—often due to the apparent lack of understanding about the company—some senators did focus their attention on the topic at hand. For example, Illinois Sen. Dick Durbin questioned Mark Zuckerberg about his own privacy and whether he would be willing to tell people what hotel he stayed at or the names of the people he had messaged. Of course, the billionaire Facebook founder was not willing to share his information.
Unfortunately, each of the senators had only five minutes to talk during Tuesday's hearing, which meant that stronger lines of questioning like Sen. Durbin's ended up being overshadowed by a much larger volume of questions about what the company does and how it works.
Zuckerberg says he's open to Facebook regulation
The topic of Facebook regulation also came up occasionally during the hearing, and Zuckerberg said repeatedly that he's open to some type of regulation. He didn't have any suggestions about what type of Facebook regulation might be appropriate, but he did say that he would send some suggestions to lawmakers' offices.
Today during day two of the hearings on Capitol Hill, the topic of Facebook regulation was raised again. According to The Guardian's live blog of today's hearings, Rep. Ryan Costello of Pennsylvania brought up Europe's General Data Protection Regulation, which is set to go into effect next month. He asked Zuckerberg which parts would be appropriate for the U.S. to adopt as well, and the Facebook CEO said he agrees with having some type of controls or Facebook regulation, especially when it comes to sensitive technology like facial recognition.
When Costello asked him whether Facebook should be able to deploy AI to run facial recognition on a non-Facebook user, Zuckerberg dodged it by simply declaring that it was a "good question." He used a similar tactic for other sticky questions he didn't really want to answer.
Facebook might not be ready for GDPR
Attention to the GDPR continues to ramp up, and it makes sense that the regulation was brought up during the two-day grilling Zuckerberg has faced by U.S. lawmakers. It seems he was ready for questions about it as well, and his company may not even be prepared for compliance with the law, even though its implementation is a little over a month away.
Business Insider noted that one of the tidbits that could be seen in the photo of Zuckerberg's notes that was snapped by the AP photographer was about the GDPR. In fact, it clearly states: "Don't say we already do what GDPR requires." The notes suggest that the company hasn't yet figured out what it's going to do about needing to get consent from every European user to process their information. It's also interesting in light of what a Goldman Sachs analyst said about the company possibly using a loophole to get around the law.
The Verge also pointed to a sticky line of questioning about the GDPR and whether Facebook will extend the provisions it makes for the new law to users around the world. Zuckerberg told Texas Rep. Gene Green that they will indeed make the same privacy protections and controls available to users outside the European Union. However, minutes later, when Rep. Janice Schakowsky of Illinois asked him the same thing, he equivocated, and she called him out on it, saying that it doesn't sound like the GDPR provisions would exactly the same for Americans. Unfortunately, like with some of the other strong lines of questioning, this one was also cut short because she ran out of time.
Updated on