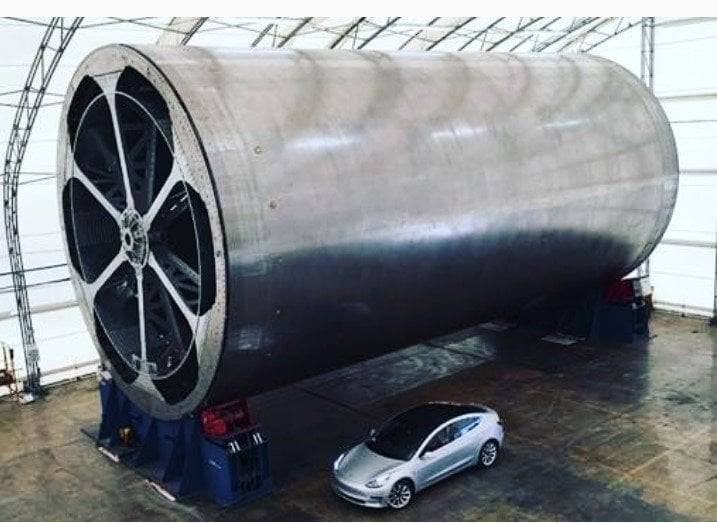 Elon Musk's dream to put humans on Mars may become a reality, and sooner than you might think. SpaceX is making rapid progress towards launching a manned flight to the red planet, and a recent post on Musk's Instagram page shows the BFR tool that brings us one step closer to the expedition.
"BFR" is the working title for the rocket that might bring us to Mars, and while SpaceX president and COO Gwynne Shotwell has stated that it stands for "Big Falcon Rocket," Musk has come forward and said that the inspiration for the name came from the BFG weapon in the Doom series of video games. Whatever the full name may be, the BFR tool is the main body part of this massive rocket. In the picture included below, the BFR tool is situated next to a Tesla Model 3 – a $35000 car released last July from Elon Musk's other company.
It's easy to tell from the image just how massive the BFR tool – and eventually, the full rocket – will be. At 184.8 inches long and 82.2 inches wide, the Tesla Model 3 is a decently sized vehicle – but it's completely eclipsed by the BFR. With a massive 30 ft by 348 ft dimension including a 157-foot ship, it will easily earn the top spot as the largest space rocket ever once it launches on a trek towards Mars.
Dan Sundheim Founder Of D1 At Sohn 2021 On His Favorite Stock
At this year's Sohn Investment Conference, Dan Sundheim, the founder and CIO of D1 Capital Partners, spoke with John Collison, the co-founder of Stripe. Q1 2021 hedge fund letters, conferences and more D1 manages $20 billion. Of this, $10 billion is invested in fast-growing private businesses such as Stripe. Stripe is currently valued at around Read More
In addition to being gigantic in size, it will likely also be the most powerful rocket in operation. SpaceX actually already holds the title for the world's most powerful rocket currently being used with the Falcon Heavy, but the BFR Tool shows the bones of a ship that will eventually blow the Falcon Heavy out of the water. With 31 Raptor engines creating a liftoff thrust of 5400 tons, the spacecraft is capable of lifting a total mass of 4400 tons. In comparison, the Falcon Heavy has a liftoff thrust of just 2500 pounds. It's safe to say that no other company stands to come sloe to the sheer power that SpaceX has managed to provide in the BFR – provided the launch is successful, of course.
It's true that SpaceX has had their share of issues, with a seriously damaging explosion back in 2016 at the Cape Canaveral launchpad setting back the production of their rockets by quite a fair bit. The company has proven that they have the chops to succeed when it comes to the private spaceflight industry, however, with subsequent launches ranging from tests to NASA resupply missions allowing them to make a name for themselves that will have an immeasurable effect on our forays into outer space.
The development of the BFR tool is all part of Elon Musk's plan to put a man on Mars by the year 2024. That may seem like a long while away at this point, but in terms of spaceflight and the time it takes to develop a rocket on the scale of the BFR, it's a rather ambitious timeline. Whether Musk and SpaceX will manage to make that deadline remains to be seen, but it's clear that the company is quite dedicated in its quest to further our understanding of the universe and perhaps expand our civilization to another planet in the not-so-distant future. In order to reach this goal, SpaceX will be sending at least two different BFR cargo ships to mars in 2022 in order to place power and infrastructure to allow for refueling for future flights. These two cargo ship trips will be followed by four rockets just two years later – with two hopefully bringing people that can set up the propellant production plant and prepare for the future expansion of our infrastructure on the red planet.
While SpaceX has a large amount of resources at their disposal, the BFR tool development is incredibly expensive and the company will need a large influx of cash if they're able to continue the quest towards getting a man on Mars. In order to raise this money, the company will continue its commercial missions – such as a recent collaboration with NASA to bring equipment to the International Space Station. Musk's goals for SpaceX also extend beyond Mars exploration, with a goal to launch 4425 satellites into orbit that would potentially bring internet access to the entire world.
We will have to wait until we get closer to see whether this goal of getting a man to Mars by 2024 is realistic or just incredibly optimistic, but with the progress we're seeing on the BFR tool, the company could very well be on track for that launch. Provided SpaceX can raise the funds that they need, it's certainly possible that we could set foot on another planet in the near future.