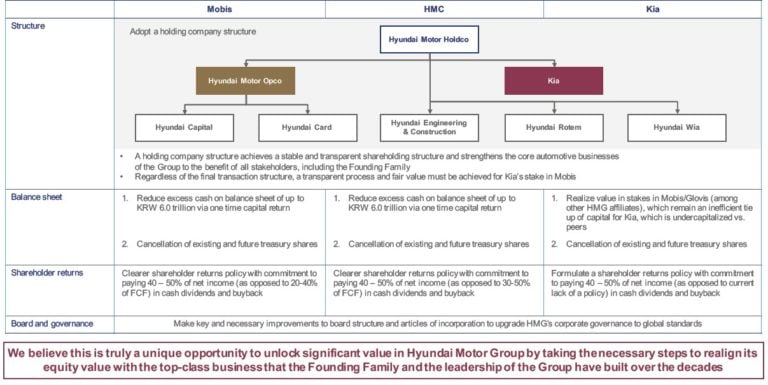 Elliott Management's presentation on Hyundai titled, "Accelerate Hyundai Proposals: Unlocking Value at One of the World's Leading Automotive Brands."
Q1 hedge fund letters, conference, scoops etc
Executive Summary
Hyundai Motor Group is a leading automotive brand with significant value to be unlocked
Macro Hedge Funds Earn Huge Profits In Volatile Macro Environment
With the S&P 500 falling a double-digit percentage in the first half, most equity hedge fund managers struggled to keep their heads above water. The performance of the equity hedge fund sector stands in stark contrast to macro hedge funds, which are enjoying one of the best runs of good performance since the financial crisis. Read More
Elliott is a significant shareholder in Hyundai Mobis Co., Ltd. ("Mobis"), as well as other key Hyundai affiliates such as Hyundai Motor Company ("HMC") and Kia Motors Corporation ("Kia"), collectively the Hyundai Motor Group ("HMG"), holding over 1.5% common shares in each of the companies
HMG has achieved remarkable growth over the past two decades, surpassing many competing brands to become one of the aspiring automotive brands renowned for quality
Each of the core HMG companies – Mobis, HMC and Kia – possesses substantial intrinsic value due to the Group's:

Leadership in a diverse set of markets that represent both size and growth,
Brand recognition driven by superior craftsmanship and quality, and
Cost advantage supported by a streamlined and vertically-integrated supply chain

HMG recently announced a transaction on 28 March 2018 ("HMG Restructuring Plan") to restructure its corporate structure by spinning off Mobis's module manufacturing and after-sales parts businesses and merging them with Hyundai Glovis Co., Ltd. ("Glovis")
Elliott is encouraged that the Group has acknowledged the need for an improved ownership structure
However, the unwinding of the current circular shareholding by itself is not enough for the Group to declare the restructuring a corporate governance improvement, especially as the transaction is not supported by sound business rationale and lacks clear benefits to minority shareholders. The Group must still address the following issues:
The proposed four-layer ownership structure is inefficient in terms of tax and capital structure as compared to a corporate structure that adopts a holding company structure. We estimate that the present value of potential tax leakage on dividends from HMC and Kia totals US $1.7 billion, which is 7% of pre-announcement Mobis market capitalization

Similarly, the Plan is devoid of a transparent process to realize fair value for Kia's stake in Mobis

The proposed terms of the spin-off and the merger ratio do not ascribe fair value to Mobis's module manufacturing and after-sales parts businesses with questionable business logic behind combining the after-sales parts businesses with a logistics company
The Restructuring Plan is silent on any details that would address HMG's suboptimal balance sheets and declining shareholder returns
HMG's overall corporate governance remains below global standards, not in keeping with the Group's status as a leading global automotive brand
Elliott is pleased to share views on potential improvements to the HMG Restructuring Plan to enhance value at Hyundai Motor Group
Elliott believes that an alternative plan based on a holding company structure can better address HMG's persistent
underperformance and significant valuation discounts (50 to 60% for Mobis, c. 25% for HMC, and 60 to 70% for Kia) compared to
global peers. The Accelerate Hyundai Proposals include:
The Hyundai Motor Group - A unique investment opportunity
Hyundai Motor Group - A world-class brand
The Hyundai Motor Group is a leading automotive brand with annual manufacturing capability of 8.5 million vehicles worldwide

Global footprint with leadership in a diverse set of markets
In addition to its dominant position in Korea and a strong footprint in the three largest auto markets – US, Western Europe and China – Hyundai Motor Group is well-positioned to capture further growth opportunities in top three growth markets – India, Russia and Brazil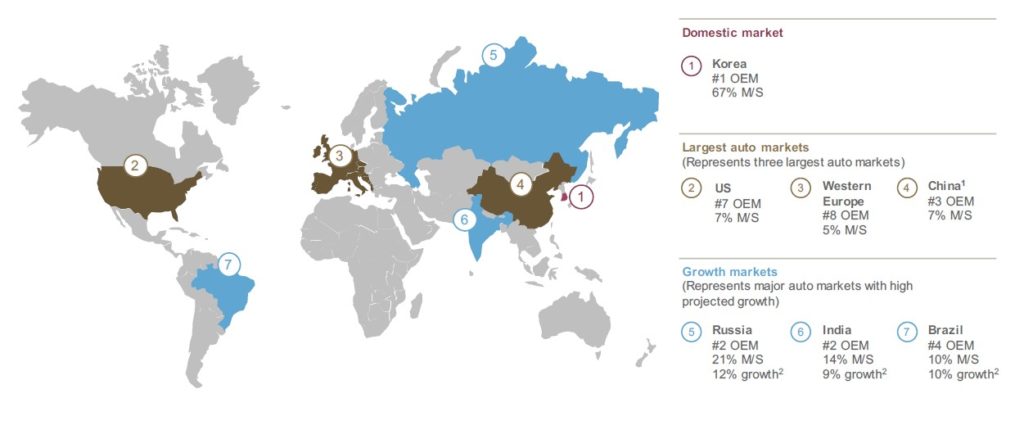 Workmanship and quality-driven growth and success
The Hyundai Motor Group is a brand recognized for quality: HMC and Kia have consistently outperformed their peers in the J.D.
Power Initial Quality Survey ("IQS"), a testament to the superior craftsmanship of their products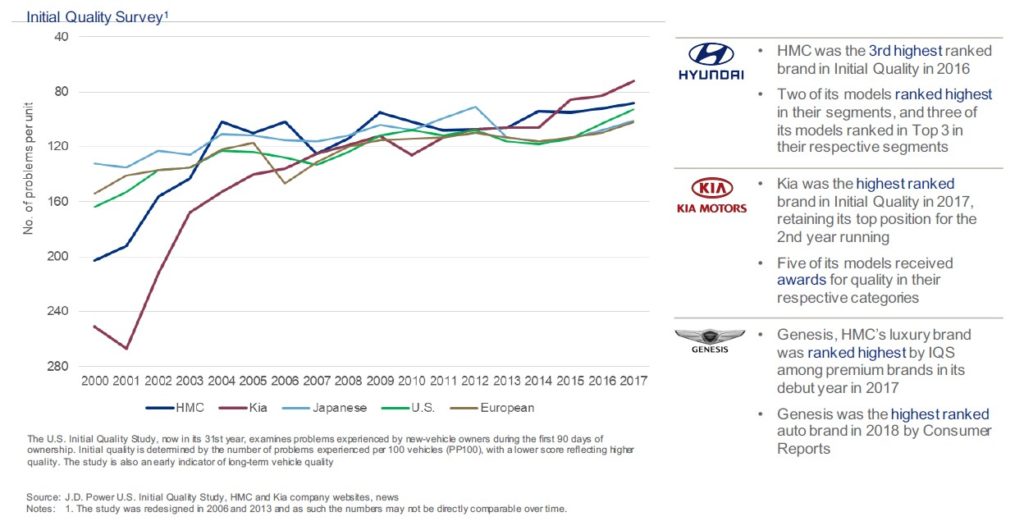 A streamlined and vertically-integrated supply chain
Hyundai Motor Group's full vertical integration allows for an efficient and versatile supply chain management, which has been critical to the Group's success in key auto markets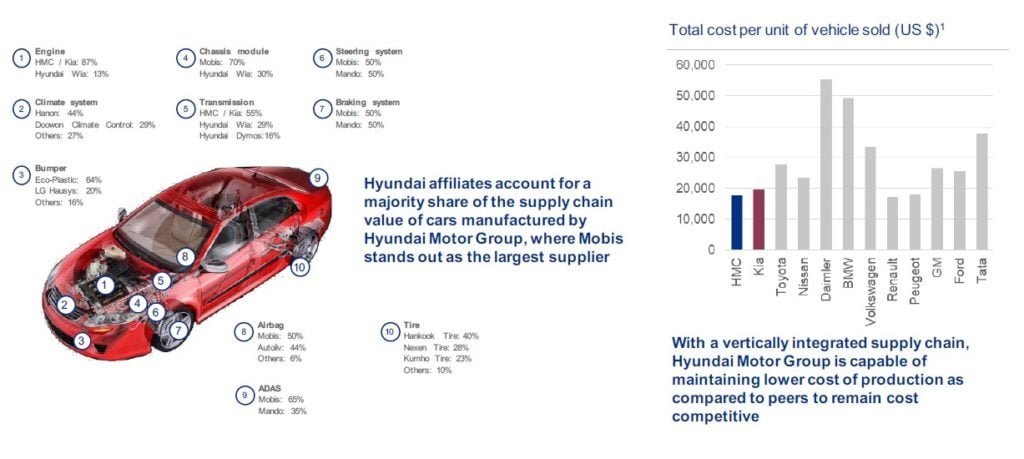 Mobis undeniably stands out within the supply chain
Mobis is the 7th largest auto parts supplier in the world by sales with an extensive distribution network and production facilities strategically located worldwide to support a streamlined manufacturing process not only for the Hyundai Motor Group, but also for its growing global client base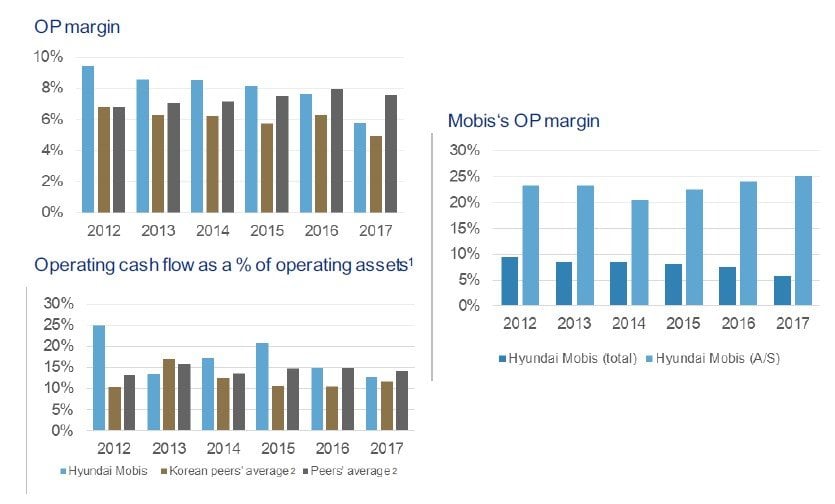 Mobis's strong operating margins and cash flows are primarily generated by the highly profitable after-sales services ("A/S") business division, which has topped 25% margin in recent quarters in 2017
Mobis is also uniquely placed to benefit from Hyundai Motor Group's increasing production of eco-friendly cars and adoption of advanced driver-assistance systems (ADAS)
The Company currently supplies c. 30% of Hyundai Motor Group's ADAS needs, a figure that is likely to rise as the ADAS adoption rate increases in non-premium cars
Mobis is also the exclusive supplier of Hyundai Motor Group's four core electric vehicle components (battery management system, driving motor, inverter and converter)
See the full PDF below.
Updated on