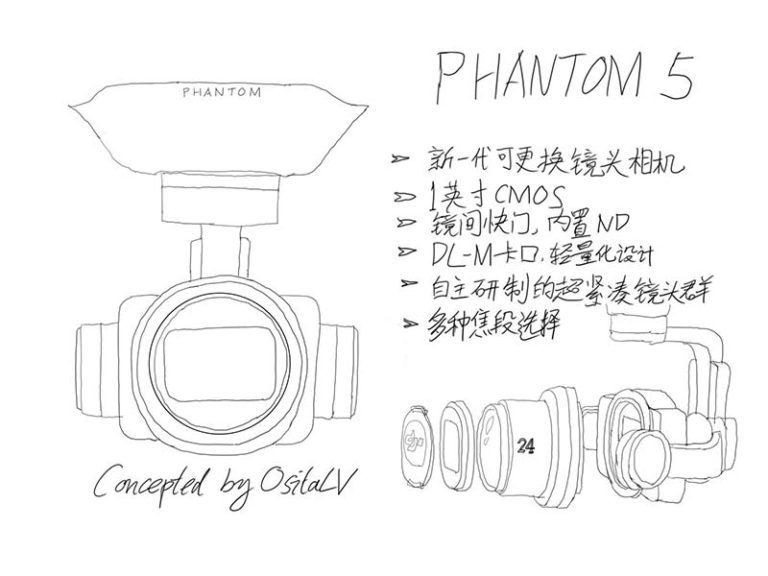 Although there was a flurry of activity over the holidays, we've seen a couple of months without any news from major drone manufacturers. However, it appears as if the DJI Phantom 5 should be coming sooner rather than later – releasing in addition to the Tello drone that was launched under their new Ryze brand.
An image was discovered several months back on a Chinese website that seemed to show a device similar to the DJI Phantom 4 with a unique new camera attached to it. The rest of the potential DJI Phantom 5 also looks quite similar to the Phantom 4, and there's even a Phantom 4 case included in the background of the image.
David Einhorn At The 2021 Sohn Investment Conference: Buy These Copper Plays
There's a gold rush coming as electric vehicle manufacturers fight for market share, proclaimed David Einhorn at this year's 2021 Sohn Investment Conference. Check out our coverage of the 2021 Sohn Investment Conference here. Q1 2021 hedge fund letters, conferences and more SORRY! This content is exclusively for paying members. SIGN UP HERE If you Read More
We somehow doubt that a final release of the DJI Phantom 5 would look so similar to the Phantom 4, but this certainly seems like some new technology that could either be a new attachment for the 4, but is more likely an early prototype of the DJI Phantom 5 that is still using some of the old parts.
The same Chinese website also posted an image around one month before the person was posted that seems to be a rough mockup of what the DJI Phantom 5 might look like – and it looks pretty similar to the image that was just released. The drawing clearly shows a removable 24mm lens, a lens hood, and a lens cap – all of which were included in the image that was posted a while back.
In the past few days, we actually received an updated image that is rumored to be a more complete design of the DJI Phantom 5, which is included below.
Is that Phantom 5? I can see the lens detach buttom on the top of camera. pic.twitter.com/cwvrQdqcsd

— OsitaLV (@OsitaLV) March 24, 2018
While these images are not a lot to go off of, we can make some educated guesses as to what we might see from the DJI Phantom 5 when it finally releases. It's important to take any rumors of the upcoming release with a grain of salt, as we don't know much at all about the new drone at this point in time. However, given the similarities these prototypes and drawings seem to show to the Phantom 4, we can make some inferences about similar features that may be included.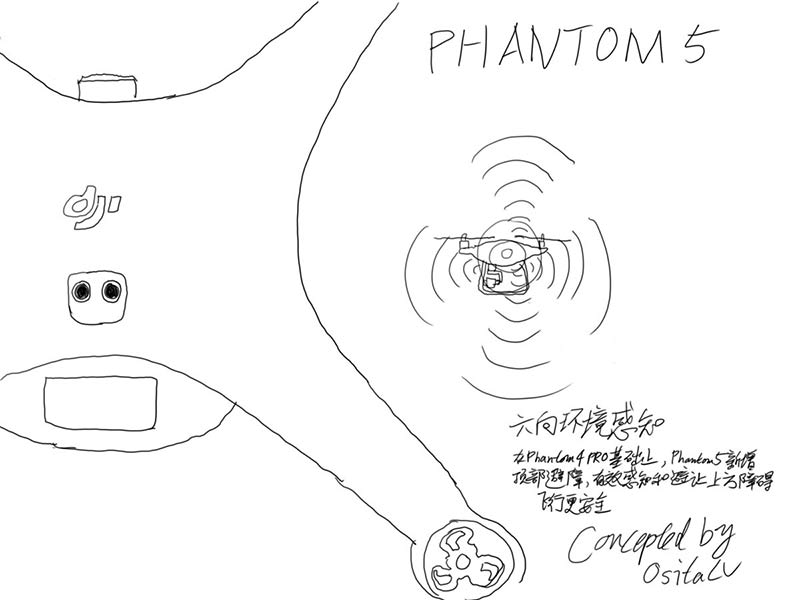 All in all, it's likely that the DJI Phantom 5 will be similar to the DJI Phantom 4 in many ways. The 4 is already an extremely polished drone that represents some of the best that the consumer drone industry has to offer, and with current technology, it doesn't seem like there's a ton of room for improvement. The primary attraction of the Phantom line is the camera, and a logical improvement that may ship with the DJI Phantom 5 are mini interchangeable lenses. This would seem to go along with what we saw from the mockups and the leaked image from the Chinese website, and would allow users to shoot high-quality videos and pictures at various focal lengths – perhaps making it a more attractive option for professional photographers looking to get into aerial photography. Each lens would have different apertures in order to provide better low light performance as well, giving the DJI Phantom 5 a leg up on its predecessor when it comes to taking gorgeous quality shots.
While the main improvements to the DJI drone line may be in the form of image quality in this next generation, other drawings seem to show an indication that we'll see some improvements to the flight of the drone as well. As a relatively expensive drone, the DJI Phantom 5 will be an investment that enthusiasts and photographers alike are looking to preserve for years to come. The addition of obstacle avoidance in all six directions should give the Phantom 5 the technology it needs to respond to potential impacts and ensure it keeps flying flawlessly for the foreseeable future.
While it's important to take these rumors regarding DJI Phantom 5 features with a grain of salt, it's seeming as if the images are real. Considering the fact that the Phantom 4 Pro has been out for over a year at this point, we're coming up on a time where it would make sense for the company to release a brand new Phantom drone. While we haven't received word of an official release date so far, it's likely we'll see the DJI Phantom 5 release to the public within the next few months. Many thought we would see an announcement sometime around the 28th of March, but it seemed that didn't happen after all. The collection of images seems to indicate that the DJI Phantom 5 is pretty far along in development, however, so expect to get your hands on this excellent little drone sooner rather than later.