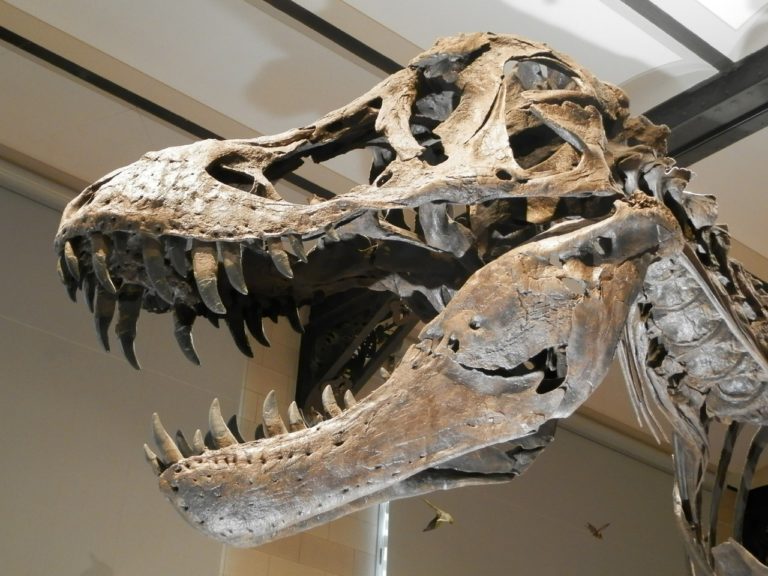 If you've been looking for some daring new décor for your home or business, we might have found just the thing. An auction house in Paris is placing a pair of dinosaur skeletons up for sale. One of the two dinosaur skeletons that went up for sale is a diplodocus, the same type of dinosaur that's affectionately known as "Dippy" in the U.K., where it was on display in a museum for years, while the other is an allosaurus.
Two dinosaur skeletons for sale… if you have room for them
Both dinosaur skeletons are quite large, although the diplodocus is the larger of the two. The allosaurus measures 12.5 feet in length, although it's considered to be small for its species. It isn't the entire skeleton, however, as scientists consider it to be 60% complete. The diplodocus measures approximately 39 feet in length, although the auction house does not give a percentage of completeness. Inverse notes that the skeleton might be very incomplete, as the official position of the Society of Vertebrate Paleontology is that specimens which are particularly significant should not be sold to private collectors.
David Abrams Explains How To Value Stocks
Continued from part one... Q1 hedge fund letters, conference, scoops etc Abrams and his team want to understand the fundamental economics of every opportunity because, "It is easy to tell what has been, and it is easy to tell what is today, but the biggest deal for the investor is to . . . SORRY! Read More
Despite its bigger size, experts at Binoche et Giquello, the auction house in Paris that's selling the skeletons, expected it to fetch a lower price than the allosaurus. According to The Local, auctioneers expected between €450,000 and €500,000 for the diplodocus and possibly as much as €650,000 for the allosaurus. They explained that the allosaurus is a carnivore, while the diplodocus is an herbivore, and buyers tend to pay more for the skeletons of carnivores because they like the creatures' large teeth.
The auction was set to take place today, but there's no word yet on how much either of the two dinosaur skeletons were able to fetch on the auction block.
Dinosaur skeletons are a rarity on the auction market
Because of the high prices, the auction house expected private collectors rather than museums to shell out money for the dinosaur skeletons, as they've got more cash to burn. Believe it or not, private collectors have been interested in displaying dinosaur skeletons in their homes for decades. More recently, Chinese buyers have taken a keen interest and bidding against Americans and Europeans for dinosaur skeletons. According to The Local, about five dinosaur skeletons are placed on the auction block each year around the globe.
Several Hollywood actors are fans of these giant fossils, and the auction house told Agence France-Press this week that Nicolas Cage and Leonardo DiCaprio are huge fans of such massive skeletons and see them as "cool, trendy — real objects of decoration, like paintings." The fossils especially piqued collectors' interest after the 1997 film Jurassic Park was released. In fact, it was after that movie that Walt Disney and McDonald's shelled out big bucks to purchase Sue, the best-preserved tyrannosaurus rex that has ever been found. Sue has been on display at Chicago's Field Museum for many years, and I can tell you from my own trip to the Field Museum years ago that Sue is quite an imposing figure, towering above museum patrons.
Unfortunately, when private collectors buy rare artifacts such as the skeletons that went up for sale today, it usually means that the scientific community and the general public won't ever get a chance to see them. Thus, sales to private collectors are essentially a barrier to the paleontology field.