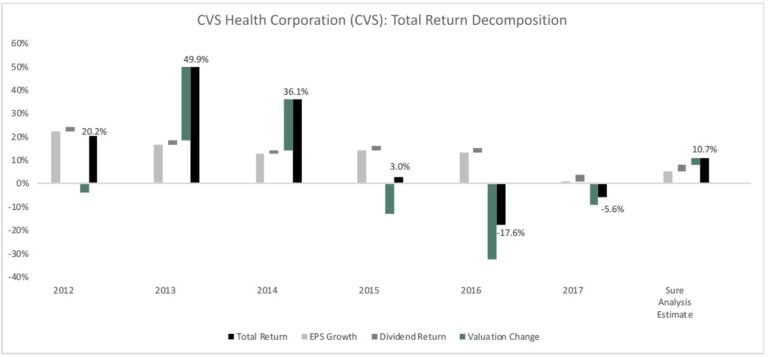 Amazon (AMZN) recently announced it has shelved plans to distribute pharmaceuticals.
The online retail giant is killing its pharmaceutical distribution plans because it has had a difficult time negotiating deals in this entrenched industry.  Further, Amazon would have to build out a cold transportation network (at great expense) to distribute temperature sensitive pharmaceuticals.
DG Value Adds 36.4% YTD As Distressed Stocks Surge
Dov Gertzulin's DG Capital is having a strong year. According to a copy of the hedge fund's letter to investors of its DG Value Partners Class C strategy, the fund is up 36.4% of the year to the end of June, after a performance of 12.8% in the second quarter. The Class C strategy is Read More
CVS Health Corporation (CVS), Walgreens Boots Alliance (WBA) and Cardinal Health Inc. (CAH) saw their price jump after Amazon's announcement.  That's because their prices declined when Amazon announced it would be exploring pharmaceutical distribution.
Amazon is an ambitions corporation with deep pockets and an imperative to grow revenues.  Amazon has found that breaking into pharmaceutical distribution would not be worthwhile for them to pursue.  This speaks to the strength of the competitive advantages of the current industry leaders, including Cardinal Health.
The Sure Dividend system often reccomends high quality dividend growth stocks (like the 3 above) when their price declines on negative news.
Think about this - prices decline in rumors alone in many cases.  Rumors are far from reality.  In the example above, Amazon hinted that it was exploring pharmaceutical distribution.  It would be one thing if Amazon was in the market and had gained share - but that never happened.  And yet, these high quality businesses saw their share prices decline.
Disclosure:  I am long WBA and CAH.
---
Key Metrics
Overview & Current Events
CVS Health Corporation is an integrated healthcare services provider that operates a pharmaceutical services business along with the country's largest chain of pharmacies. The company operates more than 9,700 retail locations, 1,100 medical clinics, and services more than 90 million plan members. CVS was founded in 1963 and has grown to a market capitalization of $66 billion. With 14 years of consecutive dividend increases, CVS is a Dividend Achiever.
In early February, CVS Health Corporation reported (2/8/18) financial results for the fourth quarter of fiscal 2017. In the quarter, net revenues increased by 5.3% while adjusted earnings-per-share rose by 12.3%. Full-year results were not quite as strong. CVS Health Corporation's generated 4.1% growth in net revenues and 1.0% growth in adjusted earnings-per-share. Much of CVS' performance can be attributed to the Pharmacy Services segment, which generated 9.3% revenue growth in the quarter and continues to be the fastest-growing unit of CVS' business.
More recently, CVS shareholders voted (3/13/18) 98% in favor of the company's pending purchase of Aetna (AET), a publicly-traded health insurance company. Despite the near-unanimous shareholder approval, we are strongly against the transaction as we believe that CVS is grossly overpaying. The $77 billion acquisition (including the assumption of debt) is priced at roughly 4x book value and 25x adjusted earnings-per-share – both more than twice what the shares of other public insurance companies usually trade for. Moreover, CVS is using $45 billion of new debt and $21 billion of new equity to fund the transaction, simultaneously diluting continuing shareholders and straining its balance sheet. CVS has publicly announced that it plans to halt dividend increases and cease share repurchases until its leverage ratio comes down to 3x. At a price-to-earnings ratio below 11, we truly believe that CVS could generate superior returns by simply repurchasing its own common stock.
Growth on a Per-Share Basis

CVS Health Corporation's historical growth has been remarkable. The company has compounded its earnings and dividends at annualized rate of 10.3% and 25.4%, respectively, over the last decade. Although the Aetna merger is promising "synergies" and should allow the company to have a broader reach for its overall business, we believe that the per-share earnings benefits will be lackluster due to the dilution associated with the transaction as well as the too-high purchase price. The company is issuing stock at 11x earnings to purchase other stock at 25x earnings. Accordingly, we are forecasting 5% earnings-per-share growth for CVS over the medium term, which allows us to calculate a 2023 earnings-per-share estimate of $8.00. Dividend growth during this time period is likely to underwhelm as CVS has communicated the intent to freeze its dividend in an attempt to reduce leverage.
Valuation Analysis

Investor sentiment surrounding the CVS-Aetna acquisition (as well as other factors such as the potential entry of Amazon into the pharmaceutical space) has pushed CVS' valuation down to irrational levels. The company is currently trading at an earnings multiple of 10.5 and its average price-to-earnings ratio over the last decade has been 14.6. Despite the problems with the Aetna acquisition, we see CVS' valuation expanding to 12 times earnings over the next 5 years, which adds 2.7% to our annualized total return estimate during this time period.
Safety, Quality, Competitive Advantage, & Recession Resiliency
While CVS Health Corporation's gross profits as a percentage of its total assets have remained relatively stable over time, its balance sheet has taken on an increasing amount of debt. The Aetna acquisition will only exacerbate this trend. Accordingly, we are looking for the interest coverage ratio to drop this year (assuming the acquisition closes), with improvements to be made as we enter into the next decade.
Qualitatively, CVS' most compelling competitive advantage is its entrenched position in the recession-resistant pharmaceutical industry. Pharmacies are highly regulated, which makes it difficult for new competitors to enter into the industry and gain market share. In addition, CVS is one of the largest pharmacies in the United States (along with Walgreens Boots Alliance), which allows it to capture economies of scale and pressure its suppliers into delivering better prices.
Final Thoughts & Recommendation
We are clearly against the purchase of Aetna by CVS Health Corporation and have incorporated the dilutive impact of this transaction into our total return estimates. Still, we note that even after accounting for this, CVS appears to have double-digit total return potential. For investors looking to bolster their exposure to the pharmaceutical sector, Walgreens is our first choice. Investors already overweight in Walgreens may want to consider CVS for diversification purposes. If the Aetna acquisitions surprises to the upside, then today's price may be a compelling buying opportunity.
Total Return Breakdown by Year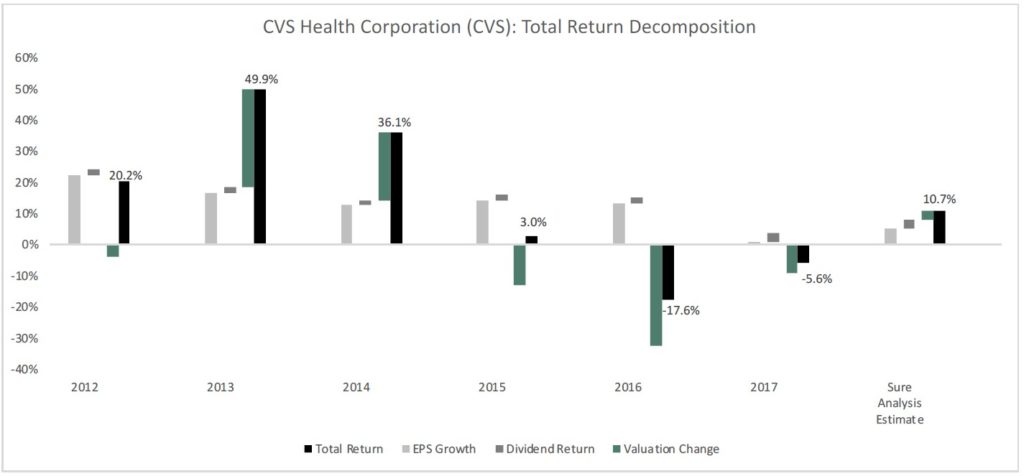 Article by Sure Dividend