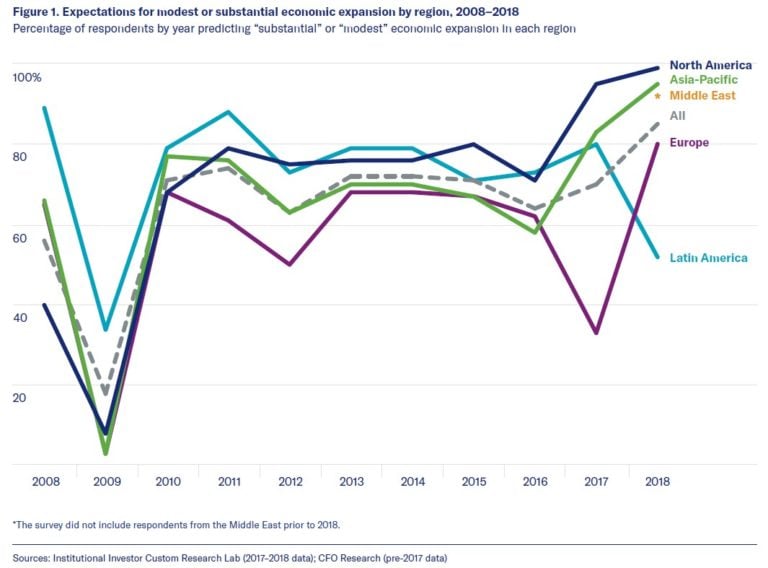 Corporate finance leaders worldwide optimistic about expansion and hiring; automation and AI keeping them up at night, finds new Amex global survey

More than eight in ten (85%) global finance executives worldwide anticipate economic expansion in their country in 2018 (up from 70 percent in 2017), according to the 2018 Global Business & Spending Outlook, a survey of 870 senior executives from more than 21 countries released today by American Express and Institutional Investor Thought Leadership Studio. More than half of companies surveyed globally report higher or much higher revenues in the last 12 months (54%, up from 44%), and 93 percent of all survey respondents anticipate an uptick in their companies' headcount in the coming year (up from 85% last year).
Fund Manager Profile: Zhang Hui Of China's Southern Asset Management
Historically, the Chinese market has been relatively isolated from international investors, but much is changing there now, making China virtually impossible for the diversified investor to ignore. Earlier this year, CNBC pointed to signs that Chinese regulators may start easing up on their scrutiny of companies after months of clamping down on tech firms. That Read More
Among U.S.-based respondents, 98 percent expect modest economic expansion during 2018, and they anticipate their companies' planned levels of spending and investment for the coming year to increase by 7% (vs. 9% last year). U.S. finance leaders also anticipate hiring to increase by 6% (vs. 9% last year) and say they will make greater use of temporary or contract workers (65%) as the top way to address their hiring challenges followed by "onshoring" employees from overseas to domestic locations (38%).
Other key findings include:
Companies Are More Comfortable Facing Risk Head On

In the face of potential economic and political uncertainty, findings suggest that companies globally are more comfortable facing risk head on, rather than taking a reactive approach.
Respondents around the globe anticipate shifting their approach from withdrawing business from high risk regions (87% in 2017, down to 59% this year), and indicate a growing interest in expanding enterprise-level risk management systems or process improvements (68%, up from 43% in 2017) and asset protection initiatives (56%, up from 42% in 2017) rather than fleeing risk.

Better Meeting Customer Needs Has Become a Top Priority

Better meeting customer needs is a top priority for survey respondents worldwide (71%, up significantly from 48% last year).
North American (U.S. and Canada) respondents are the most likely to focus on better meeting the needs of customers (84% in 2018, up from 50% last year), followed by new market entry (68% in 2018, up from 47% in 2017) and business transformation and innovation (53% in 2018 versus 24% last year).

AI, Robotics and Automation Most Likely to Keep Finance Executives Up at Night

When asked about the emerging technologies that "keep them up at night," senior finance executives around the world are most likely to express concern and curiosity for robotics and automation (57%) and artificial intelligence (54%).
North American (U.S. and Canada) finance executives are much more likely to express concern for robotics and automation (71%) than artificial intelligence (31%).
In line with their concerns and speculation about emerging technology, respondents around the globe report already making investments in artificial intelligence (54%) and robotics and automation (52%).
Overview
Nearly 10 years after the Great Recession, the world's economies are enjoying the benefits of economic recovery. Senior finance executives at large companies around the world expect sustained economic growth to continue through 2018, albeit at a slower rate than in 2017, according to this year's Global Business & Spending Outlook.
The vast majority — more than 90% — of study participants from North America, Asia-Pacific, and the Middle East expect modest or substantial economic expansion this year. After several years of slow growth, Europe is poised for recovery amid a two-fold increase in the proportion of executives from the region anticipating growth in their home country. The outlook in Latin America is notably less optimistic, as only half of study participants from the region expect economic expansion. As companies execute their strategies, they'll often do
so with less anxiety than last year regarding economic and political surprises, while maintaining a watchful eye on how to navigate
financial and operating risks.
Pro-business policies in major markets and continued low interest rates have led to a prevailing optimism that is expected to support
sustained corporate spending, investment, and hiring. Senior finance executives indicate willingness to increase spending and investment this year, but they are most likely to focus their budgets on specific growth initiatives that directly target customer needs and develop new products and services. In aggregate, companies expect to increase hiring this year, although at a slower pace than last year. In an effort to attract and retain top talent, companies are most likely to improve the day-to-day working environment of their employees, offer more flexible work schedules and locations, and expand career development programs.
As they enter this period of anticipated widespread, gradual growth, senior finance executives are especially eager to improve their
ability to negotiate effectively with suppliers and customers, and to cultivate a more collaborative culture among finance, procurement, and treasury functions.
This year's study also examines the outlook for near-term spending on technology. Companies are most likely to focus on cybersecurity and the protection of customer, supplier, and employee data in the next two years. Over the longer term, finance executives are most likely to see artificial intelligence, robotics, and automation as sources of change in their industries. These and other next-generation technologies represent opportunity as well as disruption across industries, and many companies have begun taking steps to embrace them.
Economic and Business Performance Expectations
Continued optimism for growth worldwide, although the pace may slow
After a strong 2017, economies in all parts of the world are experiencing growth, especially North America, Asia-Pacific, and Europe. Senior finance executives at large companies worldwide expect continued economic expansion over the next year, albeit at a slower rate than last year. Recovery in investment, manufacturing, and trade activity continues in major markets, and interest rates remain low, leading to a prevailing optimism that is expected to support sustained corporate spending and investment. And while executives in this year's survey are less anxious about economic and political surprises than in 2017, they will keep a watchful eye on how to manage risks that threaten business performance.
In aggregate, 85% of senior finance executives worldwide anticipate "substantial" or "modest" economic expansion in 2018, up from 70% in last year's study. (See figure 1.) Furthermore, in a response to a separate query, more than half (54%) of global respondents report revenue growth in the past 12 months, a notable rise over 44% in last year's survey. Topline performance was most robust in Europe, where 69% of respondents report year-over-year revenue growth, and in Asia-Pacific, where 66% report higher revenues compared to a year ago.
However, the senior executives surveyed believe the pace of expansion — as measured by respondents who anticipate substantial, rather than modest, expansion — is expected to slow in 2018. Those who expect substantial expansion fell to 21% worldwide this year from 38% in 2017. Expectations for substantial expansion fell in all regions, except in Europe, where 26% anticipate substantial growth, up from 11% in 2017. Optimism is tempered in the U.S., with 98% of respondents expecting modest growth, and only 1% anticipating substantial economic expansion (versus 67% in 2017).
With solid economic recovery finally under way in Europe, respondents in the region are decidedly more optimistic. Their expectations for modest or substantial expansion in 2018 (79%) more than doubled from 2017 (33%). Respondents are especially optimistic in Germany, where 40% expect substantial expansion, and in the U.K. and Italy, where 38% and 37%, respectively, have expectations for substantial expansion. Similar expectations are held by 13% or fewer respondents in Spain, France, and Russia.
The softest region is Latin America, where respondents are notably less optimistic than their peers in other markets. Expectations for
expansion fell — to 52% this year from 80% in 2017 — most likely driven by political uncertainty and unfavorable foreign exchange rates in Brazil and Argentina, where growth prospects are the lowest: only 29% of respondents from Argentina and 30% of those from Brazil anticipate modest or substantial economic expansion in 2018, down from 94% and 73%, respectively, last year.
Worldwide, near-term prospects look promising, with sustained growth expected. International trade plays an important role (see below), and as executives seek growth in an encouraging economic climate, they remain watchful of the risks to business performance and seek to deploy tools to manage them.
Foreign trade
Political change and global trade policy are especially likely to strengthen growth prospects for companies in 2018, according to 52% of respondents. Executives from Asia Pacific (59%) and Europe (57%), whose economies are often net exporters, are especially likely to see trade policy and political change as contributors to growth in 2018.
More than two-thirds of respondents — 68% worldwide — anticipate that exports will become "much more" or "somewhat more" important to their own companies' growth in the year ahead, up slightly from 63% in 2017. Respondents from all regions foresee exports playing a greater role in growth, except those in Latin America, where the proportion of respondents expecting exports to be a more important driver of growth falls to 60% in this year's survey from 67% in 2017. While exports remain important sources of growth, the degree of their importance has dropped. Respondents worldwide who anticipate a "much more important" role for exports in their companies' growth fell by half, in percentage terms, to 16% this year from 34% in 2017, reflected across all regions.
Nearly half (47%) of respondents worldwide foresee imports playing a greater role in their companies' growth, but regional distinctions in the data reveal how foreign trade may contribute to company performance around the world. Respondents from North America (34%), the Middle East (34%), and Latin America (32%) are less likely overall to see imports as an important dimension of growth than those in Asia-Pacific (60%) and Europe (57%). These findings suggest that North American firms are likely to focus more on domestic suppliers. The Middle East, with an economy focused on petroleum exporting, has less need for imports of raw materials and intermediate goods. Foreign exchange rates are likely to limit Latin American companies' ability to purchase from foreign suppliers. Respondents from Europe anticipate imports will be more important in the year ahead, which suggests that companies in the region will use foreign trade to fuel their continued recovery.
As foreign trade contributes to growth in the year ahead, respondents are more likely to see currency market volatility as a catalyst for managing foreign exchange more closely (73%) rather than changes in their individual companies' exporting (58%) and importing (41%) activities.
Uncertainty, Disruption, and Risk
Concern falls for economic and political surprises
As companies pursue growth, albeit in a somewhat slower environment, they anticipate shifting priorities regarding specific types of risk and risk management. Where they once were more focused on economic and political risks at home and abroad, they are now turning an eye toward better managing risks associated with protection of personnel and physical assets. Respondents in this year's study indicate a growing interest in expanding enterprise risk management programs (68% this year versus 43% in 2017), and, when asked what actions their companies would take as a direct response to economic or political uncertainty, they appear less likely to withdraw business activities from high-risk geographic areas in favor of low-risk areas (59% this year versus 87% in 2017).
Among senior finance executives worldwide, fewer rate negative surprise events — including economic, political, social, and environmental surprises — as a rapidly growing concern. In 2017, the headlines were dominated by a new administration in the U.S., preparation for the U.K.'s exit from the European Union, tension on the Korean peninsula, protracted volatility in the Middle East, and potential trade disputes. Yet globally, the proportion of respondents who agree that negative surprise events are a rapidly growing concern at their companies fell to 64% this year from 91% last year (see figure 2).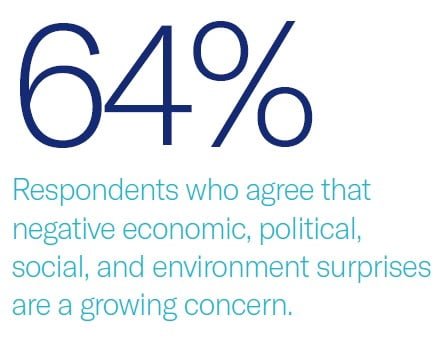 Respondents from North America and Latin America are less concerned about the risk of surprise disruption, while their peers in Europe and Asia-Pacific remain especially vigilant. The uncertain outlook for a cohesive EU may contribute to Europeans' anxieties. In Asia-Pacific, geopolitical tension, trade restrictions, interest rate risk, and the prospect of an eventual economic slowdown in major economies could contribute to respondents' sustained concerns about negative surprises.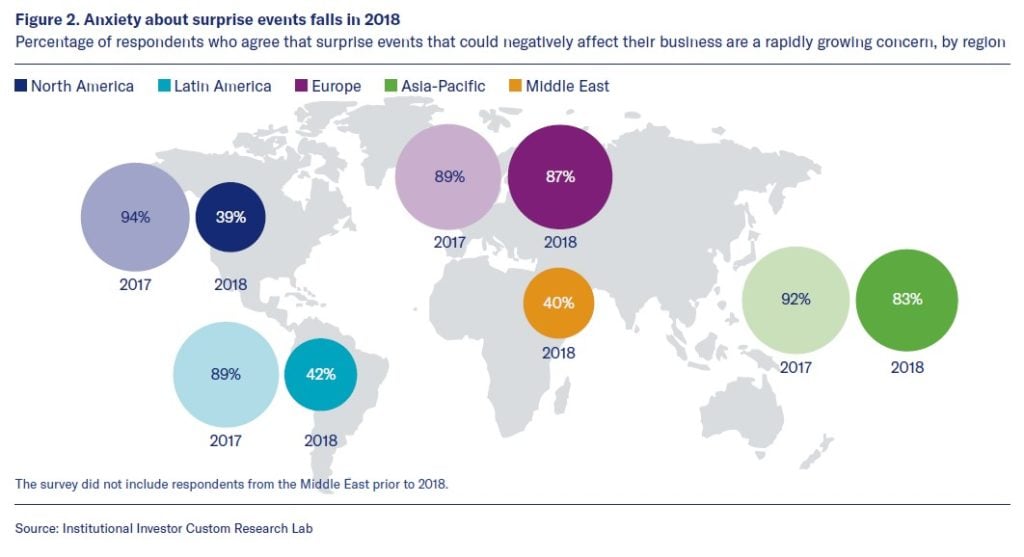 While unease over economic, political, social, and environmental disruption has waned somewhat, this year's survey reveals that uncertainty about economic and political matters — from outside respondents' countries (50%) as well as inside (48%) — is affecting spending and investment (see figure 3). Last year, economic and political uncertainty outside respondents' own countries was twice as likely (74%) as domestic uncertainty (36%) to cause respondents to be more cautious about spending and investment.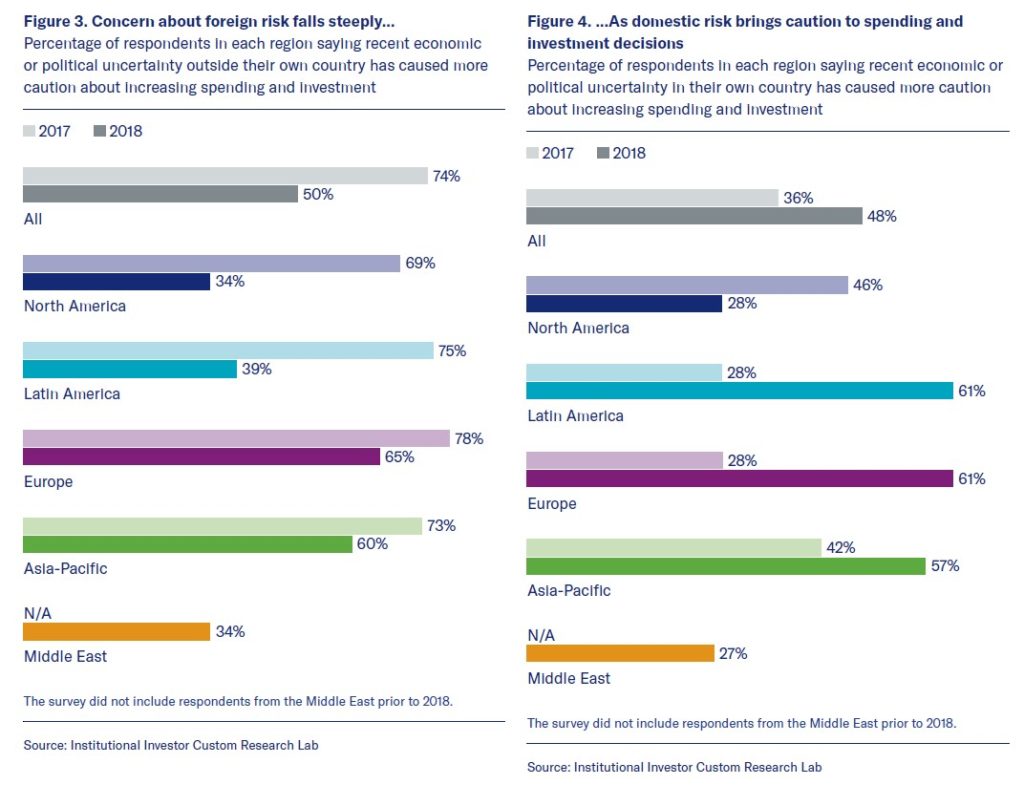 Respondents in Europe and Latin America are notably more cautious about increasing spending and investment because of domestic economic and political uncertainty. The proportion of respondents, identical in both regions, who indicate that domestic risk has made them more careful about spending, increased dramatically to 61% this year from 28% in 2017 — more than 30 percentage points (see figure 4).
Respondents in Asia-Pacific are more cautious about increasing spending and investment because of foreign economic and political uncertainty, perhaps over concerns about tension between the U.S. and North Korea. Respondents from North America and the Middle East are less likely to be cautious about spending and investment due to foreign or domestic uncertainty.
Read the full article here by American Express
Updated on