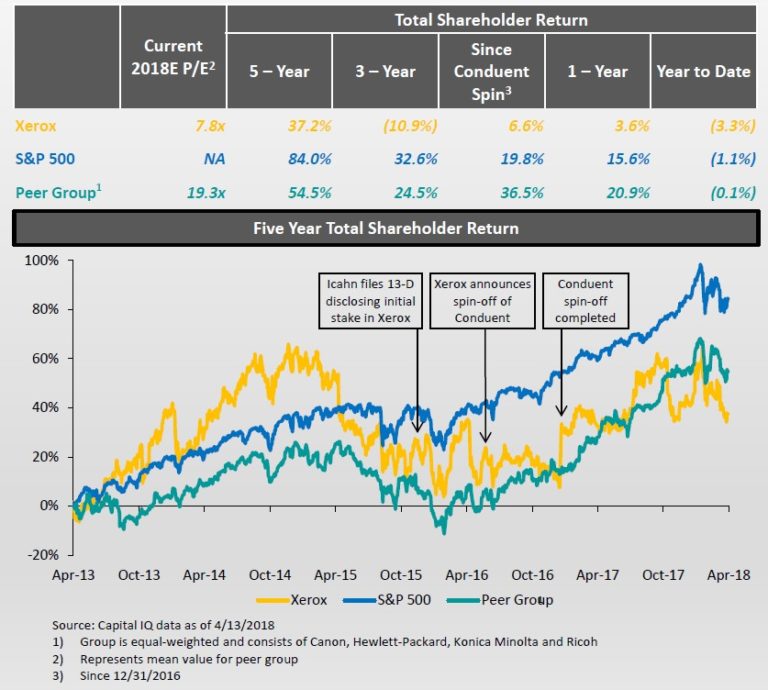 Carl Icahn And Darwin Deason Release Open Letter & Presentation To Xerox Shareholders
New York, New York, April 17, 2018 – Today Carl Icahn and Darwin Deason released the following open letter to shareholders of Xerox Corporation (NYSE: XRX):
Dan Sundheim Founder Of D1 At Sohn 2021 On His Favorite Stock
At this year's Sohn Investment Conference, Dan Sundheim, the founder and CIO of D1 Capital Partners, spoke with John Collison, the co-founder of Stripe. Q1 2021 hedge fund letters, conferences and more D1 manages $20 billion. Of this, $10 billion is invested in fast-growing private businesses such as Stripe. Stripe is currently valued at around Read More
Fellow Shareholders:
As promised, today we released a presentation explaining why Xerox shareholders need to vote to replace certain directors and to oppose the proposed Fuji scheme.
Both the substance of the proposed value-destroying transaction and the conflict-tainted process by which it was hatched are an insult to long-suffering Xerox shareholders and make a mockery of well-established corporate governance norms.
Fuji – with the able assistance of Xerox CEO Jeff Jacobson – appears to have been successful in putting one over on the board of directors of Xerox. However, the market cannot be so easily tricked. The closing price of Xerox stock last Friday (April 13, 2018), before many of the sordid details came to light, was $28.17 per share, which is approximately 14% below the closing price on the day prior to the announcement of the scheme and approximately 37% below management's purported deal value of $45.00 per share.
Noted Columbia law school Professor John Coffee summarized the transaction and the process behind it as follows: "This is a strange and irregular transaction that is simply not comparable to any other transaction I have seen in over 45 years of observing the 'merger and acquisition' marketplace. A CEO of the target, facing likely ouster, serves as the loyal agent of the acquirer, designing a deal that is too good to be true: a cheap price, little governance protections, no market check, and a process that ignores other bidders."
We could not have said it better ourselves.
We fully expect that Xerox will not prevail in its shameful attempt to keep hidden from shareholders the many other sordid facts surrounding this unfortunate transaction that are still being concealed due to the machinations of Xerox's lawyers. Despite their attempts to bury the truth, the fundamental economics of the scheme – which dramatically undervalue Xerox and disproportionately favor Fuji – are undeniable. Therefore, we are confident you will agree that the only choice here is to vote out the worst of Xerox's directors and to oppose the proposed Fuji scheme.
We look forward to engaging with you further over the upcoming weeks and months. Please stay tuned for more.
Sincerely yours,
Carl Icahn
Darwin Deason
Article by Carl Icahn