The Ben Graham Centre for Value Investing at the Ivey Business School at Western University will hold a conference on Value Investing on April 25, 2018 at the Sheraton Centre Toronto Hotel in downtown Toronto, ON. We will be attending and have full extensive notes from this conference so stay tuned (we will link from this page)
Also check out our Sohn Conference notes from yesterday right here. We will also be adding much more extensive coverage of the event in coming days for Premium readers in particular.
Q1 hedge fund letters, conference, scoops etc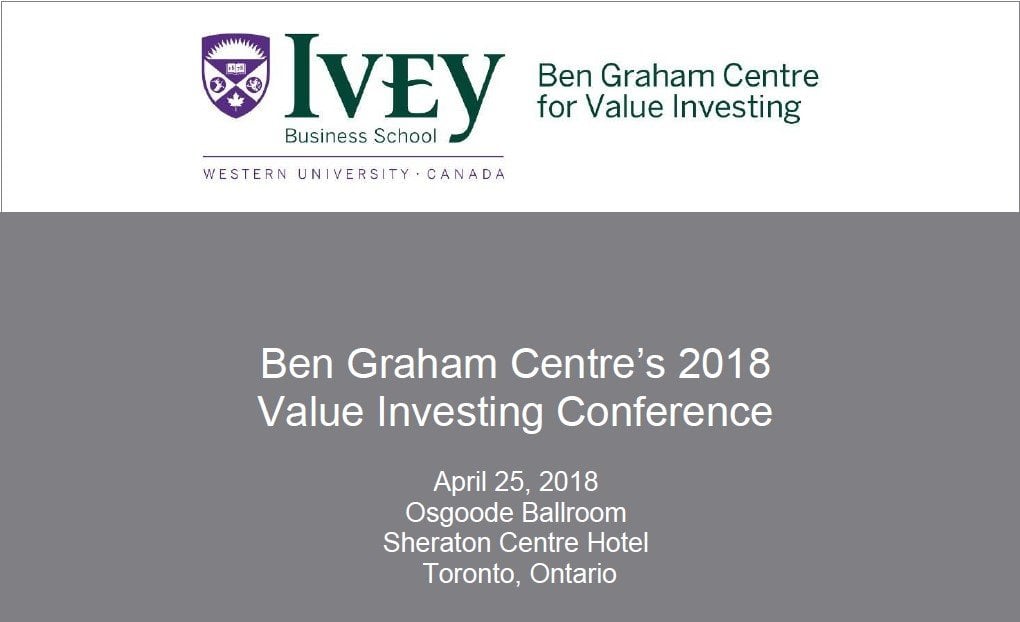 Director, Ben Graham Centre for Value Investing
Ivey Business School
Panel of Speakers
The Ben Graham Centre's 2018 Value Investing Conference offers a panel of speakers with a proven record of success in the field of value investing and the corporate sector. Featured speakers participating at the conference, in the order they will speak, are:
Morning Keynote Speaker
William McMorrow, Chairman and Chief Executive Officer, Kennedy Wilson Holdings Inc., Beverly Hills, CA, USA
Luncheon Keynote Speaker
Mason Hawkins, Chairman and Chief Executive Officer, Southeastern Asset Management Inc., Memphis, TN, USA
Panel of Value Investing Professionals
Mohnish Pabrai, Managing Partner, Pabrai Investment Funds, Irvine, CA, USA
John Phelan, Co-Managing Partner and Co-Founder, MSD Capital, L.P., New York, NY, USA
Elizabeth Lilly, Founder & President, Crocus Hill Partners, St. Paul, MN, USA
Allan MacDonald, Senior Vice President and Portfolio Manager, Burgundy Asset Management Ltd., Toronto, ON, Canada
Jan Hummel, Managing Director and Chief Investment Officer, Paradigm Capital Value Fund, Munich, Germany
Panel of Corporate Executives
David Sokol, Chairman & Chief Executive Officer, Teton Capital, LLC, Jackson Hole, WY, USA
Puneet Dalmia, Managing Director, Dalmia Bharat Group, New Delhi, India
Nirmal Jain, Founder and Chairman, India Infoline Holdings Ltd., Mumbai, India
Ramesh S. Damani, Chairman, Avenue Supermarts Ltd., Mumbai, India
The Ben Graham Centre's 2018 Value Investing Conference - Morning Agenda
7:45am – 8:30am Registration & Breakfast
8:30am – 8:45am Welcoming the Delegates, Introductions and Opening Remarks Dr. George Athanassakos, Director, Ben Graham Centre for Value Investing, Ivey Business School
8:45am – 9:25am Morning Keynote Speaker William McMorrow – Taking the Long View: Lessons Learned from 30 Years of Real Estate Value Investing Introduction: Roger Lace, President, Hamblin Watsa Investment Counsel Ltd.
9:25am – 12:45pm Value Investor Panel Presentations and Q&A
9:25am – 9:55am Mohnish Pabrai – Where Have We Been and Where Are We Headed?
9:55am – 10:25am John Phelan – Portfolio Management the MSD Way
10:25am – 10:45am Coffee Break
10:45am – 11:15am Elizabeth Lilly – Small and Microcap Stocks: The Last Undiscovered Frontier for Alpha
11:15am – 11:45am Allan MacDonald – Finding Great Investment Opportunities in New Business Models
11:45am – 12:15pm Jan Hummel – The Future of Active Value Investing
12:15pm – 12:45pm Q&A
Afternoon Agenda
12:45pm – 1:15pm Lunch
1:15pm – 2:15pm Luncheon Keynote Speaker Mason Hawkins – Long Term, Concentrated and Engaged Value Investing Introduction: Prem Watsa, Chairman and CEO, Fairfax Financial Holdings Ltd
2:40pm – 4: 40pm Corporate Executive Panel Presentations and Q&A Insights in the Global Container Shipping Industry: The Case of Seaspan
2:40pm – 3:05pm David Sokol – Teton Capital's Perspective Insights in Finding Value-Creating Opportunities: The Case of India
3:05pm – 3:30pm Puneet Dalmia – Dalmia Bharat Group's Perspective
3:30pm – 3:55pm Nirmal Jain – India Infoline Holdings' Perspective
3:55pm – 4:20pm Ramesh S. Damani – Avenue Supermarts' Perspective
4:20pm – 4:40pm Q&A
4:40pm – 4:45pm Concluding Remarks
Like Us On Facebook - For Business And General News: ValueWalk - For Tech And Science News: ValueWalk Tech - For Tech Insights, Technical Questions and Queries: Follow Our COO, Sheeraz Raza.