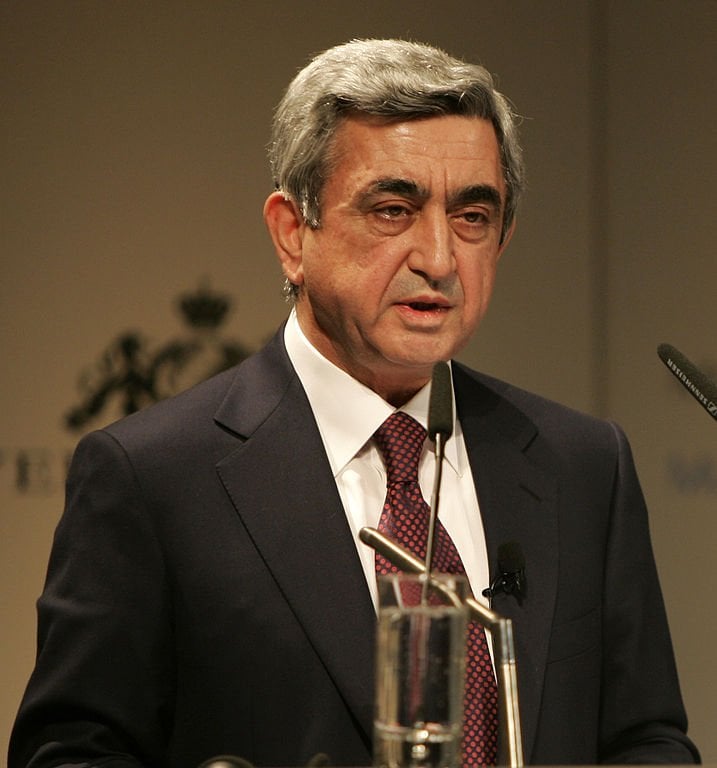 As anti-government protests continued to escalate after nearly two weeks, the Armenian prime minister's website announced today that Serzh Sargsyan resigns on Monday.
Sargsyan was elected on April 17 by the National Assembly, but only served as prime minister for 6 days. He had previously served as the nations as president.
His election as prime minister led to a growing wave of protests in the former Soviet republic. Sargsyan announced his resignation saying, "The street movement is against my tenure. I am fulfilling your demand."
Seth Klarman Describes His Approach In Rare Harvard Interview
In a rare interview with Harvard Business School that was published online earlier this month, (it has since been taken down) value investor Seth Klarman spoke at length about his investment process, philosophy and the changes value investors have had to overcome during the past decade. Klarman's hedge fund, the Boston-based Baupost has one of Read More
Sargsyan previously served two consecutive terms as Armenia's president between 2008 and April 9, 2018.
Serzh Sargsyan Resigns: The Protests
The streets of Armenia's capital, Yerevan, filled with demonstrators on Monday waving Armenian flags and chanting "Nikol," referring to detained opposition leader Nikol Pashinyan. Tens of thousands filled Republic Square in Yerevan protesting against Sargsyan's power grab.
Civilian protesters were joined by hundreds of uniformed military personnel, despite threats from the Defense Ministry of harsh punishment for military demonstrators, warning that the protests were benefiting the countries enemies, namely Azerbaijan, "The enemy is looking at events in our country. Instability inside our country opens a road for them to take action. We need to tell society about this." Defense Minister Vigen Sarkisian warned the military could become involved in the protests if a state of emergency was declared.
Pashinyan, leader of the Armenian National Congress, was arrested on Sunday, leaving the protesters without political leadership.
The announcement that Serzh Sargsyan resigns came shortly after Pashinyan had been released. Pashinyan was detained alongside two other opposition leaders and some 200 protesters. He had been detained since Sunday after televised talks with Sargsyan fell through.
Just before his arrest Pashinyan said to Sargsyan, "I came here to discuss your resignation."
Pashinyan claims he was held in isolation for 24 hours. After his release he said to the demonstrators, "I won't say it later, it's already clear, isn't it? We have won." Pashinyan has described Sargsyan's resignation as a "velvet revolution" meaning it occurred without bloodshed.
Sargsyan said in his statement, "Nikol Pashinyan was right. I was wrong."
After his release, Pashinyan took to Facebook to congratulate the Armenian people, "You have won, proud citizens of the Republic of Armenia. And no one can seize this victory from you. I congratulate you, victorious people."
Armenian authorities claim Sargsyan's resignation indicates a strong democracy in Armenia. The former prime minister's spokesperson told the BBC, "I think his resignation is a clear demonstration of a democracy in force. It's not that every demonstration in every corner of the world leads to the resignation of the authorities."
Armenians have already taken to the streets to celebrate the news that Serzh Sargsyan resigns.
Why Did the Armenian People Protest?
The protests against Sargsyan have been in the making since 2015. In 2015, the government moved towards a parliamentary system, reducing the powers of the president, but increasing the importance of the prime minister. At the time, Sargsyan was serving as president.
Shortly after the vote, allegations of election fraud fell into the lap of Sargsyan, as Armenians and international critics accused the president of plotting to take the office of prime minister after his term as president ended. They believed the vote was a measure to ensure Sargsyan would maintain power. In response, he promised to "not aspire" to serve as prime minister.
When it became clear that Sargsyan would ascend to the position of prime minister last week, protesters instantly took to the streets, where they clashed with police.
Sargsyan's Legacy
This is hardly the first time Sargsyan has inspired protests in Armenia. After his election in 2008, protests led to the death of eight people. During his 2013 reelection campaign, one of his opponents was shot in what many believe to have been an assassination attempt. Several other opponents dropped out of the race.
Sargsyan has been accused of echoing the tactics of Vladimir Putin to retain power. Putin has also been accused of eliminating opposition leaders, politically motivated assassinations, and navigating between the roles of prime minister and president in order to maintain his power. Sargsyan's critics also allege his government has strengthened ties with Moscow, despite the history of Soviet oppression.
Protesters also blame Sargsyan for growing tensions with Azerbaijan and Turkey, as well as high rates of poverty. Official statistics place the poverty rate in Armenia at 29.8%, meaning one in three Armenians is living in poverty. However, in 2017 the Sociometer Polling Center found the poverty rate was closer to 45% with 10% of the population living in absolute poverty. They describe a situation in which thousands of children are unable to attend school because they lack shoes and warm clothing.
Despite Sargsyan leaving office, he was able to hand select his successor as president, bringing into question how much influence he will continue to wield over the government. .
Serzh Sargsyan Resigns: Official Statement
Amid the protests, Sargsyan issued a statement via the prime minister's website. An unofficial translation can be read below:
Dear fellow Armenians,
I appeal to all citizens of the Republic of Armenia, to young and old, to men and women,
I appeal to all those who've been shouting "Reject Serzh" in the streets, day and night, and to those who've had difficulty getting to work, carrying out their duty solemnly, through closed streets,
I appeal to those who've been glued to the live broadcasts for days, and to those, who day and night, like men, were defending the public order.
I appeal to our brave soldiers and officers on the borders, I appeal to my comrades-in-arms,
I appeal to my political party friends, to all political forces and politicians,
I appeal to you as the country's leader for the last time.
Nikol Pashinyan was right. I was wrong. The current situation has several resolutions, but I will not invoke any of them. That's not me. I am leaving the post of Armenia's prime minister, the country's leader.
The street protests are opposed to my tenure. I am fulfilling your demand.
Peace, harmony and rationality to our country.
Updated on