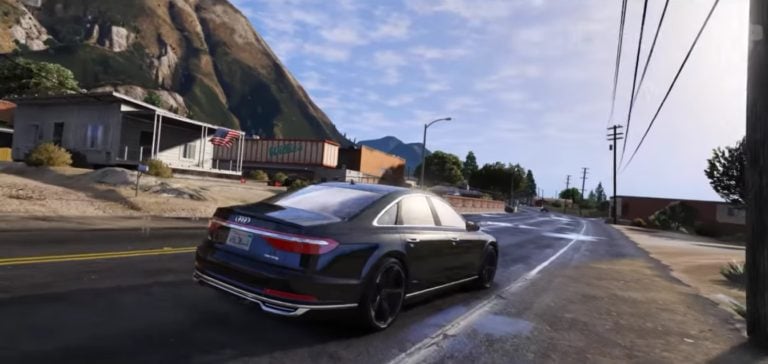 It's estimated that around 90 million copies of GTA 5 have been sold across all platforms, including the releases on PS3, Xbox 360, PS4, Xbox One, and PC. These sales combined with ongoing profits from GTA Online may make it the most profitable game of all time.
GTA 5 is thought to have made somewhere around $6 billion since its launch back in 2013, and the profits show no sign of slowing down despite the game being around 5 years old at this point – and those profits all come down to one feature: GTA Online. While the single-player campaign of GTA 5 was excellent and is widely regarded as one of the best in the series, the company has seen the most success with the release of the online mode. Allowing users to make their own characters and wreak havoc in an online world filled with friends and enemies alike, GTA Online has continued to create huge amounts of profit through sales of Shark Cards – a way to buy virtual currency to spend on the many items available ingame. While many are looking forward to the launch of GTA 6, Rockstar doesn't have much incentive to release it too quickly considering how incredibly popular GTA 5 continues to be.
In an interview with Marketwatch, Cowen analyst Doug Creutz believes that the success of GTA may not be easily replicated.
Dan Sundheim Founder Of D1 At Sohn 2021 On His Favorite Stock
At this year's Sohn Investment Conference, Dan Sundheim, the founder and CIO of D1 Capital Partners, spoke with John Collison, the co-founder of Stripe. Q1 2021 hedge fund letters, conferences and more D1 manages $20 billion. Of this, $10 billion is invested in fast-growing private businesses such as Stripe. Stripe is currently valued at around Read More
"I think it's a wild outlier," says Creutz. "I think maybe with the exception something Nintendo has made—Mario Brothers—but aside from that there's never been a console game that's sold so many units."
The movie business has also seen some serious blockbusters, but even Avatar, the highest grossing movie of all time, only made $2.78 billion. For a video game title to make twice what the top film of all time has made is unprecedented, and GTA 5 even comes out ahead of Star Wars and Gone With The Wind, which are said to have made around $3 billion when adjusted for inflation.
While many bemoan the existence of microtransactions, GTA 5 has seemed to arrive at a formula that works well for both themselves and gamers alike. Unlike some titles, it's perfectly possible to unlock everything in GTA Online without spending a dime (outside of buying the base game, that is.) Shark Cards – the major cash cow for Rockstar – simply serve to speed up the process, allowing those with the resources to get a headstart but to never be truly ahead of those who are willing to put in the time to grind out the resources they need for armor, weapons, and vehicles.
As Creutz suggests, GTA 5 is unprecedented when it comes to financial success, but if there's one game that can snag that top title it's GTA 6. We don't know much about the game as it's relatively early in the development process with so many resources recently dedicated to the release of Red Dead Redemption 2, but the GTA series has been far and away the most profitable franchise for the game studio. Many have suggested that GTA 6 might even give us the entirety of the United States as a playground, which would make for a new version of GTA Online that surpasses what we've enjoyed with this current title. GTA 6 will likely give us an excellent single-player story as well, but Rockstar has shown that their commitment to these titles will likely lie in the online modes – an unfortunate fact of life for those who play the games for the robust single-player experience. GTA 5 was promised single-player downloadable content, but that never came to fruition after GTA Online took off in the way that it did. Rockstar may stand to see the same success with GTA 6, and it's certainly possible that the single-player experience will take a back seat.
However, as it usually takes a little while for the online mode to come online, it may be a little while before we see this profitable playground released into the public. Until then, we'll be able to enjoy the expertly-crafted single player experience that makes the GTA series so great. GTA 6 could certainly stand to outsell its predecessor if Rockstar plays their cards right, and thus far they've managed to maintain quality while giving us the most successful game of all time.