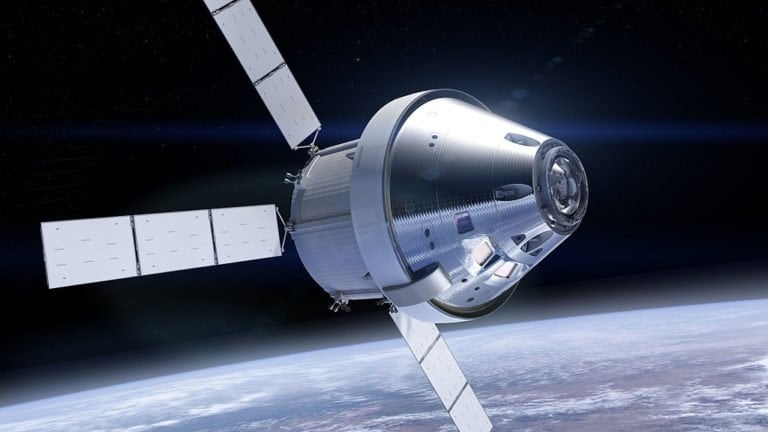 U.S. contractor Lockheed Martin will reportedly make more than 100 3D printed spacecraft parts in order to supply the NASA Orion capsule.
While many associate 3D printed spacecraft parts with radical startups rather than large governmental space agencies, the NASA Orion spacecraft will take advantage of this new form of technology by employing the services of U.S. defense contractor Lockheed Martin. In collaboration with 3D printing specialist Stratasys and engineering firm PADT, Lockheed Martin will develop 3D printed spacecraft parts for the NASA Orion mission that are designed to withstand extreme temperatures and hazardous chemical exposure that accompanies deep space mission.
In an interview with Reuters, Scott Sevcik, Vice President of Manufacturing Solutions at Stratasys, stated that "In space, for instance, materials will build up a charge. If that was the shock the electronics on a spacecraft there could be significant damage." By partnering with Lockheed Martin and PADT to develop these 3D printed spacecraft parts, Stratasys will enable both the NASA Orion capsule and spacecraft in the future to withstand conditions that are currently very difficult to address.
How Warren Buffett Went From Hating To Loving Banks
Since the financial crisis, Warren Buffett's Berkshire Hathaway has had significant exposure to financial stocks in its portfolio. Q1 2021 hedge fund letters, conferences and more At the end of March this year, Bank of America accounted for nearly 15% of the conglomerate's vast equity portfolio. Until very recently, Wells Fargo was also a prominent Read More
3D printing has been used in a variety of industries, ranging from hobbyists making cool gadgets at home to multi-million dollar corporations using it as part of their manufacturing. The NASA Orion mission marks the first time the government agency has employed 3D printed spacecraft parts, and really solidifies the technology as the cutting-edge option for durable and extremely accurate production.
One of the main benefits, Sevcik said, is the latitude it provides the company, "…even more significant is that we have more freedom with the design…parts can look more organic, more skeletal."
Lockheed Martin also commented on the use of 3D printing in the creation of the NASA Orion project, with Additive Manufacturing Manager Brian Kaplun saying that "We look to apply benefits across our programs – missile defense, satellites, planetary probes, especially as we create more and more common products."
The NASA Orion capsule is part of the agency's program that serves as a follow up to the previously retired space shuttles that will allow astronauts to finally fly beyond the International Space Station – our scientific base in space which currently flies around 260 miles above Earth.
The European Space Agency has also offered novel input about future plans for reducing the cost of future space missions, even suggesting that we could use both moon rock and Mars dust to create 3D printed structures and tools – significantly reducing the amount of resources that we need to carry along with us from Earth. With hopes that we'll establish a Martian colony in the near future, there are a number of practical considerations that need to be taken into account. With no easy way to access materials on Earth, astronauts may have to rely on what they can manufacture or grow on the surface itself – and the 3D printing involved in the creation of the NASA Orion spacecraft may show enough promise to be implemented in a similar manner.
While the 3D printed spacecraft parts are newsworthy in and of themselves, what is really more exciting is how far 3D printing has come from its initial incarnation. Many envision a future where 3D printing is far more ubiquitous, providing easy access to anything we may need with the push of a button. While the technology is not quite at that point at this current point in time, we're certainly well on our way to a robust manufacturing process that can accomplish pretty much anything we need made with a high degree of accuracy. If 3D printed spacecraft parts are possible, the sky's the limit when it comes to this cutting-edge technology.