Co-CIO Francis Gannon explains that, while global markets remain volatile, the earnings picture remains both strong and promising.
Check out our H2 hedge fund letters here.
Investing in the Next Generation of Emerging and Frontier Markets with Maurits Pot
ValueWalk's Raul Panganiban with Maurits Pot, Founder and CEO of Dawn Global. Before this he was Partner at Kingsway Capital, a frontier market specialist with over 2 billion AUM. In the interview, we discuss his approach to investing and why investors should look into frontier and emerging markets. Q2 2021 hedge fund letters, conferences and Read More
The market continues to send mixed signals—helped most recently by tariff talk that spooked U.S. investors—as increased volatility has been a near-constant presence so far in 2018.

This is neither surprising nor unwelcome—at least for active equity managers like ourselves. 2016 and 2017 both experienced strong up markets that were also atypically placid. (From the last bottom for the small-cap Russell 2000 Index on 2/15/16, the deepest small-cap correction was 6.4% through the end of 2017. So more volatility—as well as a correction—seems increasingly likely.)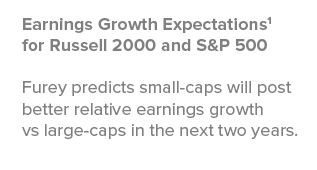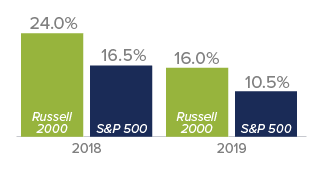 1 Data courtesy of Furey Research Partners
Our own practice with volatility over more than four decades focusing on small-cap stocks has been to use falling prices to initiate or add to positions—which is exactly what our portfolio managers have been doing.
However, we also think increased volatility is obscuring earnings strength. From our perch as small-cap specialists, we remain highly confident that synchronized global growth will drive equity returns, which should ultimately result in leadership for certain cyclical sectors—more specifically, those that combine profitability, relatively attractive valuation, and global exposure.
Our confidence has been reinforced by recent earnings results. Our friends at Furey Research recently reported that 4Q17 year-over-year earnings growth for the Russell 2000 rose 12.9% for the 69% of the companies in the small-cap index that reported. In addition 62% of companies beat earnings expectations while 67% beat sales growth expectations.
More important from our perspective, Furey also reported that current expectations call for small-caps "to post better relative earnings growth in the next two years" than large-cap stocks (as measured by the S&P 500). They anticipate that earnings growth for the small-cap index should "accelerate to 24% in '18 and then grow 16% in '19, up from 8.5% in '17." Furey's report goes on to peg earnings growth expectations for the S&P 500 at 16.5% 2018 and 10.5% in 2019, "up from 9.7% in '17."
This is consistent with our own company analyses and meetings with management teams. The overall outlook remains cautiously optimistic, with rising rates, contracting liquidity, and inflation risk on side and accelerating growth, technological innovations, and improving profitability on the other.
To be sure, we think the case for cyclicals with earnings and global exposure remains strong. As confidence mounts in the economy, we anticipate that more and more investors will recognize that earnings growth (or recovery) is a critical component—perhaps the most critical component—to building strong long-term performance.
Cyclicals have also tended to be best historically in precisely the sort of synchronized global growth environment in which we now find ourselves.
Our advice? Ignore the daily noise, stay focused on earnings, and invest for the long run. After all, the market may run on psychology in the short term, but in the long term it runs on earnings.
Stay tuned…
Article by Francis Gannon, The Royce Funds