Whitney Tilson on GE, Buffett, Tesla Inc. (NASDAQ:TSLA) and more from his latest email to investors
Happy Easter/Passover!
Canyon Distressed Opportunity Fund likes the backdrop for credit
The Canyon Distressed Opportunity Fund III held its final closing on Jan. 1 with total commitments of $1.46 billion, calling half of its capital commitments so far. Canyon has about $26 billion in assets under management now. Q4 2020 hedge fund letters, conferences and more Positive backdrop for credit funds In their fourth-quarter letter to Read More
1) Earlier this month I published two articles on Seeking Alpha on short selling:
a) Lessons From 15 Years Of Short Selling: 12 Reasons Not To Short, https://seekingalpha.com/article/4152732-lessons-15-years-short-selling-12-reasons-short. Excerpt:
Short selling is brutally difficult, especially during a long, complacent bull market like this one.
Most investors would be better off learning about shorting - but not doing it - for a dozen good reasons.
But it's very healthy for our markets.
I think now is an excellent time to be looking at short ideas, which is why I've organized a conference around this.
b) Lessons From 15 Years Of Short Selling: 10 Reasons To Short, https://seekingalpha.com/article/4156799-lessons-15-years-short-selling-10-reasons-short. Excerpt:
Short selling is brutally difficult, especially during a long, complacent bull market like this one, so most investors would be better off learning about shorting, but not doing it.
That said, shorting can make sense for certain investors for 10 reasons.
2) There have been rumors that Buffett might be either buying GE stock or could buy a division of GE in a privately negotiated transaction. I don't think either is likely (though neither is impossible – I'd put odds at 10-20%).
Regarding buying the stock, take a look at this chart of GE's EBITDA, operating income and free cash flow (operating cash flow minus cap ex) – all three had been trending down from 2012-16 and then fell off a cliff in 2017:
It's hard for me to see Buffett (or Weschler or Combs) buying GE stock when it's almost impossible to figure out what true, normalized free cash flow is.
As for buying a division of GE, I'm sure Buffett would be delighted to buy certain assets at the right price, but I don't think GE is a seller – and if they were, they would likely conduct a big auction to get the highest price, which isn't the kind of thing Buffett usually participates in, much less wins.
He's typically a buyer when one or more of the following conditions are present:
a) The seller needs money fast (e.g., lots of deals in the financial crisis);
b) The seller really cares about who the buyer is (they want Buffett's stamp of approval (e.g., GS and GE in the financial crisis) or they care about a good permanent home for the business, where there will be minimal interference (e.g., Iscar)); or
c) The seller is sick of being a public company (e.g., Precision Castparts).
None of these is true in the case of GE.
3) Speaking of Todd Combs, here's a nice profile of him: The Billionaire Whisperer Who United Bezos, Buffett and Dimon, www.bloomberg.com/news/articles/2018-03-27/what-do-bezos-buffett-and-dimon-have-in-common-meet-todd-combs. Excerpt:
In late January the three billionaires announced they were teaming up to form a company, free from "profit-making incentives," that would seek to lower the cost of covering their hundreds of thousands of employees. Details were scarce, but health-care stocks promptly plunged. Some of the smartest minds in business were about to try fixing a notoriously wasteful industry—one that costs America some $3.3 trillion annually.
For Bezos, Dimon, and Buffett, it was another splashy headline in careers that have pushed boundaries. Behind the scenes, though, Combs largely spearheaded the effort, according to a person familiar with the matter. For months, Combs shuttled among the CEOs to get them to commit to doing something about a problem they'd discussed informally for years, the person says.
This was probably just how Combs wanted it: involved in the action but out of the spotlight. The Florida State University graduate was a virtual unknown in investing circles when Buffett hired him in 2010 to manage a portion of Berkshire's vast stock portfolio. At the time, one of the few photos that news outlets could find of him was a boyish high school yearbook shot. Since then the world hasn't gotten to know Combs much better. (He declined to be interviewed for this story.)
This much is clear: Over the past seven years, Combs has become an influential figure at Buffett's conglomerate. In addition to investing a slug of Berkshire's money, he was behind the $37 billion purchase of Precision Castparts Corp., a supplier to the global aerospace industry, and worked on well-publicized trades that saved hundreds of millions of dollars in taxes.
Combs is already in line to manage a huge swath of Berkshire's investments when Buffett, 87, leaves the scene. But his ever-growing portfolio has led some shareholders and analysts to speculate that he could one day become CEO as well.
4) Mark Spiegel of Stanphyl Capital is one of the 20 confirmed speakers at my best-short-ideas conference on May 3 (less than five weeks away), The Art, Pain and Opportunity of Short Selling. He gave me permission to share his March letter (attached), which is focused  on the stock he's going to present: Tesla. It's going to be one of many epic takedowns you won't want to miss!
You can register here: http://bit.ly/KaseRegister. The registration fee is currently $3,000 (going to $4,000 on April 15), but if you register before then using my 20% friends and family discount code, FF20, it's only $2,400.
In his letter, Spiegel writes:
We remain short shares of Tesla, Inc. (TSLA), which I consider to be the biggest single stock bubble in this whole bubble market—a company so landmine-filled that I think it can implode at any moment regardless of what the broad market does. To reiterate the three core points of our Tesla short position:
1) Tesla has no "moat" of any kind; i.e., nothing meaningfully or sustainably proprietary.
2) Tesla loses a huge (and increasing) amount of money despite relatively light competition but will soon be confronted with massive competition in every aspect of its business.
3) Elon Musk is extremely untrustworthy.
March was an action-packed month for Tesla (and not the kind of action you want to see if you're long!); here are the highlights…
5) My advice to Tesla (in my article on March 20; see: https://seekingalpha.com/article/4157812-open-letter-reed-hastings-equity-offering-now) to do a large equity offering to pay down debt and build cash is looking better and better – the stock is down 15% since then and lots of articles like this are coming out:
6) I was in Dallas last weekend visiting my cousin and we stopped in the Tesla showroom, where I saw the Model 3 for the first time. It's a pretty cool looking car, inside and out.
We talked a long while with the woman who opened the showroom (a couple of years ago?) and she told us many things:
They're only making and delivering fully loaded Model 3s right now, priced ~$57,000 (with 310-mile range).
They're currently delivering 4/day to the Dallas area (due to Texas' dealership laws, I think she said they're delivered out of state and then brought to Dallas, where they can be picked up at a central location).
If you order one now, they estimate delivery in 12-14 months (yeah right!).
To the critique I've read that it takes lots of distracting touches on the touchscreen to do simple things like open the glove compartment or turn on the windshield, she showed me one touch for the former and said the wipers automatically turn on when it rains (you can manually set them as well).
She cringed when I told her what my friend did when he drive from LA to NYC in a new Model S: he watched Orange Is the New Black on his iPad and didn't tough the wheel for hours on end on long highways across the Midwest. She said Teslas are NOT self-driving and it's reckless to treat them as such (gee, I wonder which CEO Tesla owners could have gotten that idea from??? ;-) She did say, however, that all the hardware is in the cars to be totally self-driving (this is total BS) – they're just waiting for the "mega software download" to make this happen. She couldn't even hazard a guess when this might be.
One other note: my cousin is 6' 6" and said that with the seat all the way back, it was comfortable (see pic 3), but felt like there was a big blind spot due to the "pillar" next to his head.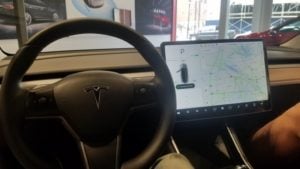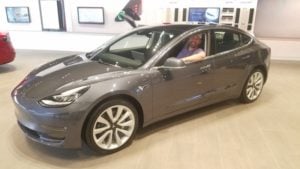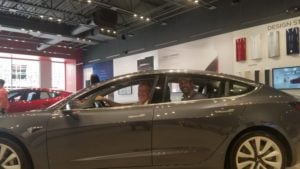 7) Three of my friends, in response to this email, sent me comments:
a) The tailgate is very high which is distracting for long drives. I have looked at dozens of 3s and the fit/finish is very poor for a modern car. There are some stupid features like the door release. Some of the features require power which could be very bad in an accident. The wind noise at speed is a problem. Also no texting integration. The car may be "fully loaded" but air suspension and 4wd are still not available, which are both important features to me in my Model S.
On the plus side the audio is supposed to be very good. I doubt the touch screen is hard to get used to and they are improving the voice commands.
For the record, you need to keep your hands on the wheel so the car feels minor feedback.
I hear 30 percent of reservation holders (like me) actually buy the car.
b) The $60,000 (when all is said and done, sales taxes, etc.) current version, the only one available now, does not stack-up well with similarly priced luxury mid-sized vehicles like the BMW 5-Series. The hope was that this was going to be a cool $27,500 ($35,000 minus Federal Tax Credit) EV, not a $60,000 car with some "issues". That's a much smaller market.
The Audi e-Tron and Jaguar I-Pace will both be out this year in Europe and North America. But the real problem for Tesla will be in 2019, when Porsche rolls out the Mission E sports car and crossover. They are gorgeous, high-performance vehicles, aimed squarely at the Tesla Model S and X. Elon no longer has the market to himself, and is no longer the technology leader in the space. That's what has changed in the TSLA story.
c) Indeed the Model 3 is a good-looking compact sedan.  I have zero complaints about the way it looks, in terms of the exterior design.
Then again, essentially all new cars look more or less good.  I may like a few more than others -- Mazda, Range Rover, Volvo -- but the big picture is that almost every single new car in the market today is simply superb in most aspects, including quality.
Some people will like the Model 3 dashboard; others won't.  It's one of those things that will likely take an objective reviewer at least several weeks, possibly months, before a firm opinion can be rendered.
But here are some things that are objective:
Tesla lacks Android Auto and Apple CarPlay
For all the talk about Tesla's technological prowess, it lags almost every single automaker in implementing Apple CarPlay and Android Auto.  Why is Tesla so hell-bent on going to war with Apple and Google? I don't know. It would actually be very easy for Tesla to implement this. In fact, it would be pretty much the simplest thing they ever did.  It's so simple that every other automaker (except one, Jaguar Land Rover) is doing it. Most are doing both systems in parallel; a small number of automakers are doing only Apple CarPlay. Some 60% of all new cars for sale right now have one or both of these systems, and in less than a year from now it will be 85%, on the way to 90% shortly thereafter.  Tesla may soon be the sole automaker to fight Apple and Google in terms of infotainment compatibility.
Tesla is unlikely able to upgrade any car to Level 4 or 5 autonomy
No Tesla sold to date has the kind of braking and steering system that every single supplier in the industry says are needed for Level 4 and 5.  They may not have good-enough sensors either (lacking LIDAR etc), and their Nvidia CPU may not yet be powerful or redundant enough. Furthermore, there is no camera in the cabin that watches the driver's attention level.  Yes, I know there is a camera in the Model 3, but as I understand it, it's not capable of monitoring the driver's eyes etc, in a good way to ensure his/her attention. Elon promised on the February 7 conference call that full self-driving would be rolled out to all Teslas within 3-6 months from that time.  Do promises mean anything? We will soon see another impressive self-driving demo by Tesla, but there is still a long way until a driver no longer has to keep attention, let alone take a nap in the back seat.
Cadillac has the only hands-off "autopilot" (aka SuperCruise) system in the market
I spent a few days driving the Cadillac CT6 with SuperCruise, a month ago.  It's the only car in the market today where you can keep your hands off the wheel for an extended period of time (possibly hours, but I didn't try it on those freeways for quite that long in a single stretch).  I did it a couple of times for a half-hour stint each time. Among other things, the Cadillac is the only vehicle in the market today with a camera on the steering wheel column, that monitors the driver's attention.  It's a hands-off system -- not eyes-off. If you start to look at the hot chick in the car next to you, or start fiddling with your phone -- or start arguing with your wife next to you (possibly all 3…) -- the car will balk and require that you put your hands on the wheel pronto -- or it will pull over to the side and stop the car.
In any case, stay tuned for more self-driving car announcement from Waymo (Google) in the very near future, as well as for Jaguar's U.S. launch of the i-Pace crossover-SUV all-electric car.
With 150 all-electric cars in the market by 2022, margins will range from zero to very negative.  It's just a car, after all.