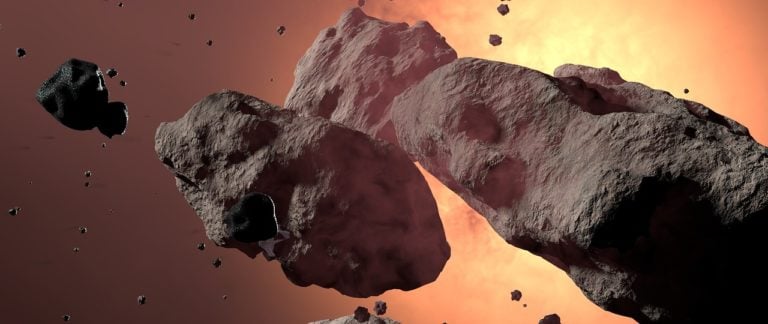 When the news of an approaching asteroid emerge, many people get scared that the consequences could be hazardous. However, most of the time there is no reason to worry, and this time is no exception. On Friday, March 2, we will see a relatively small asteroid zip by our planet. Moreover, a live webcast has been organized to take a look at the tiny source of light as it flashes across the night sky. Although it's a relatively small asteroid, it's actually the size of a bus.
The asteroid that is to zip by on Friday is dubbed 2018 DV1, and measures 23 feet wide. According to EarthSky, the asteroid will zip within 65,000 miles of Earth at its closest approach. The calculations were made using the asteroid tracking widget, which precisely measured its size.
The Virtual Telescope Project is ready to hold a webcast of the asteroid with astrophysicist Gianluca Masi in Ceccano, Italy. Watchers will be able to observe views of the asteroid on the webcast, viewed by a 16-inch robotic telescope at the Tenagra Observatories in Arizona.
David Einhorn At The 2021 Sohn Investment Conference: Buy These Copper Plays
There's a gold rush coming as electric vehicle manufacturers fight for market share, proclaimed David Einhorn at this year's 2021 Sohn Investment Conference. Check out our coverage of the 2021 Sohn Investment Conference here. Q1 2021 hedge fund letters, conferences and more SORRY! This content is exclusively for paying members. SIGN UP HERE If you Read More
The live webcast of the bus-sized asteroid will be available for watching on the Virtual Telescope website, starting at 12:30 a.m. EST. The relatively small asteroid was initially spotted on Monday, Feb. 26 by astronomers at Mount Lemmon Observatory in Arizona.
Asteroid 2018 DV1 is arriving right after another close asteroid encounter with our planet. Another asteroid zipped by Earth on Sunday, Feb. 25. The asteroid approached within 196,000 miles of Earth on its trajectory.
Scientists also spotted one more asteroid called 2017 VR12 and it's being tracked by The Virtual Telescope Project. It is scheduled to zip by Earth on March 7. At its closest approach it is going to be roughly 870,000 miles away from our planet. According to NASA's statement, asteroid 2017 VR12 is estimated to be about 820 feet wide. Furthermore, its size compared with the distance it's going to be away from our planet during its journey qualifies the asteroid as a "potentially dangerous" asteroid.
Nevertheless, there is no need to worry. NASA classifies nearly every near-Earth asteroid as "potentially dangerous" as long as it's larger than 492-feet across in an orbit that approaches Earth within 4.6 million miles.
NASA's Planetary Defense Coordination Office is focused on searching and updating its database with newly discovered asteroids that could approach our planet at a dangerous distance. The office is operating with several partner telescopes to make sure all large objects are spotted.
The database is being updated regularly, and along with all asteroid findings, it's published online at the Small-Body Database Browser, which is available to everyone for free. It's also worth mentioning that the space agency hasn't yet announced the discovery of an object that could potentially be dangerous for Earth.
However, small asteroids don't always just zip close to our planet. At times, they enter Earth's atmosphere. Still, our atmosphere successfully protects us from atom-bomb scale impacts which could be created if  it wasn't for the atmosphere that protects us, according to EarthSky.