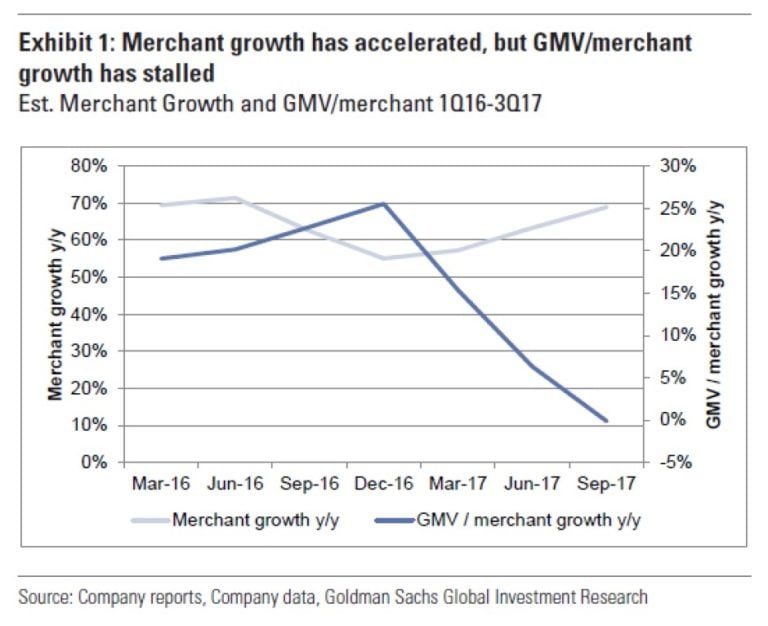 Shopify Inc

(NYS:SHOP) "entrepreneur" program, one of its sexiest metrics, is in serious jeopardy. Shopify should immediately trade back to $100 says Citron

Shopify and Facebook, Inc. (NASDAQ:FB) have been in an unholy alliance for years – in which Facebook has shared your personal information with Shopify sponsored/supported opportunists. The warning signs have been there, but as the scope of Facebook's severe privacy problem gets exposed, Facebook has no choice but to drastically revamp how it sells its data – data about you and your personal behaviors. Rocked to the core of its business model, Facebook has no choice but to take away Shopify's punch-bowl.

While Citron agrees that Shopify offers best‐in‐class ecommerce solutions for its 3,600 Shopify Plus merchants (a real customer base, and a slow‐growth one), we will prove that the growth engine of the company might come to an abrupt halt with revised Facebook privacy guidelines.
Blue Eagle Capital Partners: Long Thesis For This Lending Stock
Blue Eagle Capital Partners was up 17.7% net for the third quarter of 2020, bringing its return to 49.1% for the first nine months of the year. During the third quarter, longs contributed 28.15% to the fund's performance, while shorts subtracted 7.36%. The S&P 500 was up 8.93% for the third quarter. Q4 2020 hedge Read More
Shopify's recent stock price run can be attributed to the growth in "Entrepreneurs" who have extended SHOP customer base to a staggering 600,000 "stores". It is because of this explosive growth in stores, not profits, that has allowed Shopify's core business to trade at a staggering 37x sales. Compare this to Wix at 11x sales, or the recent private equity investment into Squarespace at 6x sales.
What has been the #1 key to Shopify's growth? Facebook!!
It's no secret that Shopify pitches the Facebook/Instagram solution to its "entrepreneurs". It is no coincidence that Shopify tells you that you can become a "Facebook millionaire" …. not a Shopify millionaire.
Describing Shopify's business model, Goldman Sachs Research published this diagram to illustrate how FB is the nexus of marketing for Shopify.

Now here comes the problem that wasn't a problem….until now. Many of these "entrepreneurs" are more wolves in sheep's clothing as expressed in these recent mainstream articles
Warranted or not, users place trust in well‐known platforms — this much is clear from the number of complaints expressing disbelief that Facebook and Shopify would continue doing business with companies that might not be legitimate. ‐‐ Racked, December 13, 2017
https://www.racked.com/2017/12/13/16762872/scam‐sites‐facebook‐shopify
Some Instagram retailers are legit brands with employees and products. Others are simply middlemen for Chinese goods, built in bedrooms, and launched with no capital or inventory. All of them have been pulled into existence by the power of Instagram and Facebook ads combined with a suite of e‐commerce tools based around Shopify.
‐‐ The Atlantic, January 10, 2018
https://www.theatlantic.com/technology/archive/2018/01/the‐strange‐brands‐in‐yourinstagram‐feed/550136/
So what information does Facebook confer on these Entrepreneurs? ‐ You Won't Believe! It gives them my travel schedule, political views, and life events….not to mention the ability to track me all over the internet.
Below are two paragraphs that Citron has excerpted from an 84‐page document made available to Shopify.

"Unlike interest targeting, behaviors allow you to target people by purchase history, intent, and more. This data is gathered from Facebook's analysis of many factors combined with external data sets. As an example, you can target people currently traveling or planning their next trip." ‐‐ Written about Shopify! Embraced by Shopify!

"Just click one of the targeting topics in the menu and you'll be able to refine your audience based on many options. As an example, you'll be able to target people by their political views, life events, job titles, ethnicity, and so on." ‐‐ Written about Shopify! Embraced by Shopify!
Why Does Shopify promote the "entrepreneur program"?
Shopify's stock price is perched on the halo of increased merchant count, which all of the growth and the bulk of the numbers is from the "entrepreneur count", which has been skyrocketing due to Shopify's aggressive affiliate marketing efforts.
The real Shopify customers, the legitimate brands that operate on the Shopify platform, are already decelerating.
The amount of net customer additions for Shopify Plus went into deceleration in 2017.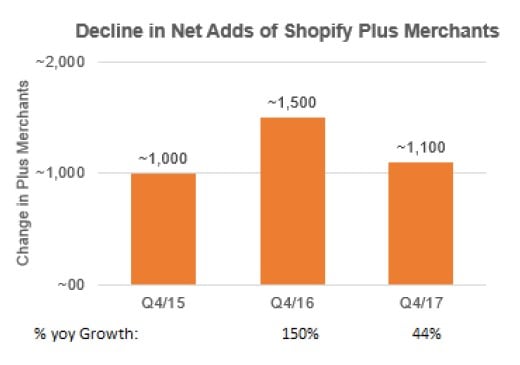 But more Importantly
The GMV/merchant (Gross Merchandise Volume per merchant) is collapsing as the entrepreneurs are struggling to actually "get rich".
Despite getting access to your personal information for drop shipping, the prospects for becoming a Facebook millionaire are not as promised., no surprise the company does not discuss churn.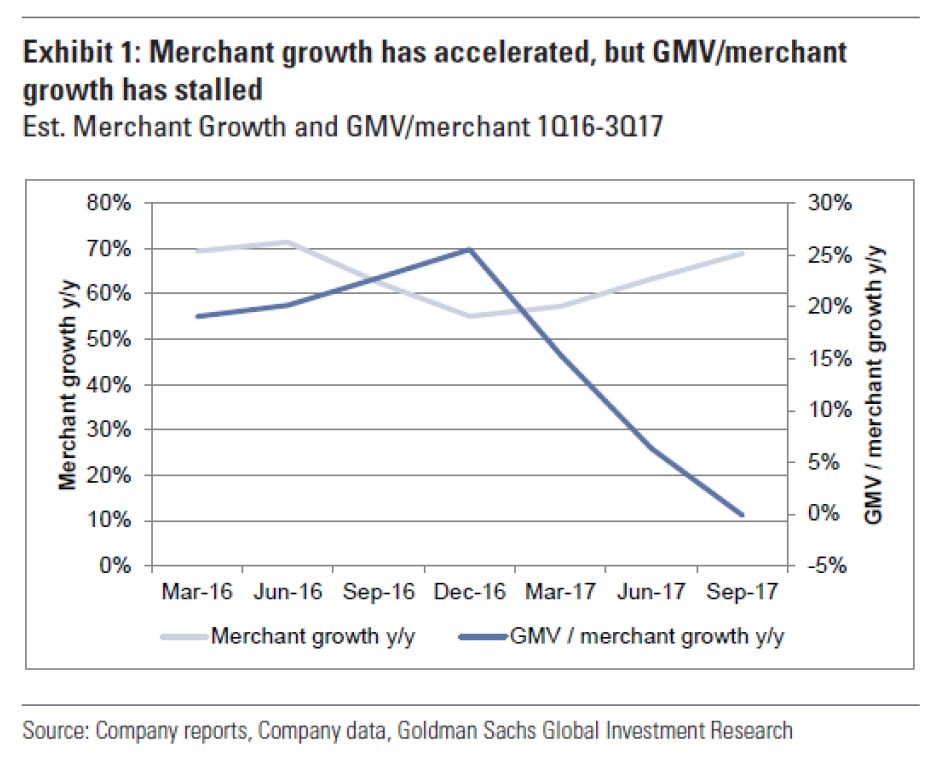 It cannot be disputed that tighter Facebook restrictions on access to privacy and pixels will annihilate the already fragile and dodgy business of the Shopify Entrepreneurs.
What happens to the stock price once the total customer count reverses back to 500,000k, on its way to 400,000 and then 300,000???
Article by Citron Research
See the full PDF below.