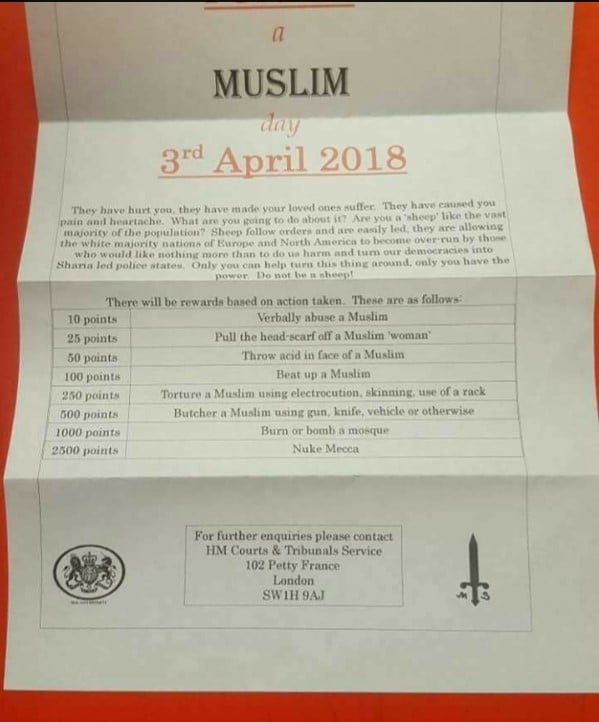 Muslims in the U.K. are on edge as letters urging others to harm them circulate. Counterterrorism police are now investigating to determine the source of the letters, which declare April 3 to be Punish a Muslim Day. The letters also offer a supposed point system with suggestions on how to do that. In response, there's now another letter going around that's calling for April 3 to be Love a Muslim Day instead.
ValueWalk obtained this image of the original Punish a Muslim Day letter:
All Muslims accused of causing "pain and heartache"
This Odey Cub Is Waiting For A Pullback To Buy Financials
Michele Ragazzi's Giano Capital returned 1.9% for March, taking the fund's year-to-date performance to 1.7%. Since its inception, Ragazzi's flagship fund has produced a compound annual return of 7.8%. According to a copy of the €10 million fund's March update, a copy of which ValueWalk has been able to review, Giano's most significant investment at Read More
As you can see, the distressing letter makes a blanket accusation against all Muslims, accusing them of hurting people and causing "pain and heartache." It also accuses those who do not take part in Punish a Muslim Day of being sheep and allowing people who want to do harm to "the white majority nations of Europe and North America" to "over-run" the populations. Meanwhile, the letter ironically issues instructions calling for people to be sheep and follow the writer's orders instead.
Lowest on the "point scale" is to "verbally abuse a Muslim," while the highest number of "points" is supposedly handed out for anyone who decides to "nuke Mecca." The letter suggests several other violent ways to "punish a Muslim" as well.
The Punish a Muslim Day letter is being circulated in London, Birmingham, Leicester, Cardiff, Yorkshire and the West Midlands. The Pew Research Center now expects the Muslim population in the U.K. to triple over the next three decades, rising from 4.1 million in 2016 to 13 million by 2050, so the growing community is naturally shaken by the letters. Among those who have received anti-Muslim letters are four MPs of South Asian descent, according to the BBC.
Punish a Muslim letters trigger a counterterrorism probe
London Metro Police and West Yorkshire Police are working with the North East Counter Terrorism Unit to locate the source of the letters. The counterterrorism unit confirmed in a statement that it was investigating "potentially malicious communications sent to individuals across the U.K." Officials are urging anyone who has received a copy of the Punish a Muslim letter to get in touch with local police. Tell MAMA, an organization which monitors hate crimes against Muslims is also reportedly working with police, according to Al Jazeera.
Andrew Smith, who leads interfaith relations for the Church of England, tweeted his anger about the "appalling" Punish a Muslim Day letters that are being sent to some residents. He expressed solidarity with the Islamic community, saying that he "can't imagine how horrible & frightening it must be to get a letter like that." According to The Express Tribune, multiple police departments in the U.K. are also expressing their solidarity with the community in their own statements, reassuring them that they are taking the letters seriously.
Love a Muslim Day urged instead
In response to the Punish a Muslim Day letter campaign, there's a new letter calling for Love a Muslim Day instead. Shahab Adris, who works with MEND (Muslim Engagement and Development), a non-profit organization that battles Islamophobic attitudes, came up with the idea for the letter. Instead of points being given for punishing a Muslim, the letter offers positive suggestions of ways to show love toward Muslims, ranging from a simple smile, all the way up to buying a Hajj package for a Muslim family, which is a pilgrimage to Mecca.
Adris told the BBC that he has received some positive responses in the U.K., both from within and outside the Muslim community, as a result of the letter.