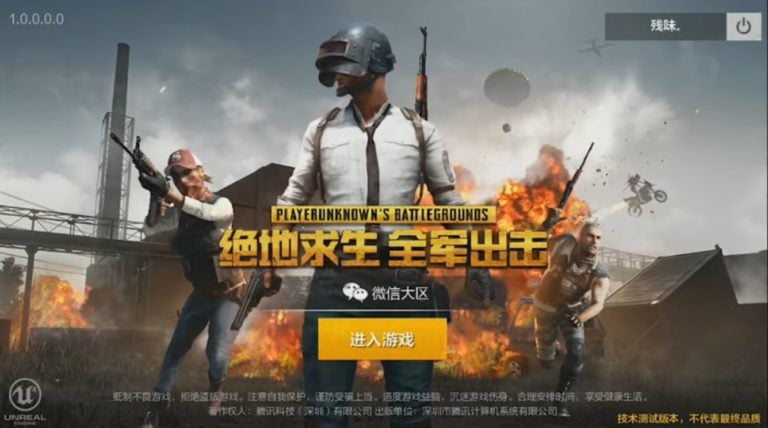 For those looking to download a Battle Royale game on their Android device, there's more on the market than the upcoming Fortnite release. PUBG Mobile and the unique Army Attack Assault game mode is now available from Timi Studio to be sideloaded onto your device.

PUBG, or PlayerUnknown's Battlegrounds, originally released on PC to rave reviews and continues to see a massive player base across multiple platforms. However, PUBG and the Army Attack Assault mode were released for Android devices on the Chinese Play Store. This may seem like Western users are out of luck, but before long people were working out how to download PUBG on Android regardless of your location, and working their way through the Chinese language that would be foreign to most users around the world.
At this current point in time, it's not possible to download PUBG for Android in an official capacity outside of China. That doesn't keep those from other places from getting their hands on the APK, however, and there are now several ways in which you can download PUBG and the Army Attack Assault mode through a more unofficial capacity.
London Quality Growth Investor Conference: Buy Dassault Systemes
At this year's inaugural London Quality Growth Investor conference, Denis Callioni, analyst and portfolio manager at European investment group Comgest, highlighted one of the top ideas of the Comgest Europe Growth Fund. According to the speaker, the team managing this fund focus on finding companies that have stainable growth trajectories with a proven track record Read More
However, if you don't want to slog through a language that you don't understand, Tencent Games in collaboration with Quantum & Lightspeed Studio did release a new English version on the Canadian Play Store. It's important to recognize, however, that this version was only for the "Exhilarating Battle" version of the game.
If you'd like access to the Army Attack Assault version, you can download the APK onto your Android device and experience the PUBG mobile experience – provided you're okay work battling through narration and menus written in Chinese language. The Army Attack Assault version features the land, sea, and air version of the PUBG game created by Timi Studio alongside Tencent Games.
One other obstacle that you'll need to climb over is the need for a WeChat account – a popular Chinese messaging service. This is more of an inconvenience than it is an actual hurdle, but it's a step you'll have to go through if you'd like to start playing PUBG on your Android phone. The process is pretty self-explanatory and is similar to how you'd sign up for any other sort of messenger or social media account. It does ask for a phone number, however, so if you're hesitant to give that out you might be out of luck when it comes to giving Army Attack Assault a try.
PUBG mobile experience is a little different from the original PC version of the game but still manages to capture the magic of the main game's Army Attack Assault Mode. While the original PUBG release was not the first game to introduce this concept to the mainstream, it was the first release to see such a viral implementation. It has since revolutionized the genre and spawned a number of similar games, although competitor Fortnite seems to be gaining ground to the point that that game will be the topic on everyone's mind. Additionally, with a mobile release rolling out on iPhone today and Android in the coming months, Fortnite might have a leg up on PUBG when it comes to gaming on Android.
If you'd like to sideload the PUBG Army Attack Assault onto your Android phone, you can download the APK and give it a try. Just keep in mind that there will be a bit of a language barrier. At its core, however, the enjoyment of the genre transcends barriers, so you should find yourself picking up the basics pretty quick. As long as you're not expecting a like-for-like version of what we saw on the Xbox and PC, you'll be in for a good time.
Updated on