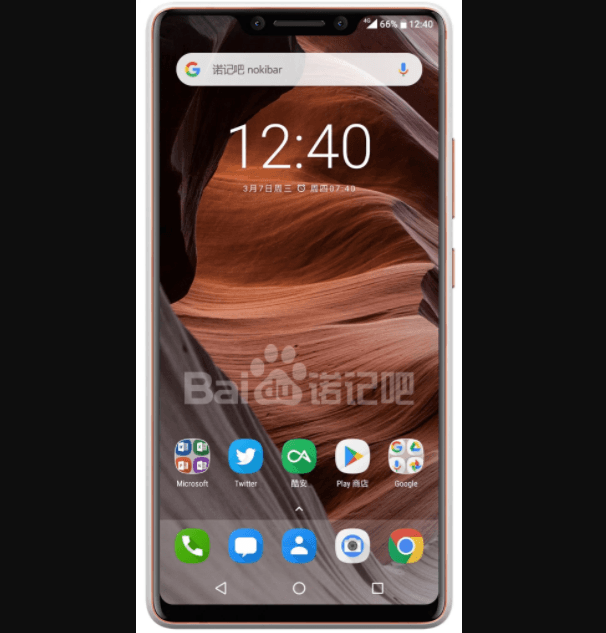 HMD Global unveiled several smartphones at the Mobile World Congress (MWC) a couple of weeks ago including the Nokia 8 Sirocco, Nokia 7 Plus, Nokia 6 (2018), Nokia 1, and Nokia 8110 4G. But the company has kept two of its most powerful phones of this year for the third quarter. HMD Global will reportedly launch the Nokia 8 Pro and Nokia 9 later this year with an upgraded processor and other new features including an iPhone X-like notch.
HMD Global was previously rumored to unveil Nokia 9 at the MWC, but that phone turned out to be Nokia 8 Sirocco. NokiaPowerUser reports that the upcoming Nokia 9 flagship would have an iPhone X-like notch to accommodate the front camera, ear speaker, microphone, and other sensors. The notch has become one of the hottest trends in Android market since the iPhone X launch. Roughly a dozen Android vendors have launched phones with the top cutout, and many others have notched phones in the pipeline.
NokiaPowerUser spotted a hand-sketched render of Nokia 9 posted on Chinese site Baidu. The device is almost completely bezel-less. There is only a slim bezel at the bottom of the screen. The publication claims its design is derived from Nokia 7 Plus rather than the more expensive Nokia 8 Sirocco. The Nokia logo can be seen in the bottom right corner. Google has added native support for the notch in Android P, allowing developers to optimize their apps for the cutout. So, the notch shouldn't affect user experience.
Robinhood 2021 Conference: Cathie Wood discusses her investment process with Lee Ainslie [Exclusive]
ARK Invest is known for targeting high-growth technology companies, with one of its most recent additions being DraftKings. In an interview with Maverick's Lee Ainslie at the Robinhood Investors Conference this week, Cathie Wood of ARK Invest discussed the firm's process and updated its views on some positions, including Tesla. Q1 2021 hedge fund letters, Read More
The second major change in the Nokia 9 will be a new in-display fingerprint reader, claims the same report. Vivo showed off a phone with an optical fingerprint scanner at the Mobile World Congress (MWC). Vivo uses Synaptics' Clear ID FS9500 in-display fingerprint sensor on its phone. It is unclear which company would supply the under-display fingerprint sensors to HMD Global for Nokia 9. The upcoming flagship would have no rear-mounted fingerprint reader.
Past reports claim that Nokia 9 would be the "ultimate 2018 flagship." One major drawback of Nokia 8 Sirocco is that it runs an older Snapdragon 835 processor. The Nokia 9 and Nokia 8 Pro would be powered by the upgraded Snapdragon 845 that runs Samsung's latest Galaxy S9 flagship. According to the rumor mill, it would sport a 5.7-inch OLED display with an 18:9 aspect ratio.
The Nokia 9 is rumored to have a penta-lens camera setup on the back. The lenses will likely be supplied by Carl Zeiss. It is also expected to feature the OZO Audio 3D technology. HMD Global remains committed to the Bothie camera feature that allows you to take photos and videos with front and back cameras simultaneously. An earlier report claimed that Nokia 9 would have the "best in class" smartphone camera.
According to the rumor mill, Nokia 9 should feature 6GB or 8GB RAM, at least 64GB of internal storage, and a huge 4,000mAh battery with fast charging and wireless charging capabilities. HMD Global has ditched the 3.5mm headphone jack from its flagship phones, and there is little chance the company would bring it back with Nokia 9. Users will have to rely on a USB-C to 3.5mm adapter or Bluetooth headphones for audio.
Nokia 9 is expected to run the stock version of Android Oreo out of the box. Google will release Android P later this year, but the first phones to get Android P will be Google's own Pixel 3 handsets. The upcoming Nokia-branded flagship is said to have an upgraded front camera. The newly launched Nokia 8 Sirocco comes with a merely 5-megapixel selfie camera.
According to NokiaPowerUser, HMD Global is planning to launch the Nokia 9 and Nokia 8 Pro in the third quarter of this year, which isn't far away. It means the devices should arrive between July and September. A few other reports suggest the Nokia 8 Pro could be unveiled in the summer while the more expensive Nokia 9 would be shown off at the IFA trade show in September.
It would be interesting to see how Nokia 9 would be received by consumers. HMD Global is launching way too many smartphones with only minor differences, which could end up confusing buyers. The Nokia 9 rumors could also affect the sales of Nokia 8 Sirocco. Consumers may delay their purchases for a few months if they know that a better, more powerful Nokia-branded smartphone is coming soon.