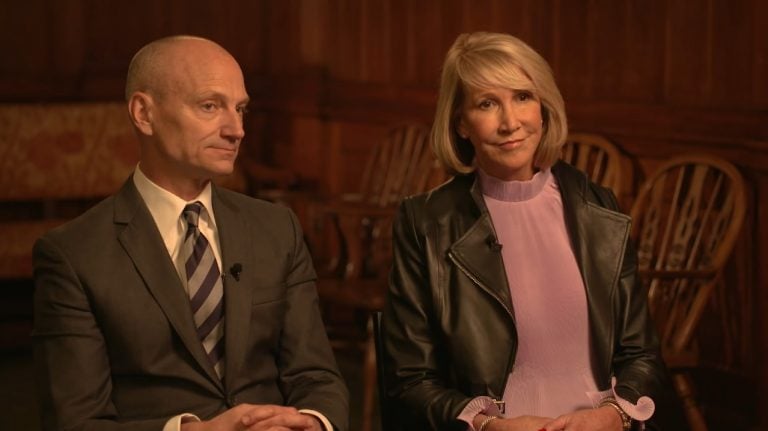 Doing good has become a global movement. Philanthropy expert Pamela Norley and Corporate Social Responsibility consultant Toby Usnik describe the new civic age. WEALTHTRACK #1536 broadcast on February 22, 2019.
Purpose Matters. Philanthropy and Social Responsibility Experts Describe the New Civic Age
Q4 hedge fund letters, conference, scoops etc
Looking Into the Gaming Industry with VanEck's JP Lee
ValueWalk's Raul Panganiban interviews JP Lee, Product Managers at VanEck, and discusses the video gaming industry. Q4 2020 hedge fund letters, conferences and more The following is a computer generated transcript and may contain some errors. Interview With VanEck's JP Lee ValueWalk's ValueTalks ·
Transcript
In-house both Norley and Usnik are incredibly optimistic about the future. As neurally told me there has never been a better time for us to change the world for the better. I asked them to explain their optimism.
Just because just the amount of change that we've seen in terms of philanthropy landscape's there's really three things that are driving that change. One is the mindsets just people are not waiting to know for their neighbors or their government or even their employers to drive the change that they want to see in their communities. They're getting actively engaged to start and it really goes back almost a decade with the Warren Buffett and the Bill Melinda Gates Giving Pledge right where they have signed up 187 people from 22 countries who were willing to give away half of their wealth to philanthropy or to nonprofits during their lifetime or through their will. And that inspired a lot of people to say why am I going to wait to give all my money away and give it away to my children. I should be thinking about how to track change in the world today.
The Certo mindset really has shifted from legacy and inheritance says to I'm going to give a lot of what I've made away today during my lifetime.
Yeah there's two forces really driving that right. One is millennials seventy five million strong in this country. They grew up giving back. You know they now are doing community service in celebration of MLK Day and remembrance of 9/11. They did community service in junior high through high school in college. They're coming out and trying to work for organizations that stand for something they really want to be involved and engaged and they're bringing their communities and collaborating to do that using social media.
And obviously all the other technologies and tools that are available to bring people together it talked about the 3 AM so mindset on and new models and measurement knocked about that. The new models of philanthropy.
So the new models are building I think on a lot of what we've seen over the last decade and I know you've talked about this is impact investing is an impact investments. So many different things but at the end of the day it's people that want to do well by doing good and they're not willing to have a set of investments that do not align with their values and principles and so they're contributing and investing in organizations in ways that can drive change in their communities. So that's really the first thing. The second is you're starting to see a lot of wealthy people come together and pull their money. I talked about the Giving Pledge but also create these philanthropic investment firms. So not just the nonprofit that they want to give their dollars through for their foundation or donor advice fund but rather working with kind of semi public private legal structure to drive change through not only giving to nonprofits but also through advocacy. And then the third thing is you know as donor advised funds is that they're the fasting growing fastest growing vehicle in philanthropy. They're growing at four times faster than foundations. Wow.
Toby I know that you are as enthusiastic as Pamela is about what you're seeing as far as but from another angle from the ALA corporate social responsibility. So talk to us about what's happening with the sense of giving and purpose that's occurring in the corporate realm versus the individual donor realm.
Sure. I couldn't agree more with Pam. I think that we're witnessing actually a revolution here where it's millennial driven although as a 56 year old man I would say that there are people my generation as well who are happy to get involved with this sort of activist if you will change because they've been disappointed either by an employer or the state of world affairs so they're taking matters into their own hands and their own checking accounts and funds and they're putting it to work in ways that are consistent with their values. And so I see it as a very exciting time because while we have these tremendous challenges facing the planet there are upsides to these challenges and the really smart business leaders get that. And for example I'd love to hear from Pam's background with recruitment and retention of talent. This is top of mind now if you talk to and with the millennials especially when a company is trying to recruit train talent they want to know more and more and they want to know what's the purpose of the company. And it's got to be more than just transactionally driven. They don't ask as much now about their life insurance benefits as they do what does the company stand for. So I think what we're seeing is the individual taking control of his or her own brand and choosing which brand he or she wants to associate it with in terms of investments in terms of employment and in terms of consuming as a consumer. So it's quite empowering.
Think Larry think at BlackRock call that purpose and profit. They have to have a purpose and there's an expression that you've used in the caring economy which is there's a triple bottom line now. It's that we have a three have the three from us. It's people profits and planet. So take us through this triple bottom line that you're advising.