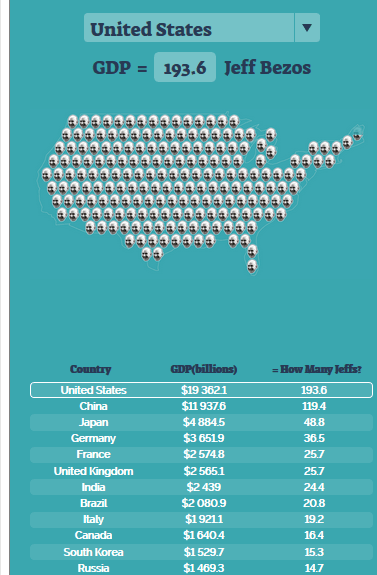 It's safe to say that 2017 was a great year for Jeff Bezos. Not only did he take the World's Richest Man crown from billionaire mogul Bill Gates, he also saw his net worth skyrocket to unprecedented levels.
Check out our 2017 hedge fund letters here.
Ray Dalio At Robin Hood 2021: The Market Is Not In A Bubble
At this year's annual Robin Hood conference, which was held virtually, the founder of the world's largest hedge fund, Ray Dalio, talked about asset bubbles and how investors could detect as well as deal with bubbles in the marketplace. Q1 2021 hedge fund letters, conferences and more Dalio believes that by studying past market cycles Read More
According to Bloomberg's Billionaire Index, from January 2017 to January 2018, Jeff increased his net worth by $33.6 billion, more than the GDP of 96 countries including the likes of Uganda (population 42.8m), Cameroon (population 24m), Latvia (population 1.9m) and Cyprus (population 1.17m). Although, if you think that sounds impressive, Bezos has added a whopping  $28 billion to his wealth in 2018 alone. That's nearly his entire wealth increase of 2017 in just three months! It's no surprise then that he's just topped Forbes' 2018 World Billionaires list, becoming the first person in history to top the list with wealth in excess of $100 billion. Although Bezos is currently the only person with a 12-figure-fortune, it's been predicted that Bill Gates will join him in the 'centi-billionaire' club later this year. With the likes of Buffett, Arnault, and Zuckerberg also close to that eye-watering milestone, it seems we are entering a new era of extreme personal wealth - the era of the centi-billionaire...
If you're struggling to grasp the immense value of a $100,000,000,000 fortune then you're not alone. According to Google Trends searches for the term 'How rich is Jeff Bezos?' have drastically increased over the last year. But to help you visualize the scale of Bezos' billions, RS Components have done some interesting sums that may surprise you…
According to their new infographic, the US had a Gross Domestic Product of over $19 trillion in 2017, the highest GDP in the world. It took a population of over 320 million Americans to generate that economic output, but it's equivalent to the wealth of just 194 centi-billionaires like Bezos. If that doesn't help put $100,000,000,000 into perspective then think about this, the median wealth of an American today is $55,876, just 0.000055876% of $100 billion. It would take 1,789,677 average Americans to equal the wealth of one centi-billionaire like Bezos.
With its population of 1.4 billion people, China is a juggernaut on the world's stage. The country has an impressive economic output of almost $12 trillion (or 119 centi-billionaires…). According to a recent Global Wealth Report, the median wealth in China is 42,225 Chinese Yuan which is around $6,689. That means it would take 14,949,918 average Chinese citizens to equal the worth of one centi-billionaire. That's more than the population of Denmark and Austria combined!
In the UK, 66 million people generated a GDP equal to just 26 centi-billionaires ($2.5 trillion), you wouldn't even fill a bus with them! Despite having a median wealth of over $102,600, it would take almost 975,000 average Brits to equal the value of one centi-billionaire. Even the Queen would struggle to match Bezos' billions. According to Forbes, she has a net worth of $530 million, so if she wanted to join the centi-billionaire club with Bezos she'd need to increase her wealth by 18,768%.
It should be noted that GDP and total wealth are different metrics, however, the comparison does help put Bezos' billions into perspective. It's also worth bearing in mind that net worth fluctuates daily with the world's wealthiest sometimes losing millions and even billions in a single day. Just last month, over 48 hours, Bezos lost $8 billion off his net worth (a figure greater than the GDP of 51 countries), yet he was still the wealthiest man on earth. Pretty incredible!