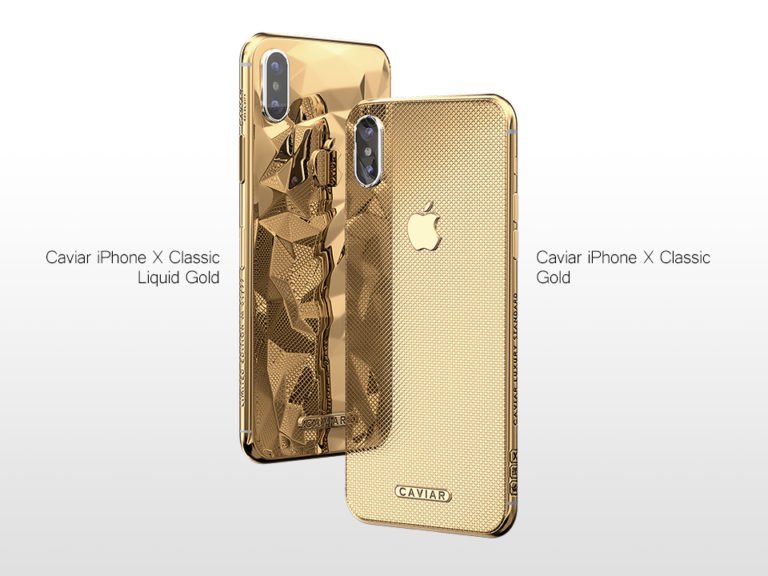 Caviar, the Russian brand of luxury smartphones, has corrected the Apple's negligence that used to upset and disappoint iPhone fans all over the world – Caviar returned the most popular and desired colour of the device's case – the golden color. Besides, the Russian jewellers have made it in two versions and presented the case coated with "liquid" gold.

On the very first day of Apple's presentation of iPhone X, the tech fans all over the world were confused to see no golden color of the case anymore and had to choose only from black and white versions. Actually, iPhone with golden cases were the most popular and beautiful models. Caviar decided to improve iPhone X and return its unfairly lost golden color. Moreover, now the smartphone case is not simply painted with golden paint, but coated with a pure 24K gold.
Caviar's designers and jewellers have created two versions of the golden iPhone X. "Caviar Classic Gold" version is a device encapsulated in the golden relief case decorated with a legendary apple symbol – for the first time in Caviar's history. The second design is called "Caviar Classic Liquid Gold" and features not only golden color, but absolutely new, original case which unusual shape which creates a sensation of "liquid" metal, as if it was transforming in the hands of its owner.
Is First Gen An Overlooked Power Play That Deserves A Re-Rating?
The post was originally published here. Highlights: Resolving gas supply issues ensures longevity A pioneer in renewable energy should be future proof Undemanding valuation could lead to re-rating Q1 2022 hedge fund letters, conferences and more
"We are happy with the yields of our work; both novelties look great and shine bright with a rich, golden shining. In its new interpretation, the smartphone found its unique character and charisma, lustre and luxury, while keeping contemporary and neat look. During the work on "Caviar Classic Liquid Gold" design, we were inspired by collaboration of Vertu and Boucheron 10 years ago, in 2008. Technologies have dramatically improved since then, but the gold is still a great and permanent value" – the brand representatives said.
Device price – 257 000 RUB for Classic Gold and 274 000 RUB for Classic Liquid Gold model.
Start of sales on official Caviar website — March, 13th.
Video: 
Updated on