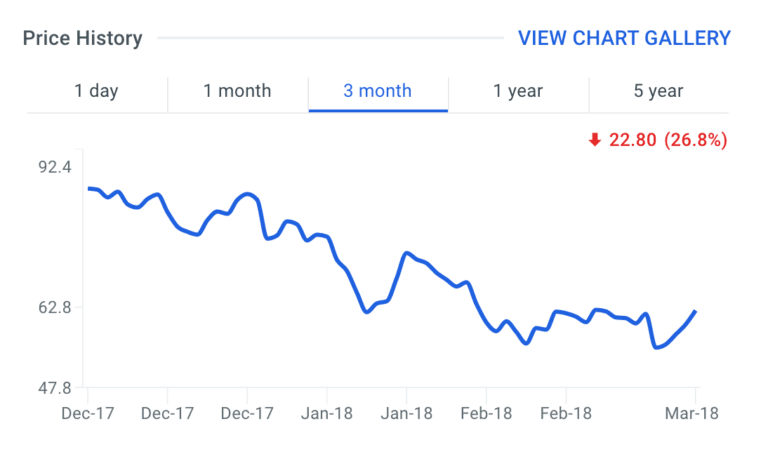 A number of TESARO Inc (Nasdaq: TSRO) insiders has bought 1.1 million shares since Friday. While the stock has lost more than half its value in six months, it's worth taking a closer look at the company.
Check out our H2 hedge fund letters here.
---
Insider Buying: Tesaro
Insiders have been buying shares of Tesaro according to recent form 4 filings with the SEC. The notable insiders include Leon Moulder (Co-founder and CEO) as well as a number of general partners of New Enterprise Associates (10% owner), as shown in the table below. Total insider buying has totaled $62.1 million since last Friday which is approximately 1.8% of Tesaro's total market capitalization.
Odey Special Situations Fund took on several new positions in March
Odey Asset Management's Special Situations Fund was down 3.2% in March, compared to its benchmark, the MSCI World USD Index, which was up 3.3%. Through the end of March, the fund is up 8.7%, beating the benchmark's return of 4.9%. Q1 2021 hedge fund letters, conferences and more Odey's Special Situations Fund deploys arbitrage and Read More
Recent TESARO, Inc. Insider Transactions

| Insider Trading | Relationship | Date | #Shares | Value ($) |
| --- | --- | --- | --- | --- |
| BARRETT M JAMES | 10% Owner | Mar 2-6 | 116,445 | $6,684,477 |
| BARRIS PETER J | 10% Owner | Mar 2-6 | 145,532 | $8,354,185 |
| BASKETT FOREST | 10% Owner | Mar 2-6 | 145,532 | $8,354,185 |
| KERINS PATRICK J | 10% Owner | Mar 2-6 | 116,445 | $6,684,477 |
| MOTT DAVID M | Director | Mar 2-6 | 145,532 | $8,354,185 |
| MOULDER LEON | Co-Founder and CEO | Mar 02 | 5,000 | $284,640 |
| NEW ENTERPRISE ASSOCIATES 13 L | 10% Owner | Mar 2-6 | 116,445 | $6,684,477 |
| SANDELL SCOTT D | 10% Owner | Mar 2-6 | 145,532 | $8,354,185 |
| Viswanathan Ravi | 10% Owner | Mar 2-6 | 145,532 | $8,354,185 |
| | | TOTAL | 1,081,995 | $62,108,996 |
Peter Barris, who is the Managing General Partner at New Enterprise Associates, most recently bought $8.4 million worth of shares on March 6th. This is what propelled me to take a closer look at the company's insider activity.
---
Potential Reasons For Insider Activity
Tesaro is an oncology-focused biopharmaceutical company that identifies, acquires, develops, and commercializes cancer therapeutics and oncology supportive care products in the United States.
The company's shares last traded at $62.18 as of Wednesday, down -64.9% over the last year and 26.8% in the last three months. While the stock has lost significant value, the recent insider transactions could signal a bottom has been reached.
source: finbox.io
In addition, finbox.io's average fair value estimate of $74.47 implies 19.8% upside and is calculated from 4 valuation models as shown in the table below. Each analysis uses consensus Wall Street estimates for the projections when available.
---
How Should You Interpret this?
While executives and insiders are always happy to tell you all the reasons why their stock is a buy, their actions can tell a different story about the company's future prospects. A trend of buying activity may indicate that insiders think the stock is going up over the upcoming time period, and are trying to buy before the price rises.
Keep in mind that insider activity is only one aspect of stock research and that there are other important items to consider. I recommend you continue to research Tesaro to get a more comprehensive view of the company's fundamentals by looking at:
Valuation: how much upside do shares of Tesaro have based on Wall Street's consensus price target? Take a look at our analyst upside data explorer that compares the company's upside relative to its peers.
Risk Metric: what is Tesaro's cash ratio which is used to assess a company's short-term liquidity. View the company's cash ratio here.
Risk Metric: what is Tesaro's Altman Z score? It's a famous formula used to predict the probability that a firm will go into bankruptcy within two years. View the company's Altman Z score here.
Article by Brian Dentino, Finbox.io