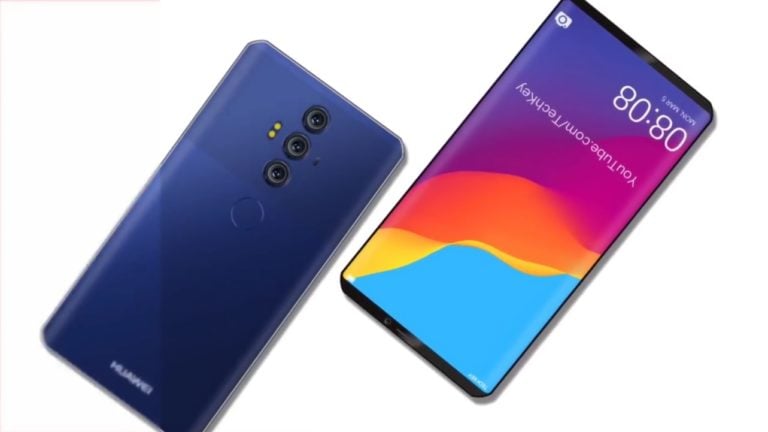 According to new information from DigiTimes, the new Huawei Mate 20 anticipated to be released in the second half of 2018 will feature an in-screen fingerprint reader from Qualcomm.
It's important to keep in mind that DigiTimes has a mixed track record when it comes to accuracy with their insider information. However, they have predicted some pretty major releases in the past so it's certainly a possibility that this information is reliable. Just keep in mind that any information regarding the Huawei Mate 20 ahead of the official announcement and release is by nature somewhat speculative. That's not to say that we won't get reliable leaks as we get closer to a release date, but just make sure to take everything with a grain of salt.
With that said, industry insiders have informed DigiTimes that the Chinese smartphone manufacturer is contracting Qualcomm to produce in-screen fingerprint readers for their upcoming Huawei Mate 20 release. This is a technology that is in development by a number of smartphone companies, but has yet to see a widespread release. Samsung has been rumored to be developing an in-screen fingerprint reader for quite some time, but it wasn't featured on the Galaxy S9 and is anticipated to be absent on the Galaxy Note 9 as well. We'll certainly see it on the Galaxy S10 and Note 10, but until that time, the Huawei Mate 20 will be the major player on the smartphone scene when it comes to this cutting-edge technology.
Q1 2021 13F Round-Up: Notable Hedge Fund Changes
Below is our 13F roundup for some high profile hedge funds for the three months to the end of March 2021 (Q1). Q1 2021 hedge fund letters, conferences and more The statements only include equity positions as 13Fs do not include cash and debt holdings. They also only include US equity holdings. Funds may hold Read More
As smartphones have gotten bigger and bigger, smartphone companies have had to make sacrifices in order to provide the larger screen while still making sure that the phones remain small enough to hold comfortably. While some companies are trying to address the problem with innovative technology such as with the foldable Galaxy X, the majority solve the issue by shrinking the bezels on the sides and tops of the phone down to nothingness. While this adds to the sleek aesthetic we saw from high-end flagships in 2018, it does make it difficult to include features like a traditional fingerprint scanner. A lot of companies have made the move to include the scanner on the back of the phone, and while that works from a practical standpoint, it's certainly more awkward than the traditional front-facing fingerprint scanner we've all become used to. The development of an in-screen fingerprint scanner with the Huawei Mate 20 may give the elegant solution we've been waiting for – allowing the developer to keep the scanner at the front of the phone while continuing to offer that large screen we've become accustomed to.
According to the industry insiders, the fingerprint scanner on the Huawei Mate 20 is of the ultrasonic variety and is being developed by Qualcomm. Huawei is hoping to pursue the commercialization of the feature aggressively in order to allow their flagship at the end of 2018 to have a unique selling point that will allow it to stand out from the rest of the smartphones releasing at that point.
While Huawei has an incredibly large following in China, they have failed to grab a significant portion of the market outside of their home country – specifically outside of Asia. With a feature like the in-screen fingerprint scanner coming with the Huawei Mate 20, the company may be able to give users one more reason to try something new rather than stick to flagships with which they're familiar, such as those from Apple and Samsung. With many disappointed in the direction that Samsung took for the Samsung Galaxy S9 – with a prominent lack of new features outside of revamps to the camera – it's possible that people may start to stray away from what they're used to when it comes time to upgrade.
The Qualcomm ultrasonic fingerprint solutions have been developed with help from Chinese O-fil Tech and Taiwanese GIS, with the technology already being announced. The system is capable of working through 800-micron glass – an impressive feat considering that traditional sensors can't work through more than 300 microns. It's also apparently quite accurate at reading wet fingerprints, which is next to impossible for regular fingerprint scanners. We expect that the technology will be implemented in almost every flagship as we move further into the future, but at this point it appears as if the Huawei Mate 20 is leading the charge with their early adoption of this brand new feature. It remains to be seen whether the company will be able to set themselves apart from the competition with the introduction of something we hadn't seen before, but it will be an uphill battle to combat the dominance of competitors like Samsung.