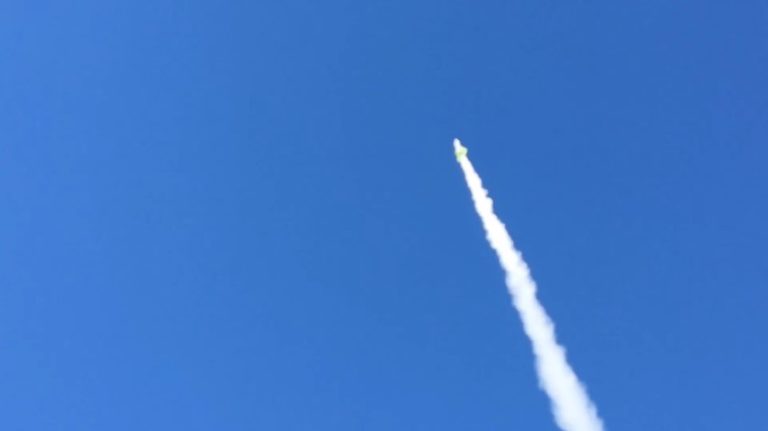 With the advent of companies like SpaceX, travel into space is no longer limited to governmental space agencies. It appears as if the average person can build a homemade rocket as well – at least according to "Mad" Mike Hughes. Just don't expect it to take you into orbit!
Mike Hughes, a self-taught rocket scientist who believes the Earth is flat, launched himself into the air with a homemade rocket – and he came down in one piece too. While it's not advised to create your own powerful homemade rocket, he seemed to have put the research in – at least enough to avoid injuring himself, that is.
On Saturday, Mike Hughes propelled himself into the air around 1875 feet using his homemade rocket, before making a crash landing in the Mojave Desert. In an interview with the Associated Press, he stated that outside of some back pain he was completely fine following the launch.
Looking at Trends with AlphaSimplex's Dr. Kathryn Kaminski
ValueWalk's Raul Panganiban interviews Dr. Kathryn Kaminski, Chief Research Strategist at AlphaSimplex, and discuss her approach to investing and the trends she is seeing in regards to quant investing and hedge funds. Q1 2021 hedge fund letters, conferences and more The following is a computer generated transcript and may contain some errors. Interview with AlphaSimplex's Read More
After being cleared by the paramedics as unharmed, Mike Hughes said that he was "Relieved…I'm tired of people saying I chickened out and didn't build a rocket. I'm tired of that stuff. I manned up and did it."
The launch of Mike Hughes' homemade rocket was originally scheduled to take place in November, but he had to delay it several times due to logistical issues with the Bureau of Land Management as well as some mechanical problems that kept making an appearance. It appears as if the efforts to make sure his homemade rocket paid off, however, considering Hughes managed to make a landing with nothing more than a little back pain.
"Mad" Mike took a mobile home, converted it into a ramp, and modified it to launch at a vertical angle so he wouldn't end up crashing back down to the ground on public land. This project is months in the making, with many evenings spend overhauling his homemade rocket in his garage.
It almost looked as if the launch on Saturday would be another bust, due to the fact that the wind was blowing and the rocket was rapidly losing steam, but sometime around 3pm PDT, Hughes strapped himself into the rocket and took to the skies.
The homemade rocket reached a speed of around 350 mph before he pulled his parachute. Things looked a little sketchy at first, with Hughes dropping faster than anticipated – prompting him to deploy the second one. He hit the ground rather unceremoniously, and the rocket's nose broke in two – just as it was intended to do.
Although Hughes has been working on this project for quite some time, he's received significant opposition and even ridicule regarding his homemade rocket. Many people reacted negatively to his plans, even labeling him a crockpot for planning the launch of a homemade rocket and his belief that the world is flat. While there is plenty of evidence that proves the world isn't flat, it appears as if Hughes was right about his capability to launch himself into the air with a homemade rocket.
While we're likely a long ways off from the average person building a rocket that can launch into orbit from their garage, it's cool to see that a homemade rocket can make it that high, and through careful engineering bring its passenger back down to Earth without a scratch.