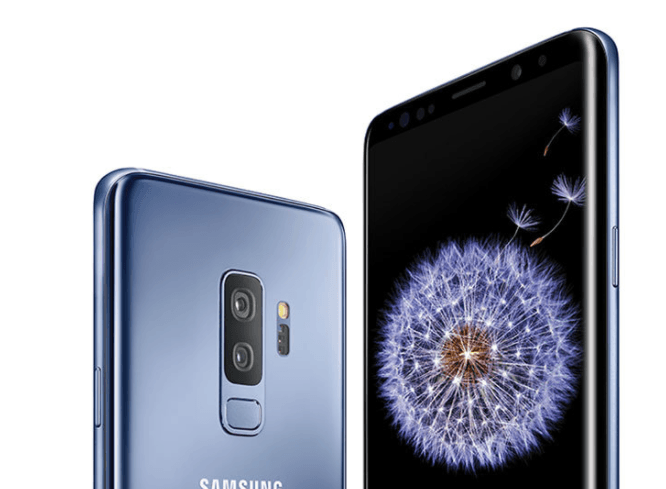 Samsung began accepting pre-orders for the Galaxy S9 and S9 Plus on March 2. The Korean company was hoping that its new flagship models would perform even better than last year's Galaxy S8 and S8 Plus in terms of sales. Last week, Samsung's mobile business chief DJ Koh expressed confidence that the Galaxy S9 would become wildly popular upon release. However, initial reports suggest that the Galaxy S9 pre-orders have been far below expectations in Samsung's home country.
A Samsung executive told the Yonhap News Agency that the Galaxy S9 pre-orders were "similar to that of the Galaxy S8." The official added that the actual numbers could be even lower because Samsung started taking pre-orders just two days after unveiling the Galaxy S9 and S9 Plus in Barcelona. In contrast, there was an eight-day gap between unveiling and pre-orders for last year's Galaxy S8.
Carrier sources told Yonhap News Agency that customers were less enthusiastic about the Galaxy S9 and S9 Plus. "The popularity and customers' interest" for the latest flagship are not as high as the previous generation, said a local carrier source. People believe the S9 and S9 Plus are "not much different" from their predecessors. The new phones bring a lot of improvements in terms of camera, security, and processing power, but they look almost identical to last year's models.
Alkeon expects data growth to surpass 5G's capabilities by 2028 [Q4 Letter]
Alkeon Growth Partners wrote at length on tech stocks and why they are defensive in their recent letter to investors, which was reviewed by ValueWalk. The fund also highlighted 5G and other advanced technologies and the investment opportunities they offer. Q4 2020 hedge fund letters, conferences and more Artificial intelligence and machine learning The Alkeon Read More
Another industry source told the publication that consumers are holding onto their current smartphones for longer. The longer upgrade cycle is affecting the entire smartphone industry. Research firm Piper Jaffray found in a survey that it is one of the main reasons why Apple's iPhone X isn't selling as well as many expected.
Samsung hasn't yet released the pre-order numbers for the Galaxy S9. Last year's Galaxy S8 had received record 550,000 pre-orders in just two days. Instead of talking about pre-orders, Samsung said more than 1.6 million people visited its Galaxy S9 promotion centers in Seoul in just five days. The number is huge, but it means nothing. There is no way to know how many of them are going to purchase the Galaxy S9 or S9 Plus.
The large number of people flocking at the promotion centers does indicate that consumers in South Korea are curious about Samsung's latest flagship. They might just be checking out the phones before they actually decide whether to buy or skip it.
Meanwhile, analyst Jeff Johnston of Arthur Wood Research told investors that the Galaxy S9 was "significantly underperforming" the pre-launch expectations of 10-15% growth over Galaxy S8. But sources from the sales channel told Jeff Johnston that the Galaxy S9 pre-orders were "down ~50% over GS8." If true, it paints a gloomy picture of the new handset. The analyst said people are upgrading their phones at a much slower pace now.
It's still too early to say whether Galaxy S9 is a success or failure. We should keep in mind that the Galaxy S8 was launched in April last year. So, many Galaxy S8 owners might be holding onto their phones at least for a year before upgrading to the latest flagship, which sports the world's best smartphone camera. If the Galaxy S9 sales are indeed lower than expected, Samsung and its carrier partners could offer significant discounts to lure buyers.
Both the Galaxy S9 and S9 Plus are powered by the Snapdragon 845 or Exynos 9810 chips depending on the region. They have the same 5.8-inch and 6.2-inch Quad HD+ Super AMOLED Infinity display as their predecessors. DisplayMate recently said that Galaxy S9 has the world's best smartphone display, giving it the "highest ever A+ grade." The phone's color accuracy is "visually indistinguishable from perfect," said DisplayMate.
The new phones come in Midnight Black, Lilac Purple, and Coral Blue colors. Samsung has relocated the fingerprint sensor to below the rear camera for convenience. The company has also added a new Intelligent Scan feature that uses data from both the facial recognition and iris scanner to recognize the user. The S9 comes with a 3.5mm audio jack, wireless charging, a microSD card slot, dual stereo speakers, Bixby button, and an IP68 rating for water-resistance.
The Galaxy S9 and S9 Plus feature 4GB and 6GB RAM, respectively. Both of them are available in 64GB, 128GB, and 256GB storage options. The S9 packs a 3,000mAh battery while its bigger sibling comes with a 3,500mAh battery. Samsung has included a dual camera system on the Galaxy S9 Plus. The regular S9 features a single 12MP lens with variable apertures of f/1.5 and f/2.4 on the back. Both the handsets have an 8-megapixel selfie camera.
The Galaxy S9 Plus gets a 12-megapixel wide-angle lens with variable aperture and a 12-megapixel telephoto lens with a fixed aperture of f/2.4. DxOMark has found that the S9 Plus camera is even better than the iPhone X and Google Pixel 2. It automatically switches between the two apertures to capture the best possible photo. The f/1.5 aperture is used in low-light conditions while the f/2.4 comes into effect in daylight conditions. The Galaxy S9 and S9 Plus are capable of recording slow-motion videos at 960fps and 720p resolution.