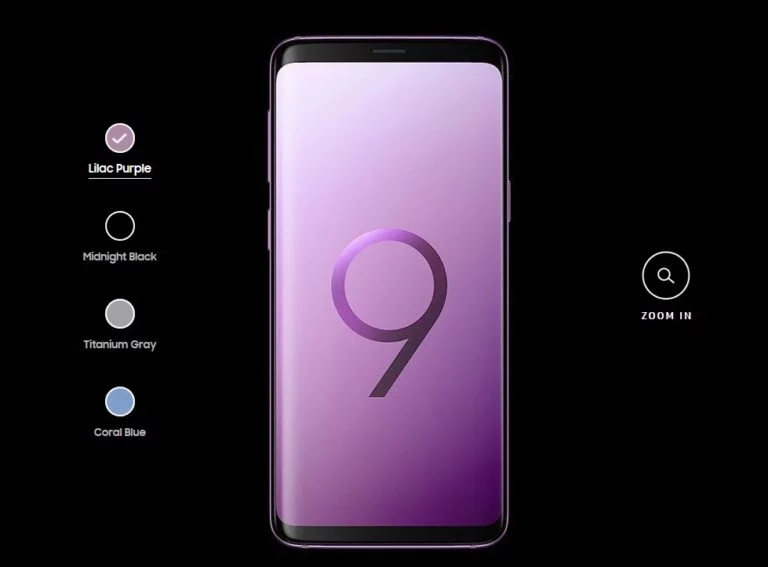 The Galaxy S9 offers several colors for fans of the Samsung series, providing real consumer choice. But which of these colors is the best? Well, the answer to that question requires further examination of the colors that Samsung has chosen.
Last year's Galaxy S8 was made available in Midnight Black, Orchid Gray, Coral Blue, Arctic Silver and Maple Gold at launch, but Samsung has taken a different approach with the Galaxy S9. The two new smartphone devices from the Korean consumer electronics giant are offered in Midnight Black, Lilac Purple, Coral Blue, and Titanium Gray.
With the purple option being a new arrival, Samsung has already suggested publicly that it will be an extremely popular variant. But the choices for consumers will be predicated on the particular qualities that they require from the handsets.
Financial Planning and Taxes with Van Leeuwen & Company's Kenneth Van Leeuwen
ValueWalk's Raul Panganiban interviews Kenneth Van Leeuwen, CFP, founder of Van Leeuwen & Company, and discuss his approach to investing, financial planning, and taxes. Q1 2021 hedge fund letters, conferences and more The following is a computer generated transcript and may contain some errors. Interview with Van Leeuwen & Company's Kenneth Van Leeuwen
It is important to note that the Galaxy S9 and Galaxy S9 Plus have been manufactured with glass, and so will attract fingerprints rather rapidly. This is undoubtedly a major aspect of consideration across the color choices, as some colors will attract fingerprints more readily than others.
Midnight Black
Despite the comments of Samsung, the Midnight Black option is highly likely to be the most popular color choice. This color has been a part of the Samsung range for a few years now, and has built up a more than decent following in this time. The solid black color that Midnight Black delivers has no extra shine or glimmer, making it a practical option as well.
The Midnight Black release will appeal to consumers who wish to play it safe. Established as a major part of the Galaxy S range for some time, Midnight Black is a classic approach to the smartphone that won't attract undue attention.
It is notable that Midnight Black does a better job of disguising scratches than other colors in the series, and this is an obvious plus point considering the wear and tear that smartphones inevitably attract. Black is also the easiest color to resell when that day comes, and overall we can reasonably expect this color to appeal across the board to many Samsung fans.
Lilac Purple
The new kid on the block has never appeared in a Samsung mobile previously, so will be interesting to see how the much vaunted Lilac Purple actually performs. Samsung certainly has high hopes for this new color choice; after all, it would hardly have introduced it should it have deemed it to be unpopular.
There are similarities between Lilac Purple and the Orchid Gray of the Galaxy S8. Of all of the colors included in the Galaxy S9 series, this is probably the most reflective, with a deeper color that has a tendency to take on a different appearance in differing light conditions. In dark lighting, the deep purple hue of the Lilac Purple color is significantly different from the grayish pink color that appears in brighter lighting.
Consumers wishing to stand out from the crowd should opt for the Lilac Purple color, not least because it is such a rare color in the smartphone marketplace. Despite Samsung suggesting that it will be hugely popular, it is also likely that Lilac Purple will be the lowest selling of the color choices produced, making it more widely available than other models.
Coral Blue
The Coral Blue Galaxy S9 design can be considered rather powder blue in appearance, almost having a gray-based nature. Certainly this appears to be gray in color when appearing in particularly bright or natural lighting, although in darker conditions it tends to resemble a Titanium Gray model. The metallic frame of this device also delivers a soft blue shade, but overall the design of the Coral Blue version of the Galaxy S9 is rather subtle.
But this color is also capable of delivering reflectivity, and in these conditions it does begin to take on the powder blue appearance of its branding. The Coral Blue option will undoubtedly appeal to those who desire a color that is both simple and sleek in appearance. The Galaxy S9 definitely takes on a handsome and sophisticated appearance when presented in this particular color.
Titanium Gray
Of all the Galaxy S9 colors available, Titanium Gray is probably the most solid. The device is less inclined to alter its color in different lighting conditions, meaning that you essentially get what you pay for with the Titanium Gray option. Indeed, there isn't too much to say about the coloring of this device other than it is simply gray!
It could be asserted that the Titanium Gray Galaxy S9 takes on a more industrial appearance than the other color options, due to the pure gray of its metal frame. This is undoubtedly the most natural metallic coloring of the four compared here, meaning that it will appeal to those who relish a natural appearance.
Additionally, it is also worth noting that the Titanium Gray option may not be universally available, as Samsung is limiting its release to certain markets.
Ahead of the release of the Galaxy S9, a survey of fans of the Android series indicated that the Midnight Black version will probably be the most popular. Lilac Purple was, predictably, bottom of the list, with the Coral Blue version significantly favored over the Titanium Gray option.
But there were enough fans of each color choice to suggest that Samsung will shift plenty of all four units. So perhaps the Korean corporation has chosen the colors of the Galaxy S9 wisely, although it will be hoping that the Lilac Purple color is able to make a significant impression.