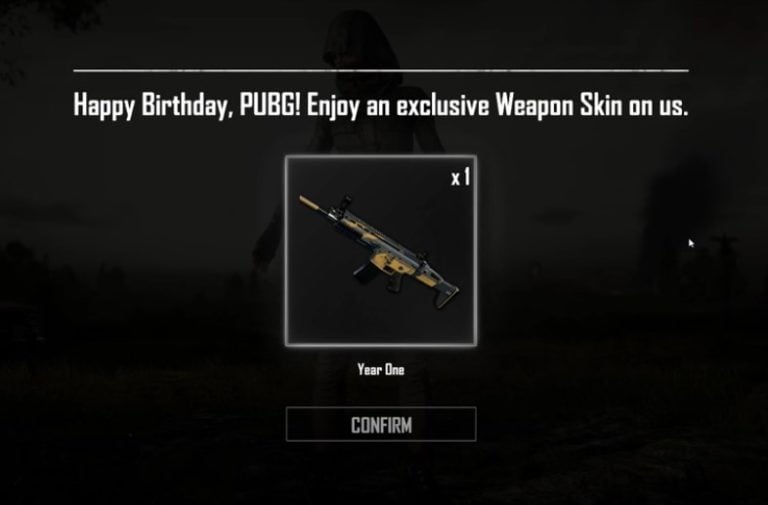 A new update for PlayerUnknown's Battlegrounds has rolled out for PC. This update commemorates one year since the first PUBG Early Access release, and everyone who plays is being rewarded with a free PUBG weapon skin.
From its release around a year ago, PUBG has taken the gaming world by storm. While they weren't the first to try the Battle Royale genre by any means, they were the first company to implement it on such a wide scale and with so much success. Boasting millions of players to this day, and since expanding onto Xbox One, PlayStation 4, and most recently, mobile, there's a huge player base that continues to log in day after day to chase that top spot and be crowned winner of this large-scale battle. Although games like Fortnite offer some stiff competition, PUBG is still going strong with no signs of slowing down, and they're commemorating their success with a free PUBG weapon skin.
The free PUBG weapon skin is the Year One – SCAR-L skin, which dressed their weapon with yellow paint alongside the game's most iconic phrase, "Winner winner chicken dinner." Everyone who logs in before the first week of May's maintenance period will receive the free PUBG skin, which should add some swag to your weapon loadout as you battle for the top spot in this Battle Royale arena.
Canyon Distressed Opportunity Fund likes the backdrop for credit
The Canyon Distressed Opportunity Fund III held its final closing on Jan. 1 with total commitments of $1.46 billion, calling half of its capital commitments so far. Canyon has about $26 billion in assets under management now. Q4 2020 hedge fund letters, conferences and more Positive backdrop for credit funds In their fourth-quarter letter to Read More
In a statement from the developers on the Steam forums, they stated that "A lot of things have happened in the world of PUBG in the last year…On the 23 of March, 2017, we launched on Steam Early Access and so many of you have joined us in the best Battle Royale experience out there. Throughout our journey, we went from a pre-alpha build that only a few select players knew about to one of the most popular games in videogame history."
Weapon skins are a relatively new addition to PUBG, coming in Update #8. It's possible to obtain them in two different forms of loot boxes: Triumph and Raider. Triumph loot boxes are obtained through a random, weekly crate that can only be opened with a key purchased with real money, while Raider loot boxes is a non-random loot box that doesn't require real money to unlock.
Other news coming from the developers behind PUBG in addition to the free PUBG weapon skin is the fact that they may implement region-locking to "provide a better gameplay experience." This is much bigger news than the free PUBG weapon skin, and may drastically change the quality of gameplay for players in a number of regions – both in a technical sense as well as in terms of communication. If you've been away from PUBG for a time, make sure you come back before the May update in order to obtain your free PUBG weapon skin as well as experience the new limited-time event mode in the PC version. The first event took place this past weekend, and was a fun brawl with eight-player teams and a doubled rifle drop rate.