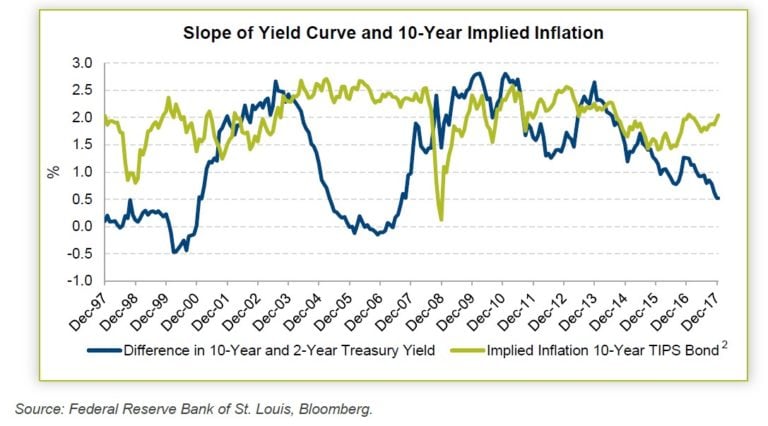 FPA New Income Fund commentary for the month of March 2018, titled, "Rare bond market conditions set up complacent investors for subpar returns."
H/T Dataroma
Check out our H2 hedge fund letters here.
Carlson Capital's Double Black Diamond Strategy Gains 5.3% On Jewelry Play
Carlson Capital's Double Black Diamond fund added 3.09% net of fees in the second quarter of 2021. Following this performance, the fund delivered a profit of 5.3% net of fees for the first half. Q2 2021 hedge fund letters, conferences and more According to a copy of the fund's half-year update, which ValueWalk has been Read More
Key Points
Rarely do intermediate and high-yield bonds look risky at the same time. However, it appearsthey are both risky today. Intermediate-term bonds are barely yielding more than short-termbonds, and "high-yield" bonds are not yielding much more than high quality bonds.
Valuation conditions similar to today's have only occurred twice in the past twenty years.Subsequent to both of those instances, intermediate-term and high-yield bonds performed poorly.
This short paper explores why investors should be concerned about these risks and why webelieve FPA New Income is well positioned to help investors navigate through them.
Fixed-income investors face potential subpar returns if they do not properly evaluate two aspects of risk: interest rate (or duration1) risk and credit risk.
Interest Rate Risk
Investors must take greater care not to underprice interest rate risk when short- and longer-term bonds have similar yields.
The following graph shows the spread in yields between the two- and ten-year Treasury bond (in blue) and what the market expects inflation to be (in green). The spread between the two- and ten-year Treasury bond is one way of measuring how worried investors are about future inflation and/or rising interest rates. Over the past twenty years, there have only been three instances when the spread has been this low: right before the 2001 and 2007-2009 recessions, and today.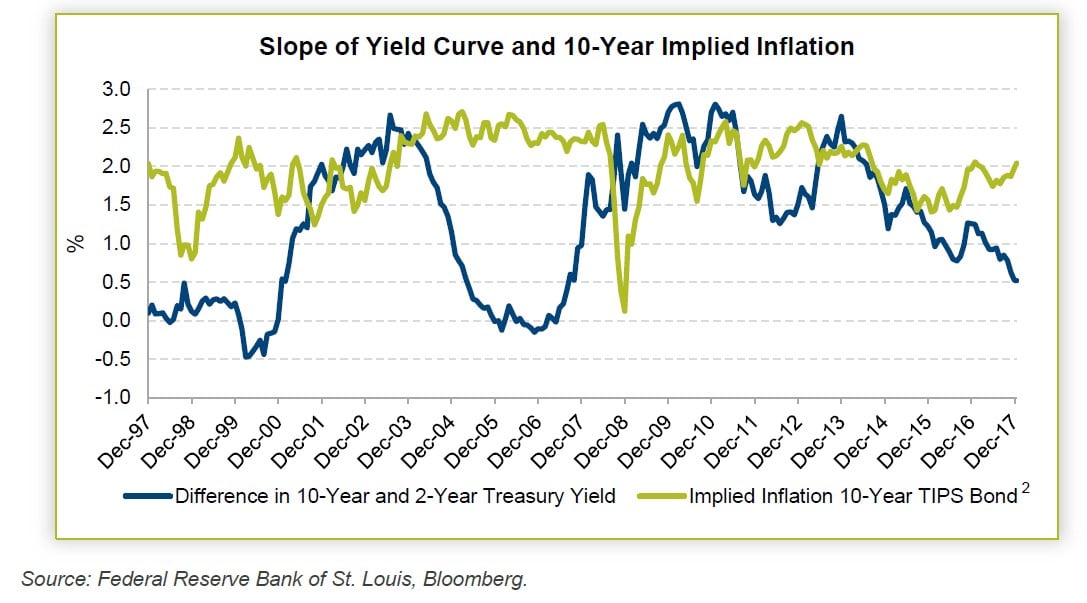 The most logical reason why investors demand little or no extra yield to own longer-term bonds is if they expect a recession or another deflationary event. The problem is that deflation seems unlikely, as evidenced by the market's growing inflation expectations.
Credit Risk
Investors must also be careful not to underprice credit risk when high-yield bonds do not have an adequate margin of safety3 compared to investment-grade debt (including Treasuries).
Today, high-yield bonds have near record low yields, both on an absolute basis and relative to Treasuries. Over the past twenty years, there has only been one other time when the yield-to-worst4 has been lower than today's ~5.8% yield, when yields dipped below 5.3% in 2013. The high-yield market went on to post a 10%+ drawdown over the next two years, while the broader bond market was down less than 5%.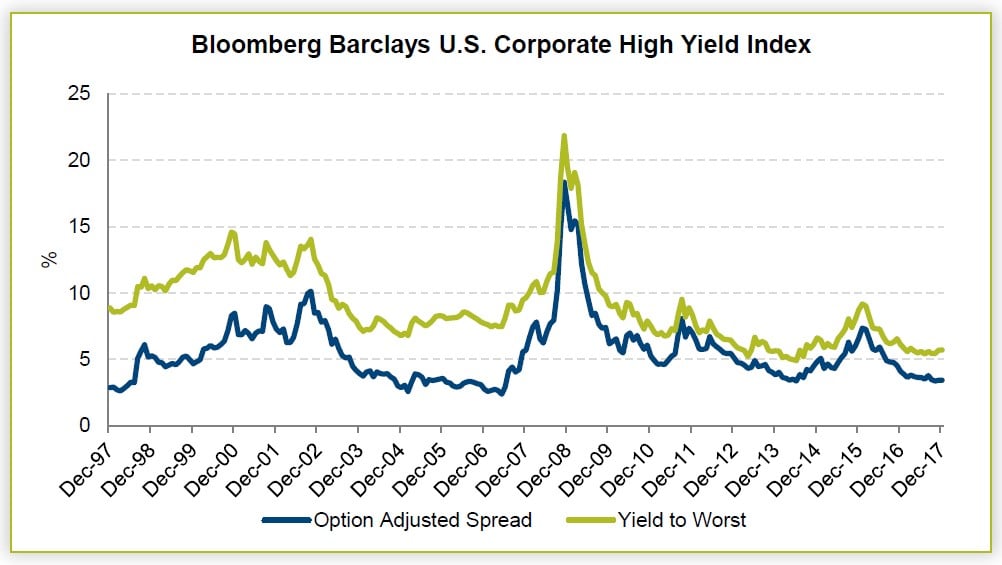 Current meager credit spreads could make sense, if, for example, leverage had come down (which should lead to fewer defaults), covenant quality had increased (which should lead to better recovery rates), or we were in the early days of the economic cycle5. But, in fact, the opposite is true on all three counts. The two charts below depict the current leverage and covenant quality levels. Investors are getting less protection and being paid worse than normal. That's a bad deal.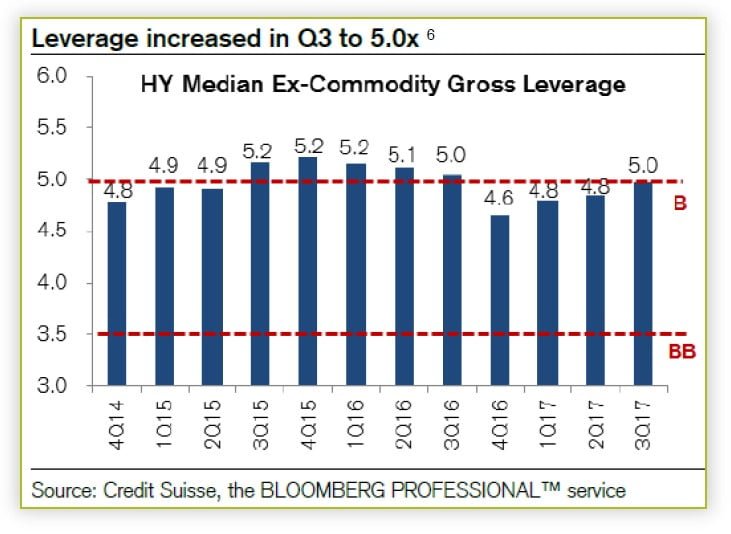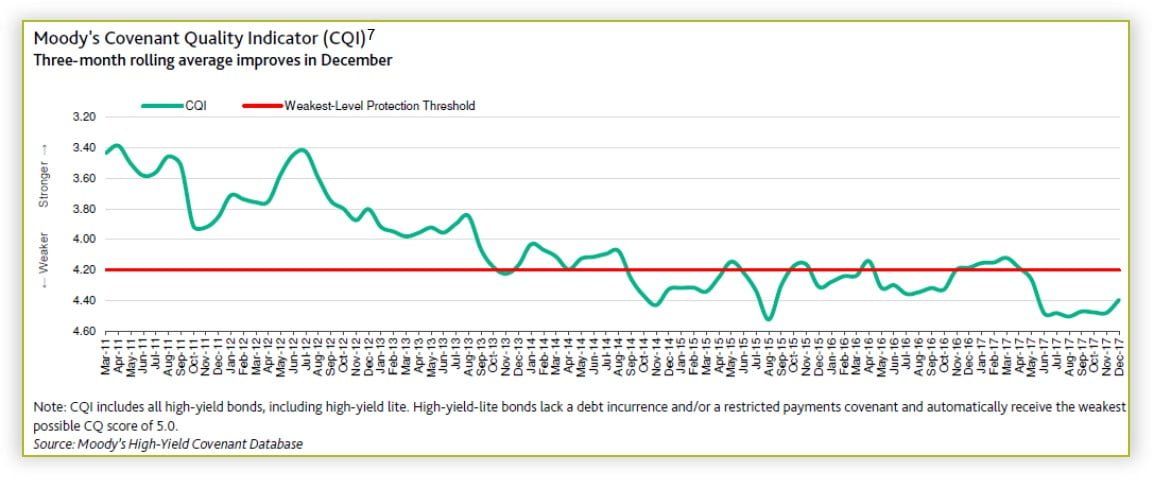 In summary, this is only the third time in the past twenty years when the yield curve has been this flat while at the same time high-yield spreads have been this tight.
Following the last two periods when interest rate and credit risk premiums were similar to those that currently exist, intermediate and high-yield bond investors were well served by reducing risk. This is evidenced by the max drawdown and three-year performance of FPA New Income versus the Bloomberg Barclays U.S. Aggregate and High Yield Indices starting in 1998 and 2005:

Our positioning
In light of these conditions, we have maintained our short duration and continued to reduce credit risk in FPA New Income.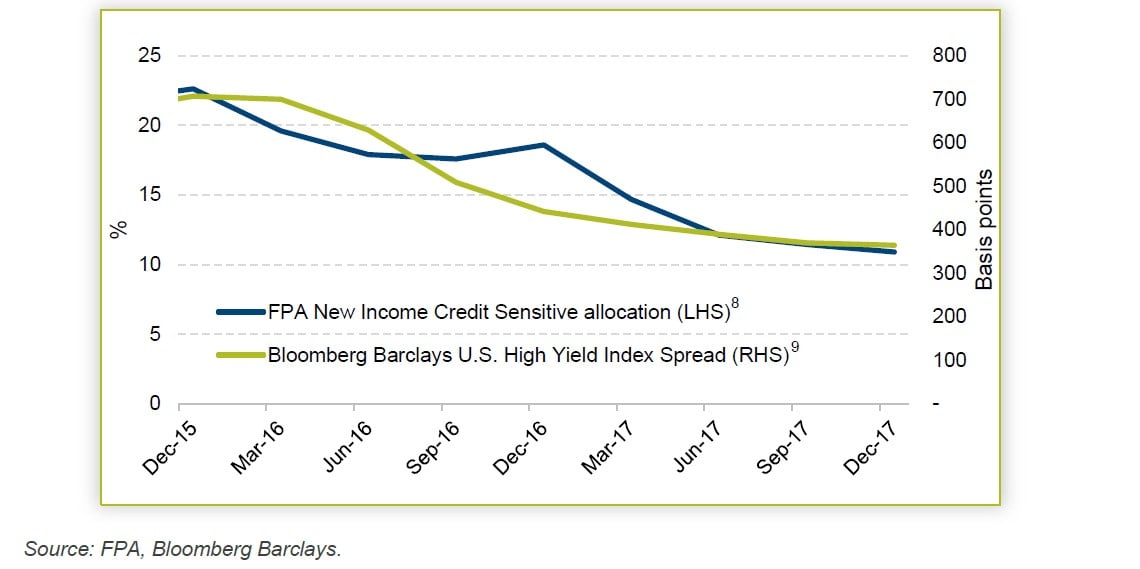 We have also generally avoided the unsecured corporate bonds that make up the portfolio of many other funds in favor of secured bonds which have tended to have similar, if not better, yield and credit risk profiles compared to unsecured corporate bonds.

As bottom-up value investors, when our margin of safety starts to evaporate, we prefer less risky investments until bargains come our way again. It's not a matter of if we will take on more duration or credit risk again, but merely when.
The solution to being inadequately compensated for interest rate and credit risk is straightforward: reduce exposure to these risks until you are paid to take them. Usually the trade-off to reducing risk is accepting a significantly lower yield (and total return) while waiting for better opportunities. The good news is that given the rise in short-term yields, FPA New Income continues to find attractive bonds, and its risk/reward characteristics are better when compared to both the broader and short-term bond market indices:

In closing, now is not the time for fixed income investors to be complacent.
Respectfully submitted,
Thomas H. Atteberry
Portfolio Manager
Abhijeet Patwardhan
Portfolio Manager
Ryan Leggio
Senior Product Specialist
See the full PDF below.