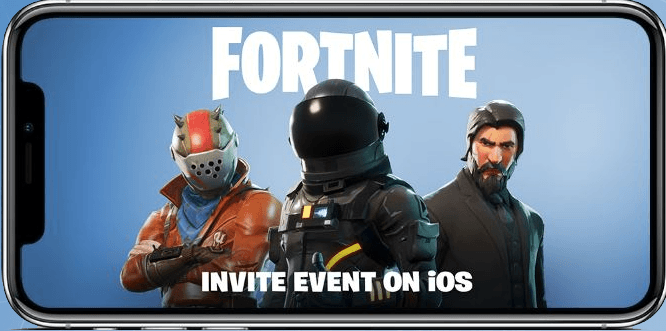 Fortnite mobile is set to roll out on iOS devices imminently, with the co-op sandbox survival game having established itself as a massive hit for Epic Games. Signups have already gone live, with users being invited to special events that will take place prior to the launch of the final title. The Android version of Fortnite mobile is also coming, and soon mobile users will be able to enjoy a title that is somewhat similar to the highly popular PC game.
However, ahead of the release of Fortnite mobile there are certainly some question marks regarding compatibility. With the iPhone and iPad series being so diverse nowadays, it is clear that not every device will work with this sophisticated piece of software. The first thing to note is that whichever Apple device you wish to utilize in order to play Fortnite mobile, it must be running the iOS 11 system.
This would seem to necessitate modern hardware immediately, but indeed older iPhone and iPad devices cannot be used to play Fortnite mobile. Anything older than the iPhone 6 or iPad Mini 4 won't be compatible, which could be a disappointment for some users holding on to those older devices. Nonetheless, even if the title were compatible with older iPad and iPhone units, it is obvious that the processing power required would render the game pretty useless.
Crypto Hedge Fund Three Arrows Blows Up, Others Could Follow
A few years ago, crypto hedge funds were all the rage. As cryptocurrencies rose in value, hundreds of hedge funds specializing in digital assets launched to try and capitalize on investor demand. Some of these funds recorded double-digit gains in 2020 and 2021 as cryptocurrencies surged in value. However, this year, cryptocurrencies have been under Read More
So the iOS devices that are compatible with the forthcoming Fortnite mobile are as follows:
iPhone SE
iPhone 7 / 7 Plus
iPhone 8 / 8 Plus
iPhone X
iPad Mini 4
iPad Air 2
iPad 2017
iPad Pro
The situation on Android is not quite so clear cut, not least because there are so many more Android devices available. Epic Games has declined to announce as of yet which Android phones and tablets will be supported when in the game goes live, but the roll out of Android has not even been fully confirmed. We do know that Fortnite mobile will arrive on Android platforms at some point soon, but the official release date has yet to be finalized.
The original Fortnite is reckoned to be an outstanding gaming experience on both PC and console platforms, but the early feedback from iOS devices has also been positive. Those who have been fortunate enough to install the invite-only Fortnite mobile app for iOS have reported that the gameplay is smooth and impressive.
This has been the case on both iPhone X and iPad Pro devices, indicating that the mobile experience for the game will be excellent. This is superb news for Epic Games, particularly as Playerunknown's Battlegrounds (PUBG) will arrive on both iOS and Android systems in the near future. The Steam survival game Ark is also mooted for mobile platforms, making this an exciting time for mobile gamers.
Indeed, it seems that this is a new dawn in mobile gaming, whereby it will be possible for big PC titles to appear on mobile systems. With three big PC games set to migrate to both iOS and Android in the foreseeable future, it is clear that this is becoming increasingly feasible and logistically possible.
It seems that Fortnite mobile runs very smoothly on the iPhone X, with barely any discernible drop in frame rate. This is one area in which Fortnite contrasts with PUBG, being highly optimized on other platforms. This makes it an ideal candidate for mobile conversion, and it will be interesting to see how the mobile conversion of PUBG indeed works.
This is not to denigrate the achievement of Epic with Fortnite, as running any major PC or console game on a smartphone is certainly an impressive technical feat. The 2GB download required for Fortnite mobile is certainly a sizeable chunk of one's storage, but can also be considered a reasonable quantity for a mobile game of this complexity.
Those wanting to download Fortnite mobile can sign up at epicgames.com/fortnite. Once this process has been undertaken, it is necessary to wait for an invite code through email. Currently there is a little waiting time associated with this process, but this duration will inevitably reduce as the software becomes stabilized.
Equally, it is necessary to receive an invite from either a friend or Epic Games directly in order to gain access to the Fortnite Battle Royale. Once an invite code has been received, accounts can be activated, with a Fortnite mobile application appearing on the iOS system. With the servers being upgraded rapidly, it should be possible for all potential users of the game to be activated imminently.
Another issue to beware of with the Fortnite mobile game activation process is scam accounts being sent out through email. The developer has already warned of such rogue activity taking place, and those utilizing the Fortnite mobile system should be wary of such nefarious schemes.
A further problem with Fortnite mobile could be the hacking of user accounts, which has been prevalent in the PC gameworld. Epic Games is naturally trying to keep on top of this difficulty, and has advised users to cooperate and communicate with support if any such problems are encountered. There have also been problems with cheating, with gamers developing automated bots designed to play the software. Epic has already taken legal action against one 14-year-old boy, and there will probably be more such cases in the foreseeable future.
Aside from these minor gripes, Fortnite mobile works pretty well on mobile platforms. The controls do require some adjustment compared to the PC version, but actually work rather neatly once the initial period of acclimatization has taken place. The game adapts by placing on-screen virtual buttons for ducking, jumping, and selecting items or building, in common with many other mobile games, and this actually works rather well.
Fortnite mobile is set to be a massive hit, and one that opens up an exciting future for mobile gaming in general.
Updated on