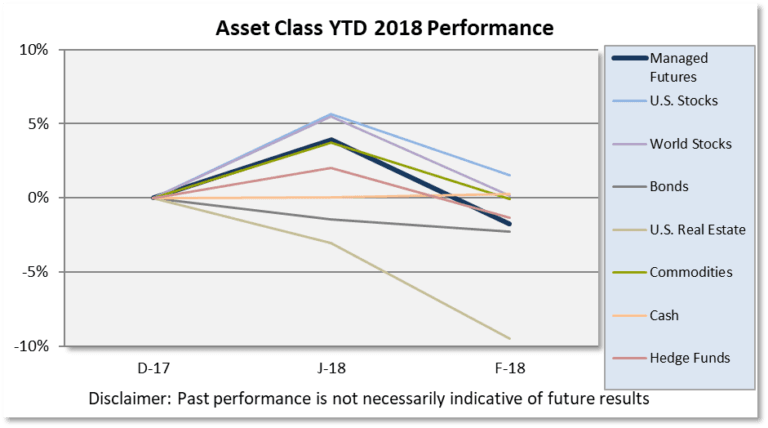 Article by RCM Alternatives
February brought global asset classes their first reality check in years that the market can move down at any moment. The big news was around a VIX spike, VIX Futures above 20 for longer than just a day, and VIX ETPs imploding. To learn about that, see our conversation we had with a volatility trader.
[REITs]
Looking Into the Gaming Industry with VanEck's JP Lee
ValueWalk's Raul Panganiban interviews JP Lee, Product Managers at VanEck, and discusses the video gaming industry. Q4 2020 hedge fund letters, conferences and more The following is a computer generated transcript and may contain some errors. Interview With VanEck's JP Lee ValueWalk's ValueTalks ·
Check out our H2 hedge fund letters here.
But what happened in the VIX market seemed to spread into the rest of the markets as every asset class we track recorded down months. What's that saying about correlations moving to 1?
This isn't surprising that world stocks and U.S. stocks slid together, or even real estate (see our whitepaper on "Truth and Lies in Alternatives Investments." But Managed Futures have typically  zigged while stocks zagged. Thing is – non correlation does not equal negative correlation, and this time Managed Futures performance alongside stocks was all but identical.
As we mentioned in our 2018 Outlook  – some of this down performance alongside stocks may be due to managers dipping their hands in the short vol cookie jar.
What will the rest of 2018 look like? Stay tuned. While real estate and private equity may always be linked to stocks in a down move – managed futures are more dynamic and can (and will) pivot to the short side eventually. Exciting times!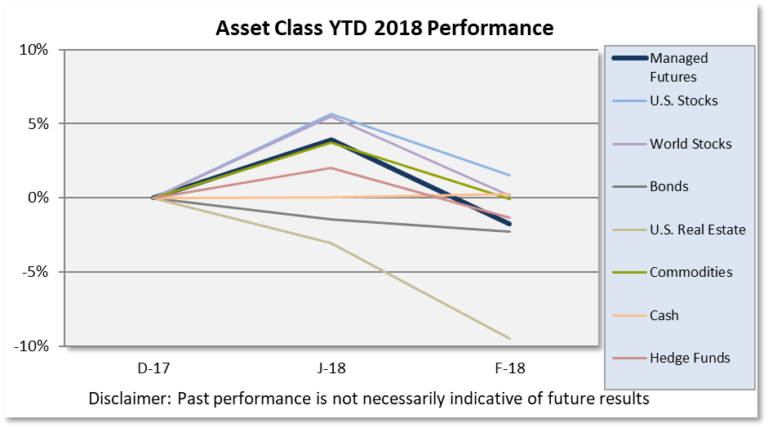 Source: All ETF performance data from Morningstar.com
Sources: Managed Futures = SocGen CTA Index, Cash = 13 week T-Bill rate,
Bonds = Vanguard Total Bond Market ETF (BND),
Hedge Funds= IQ Hedge Multi-Strategy (QAI)
Commodities = iShares GSCI ETF (GSG);
Real Estate = iShares DJ Real Estate ETF (IYR);
World Stocks = iShares MSCI ACWI ex US Index Fund ETF (ACWX);
US Stocks = SPDR S&P 500 ETF (SPY)