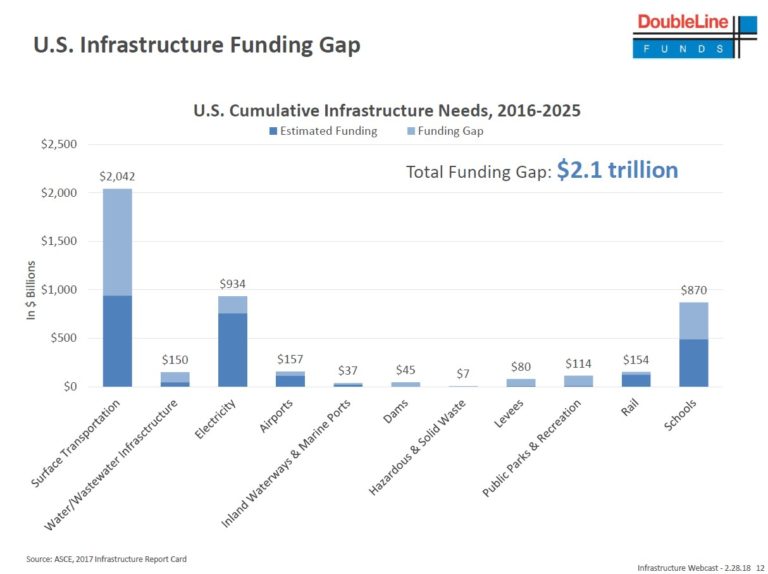 On February 28, 2018, the DoubleLine Infrastructure team held a webcast discussing the Infrastructure Income Fund (BILDX/BILTX), titled "Bridging the Funding Gap."
This recap is not intended to represent a complete transcript of the webcast. It is not intended as solicitation to buy or sell securities. If you are interested in hearing more of the Infrastructure team's views, please listen to the full version of this webcast on www.doublelinefunds.com under "Latest Webcasts" under the "Webcasts" tab. You can use the "Jump To" feature to navigate to each slide. You can also learn more about future webcasts by viewing the 2018 webcast schedule at www.doublelinefunds.com under "Webcasts."
Greenlight Capital Full Q2 2021 Letter: Einhorn Thinks Inflation Is Here To Stay
David Einhorn's Greenlight Capital returned -2.9% in the second quarter of 2021 compared to 8.5% for the S&P 500. According to a copy of the fund's letter, which ValueWalk has reviewed, longs contributed 5.2% in the quarter while short positions detracted 4.6%. Q2 2021 hedge fund letters, conferences and more Macro positions detracted 3.3% from Read More
U.S. Infrastructure Landscape
President Trump's 10-Year Infrastructure Blueprint
On February 12th, the White House came out with a 53-page Infrastructure blueprint that essentially called for $1.5 trillion in increased spending over the next 10 years

$200 billion from the Federal Government
$1.3 trillion from the Local, State and Private Sectors, sourced from tax, newly issued debt, private capital and public-private partnerships (PPPs).

This plan puts more control at the state level and shifts the financing burden from the Federal Government
Paying at the State and Local Level
Raise Taxes & Cut Spending

Increase tax burden on residents
Cut existing programs to fund projects
Revenue and operating risks are shouldered by the public sector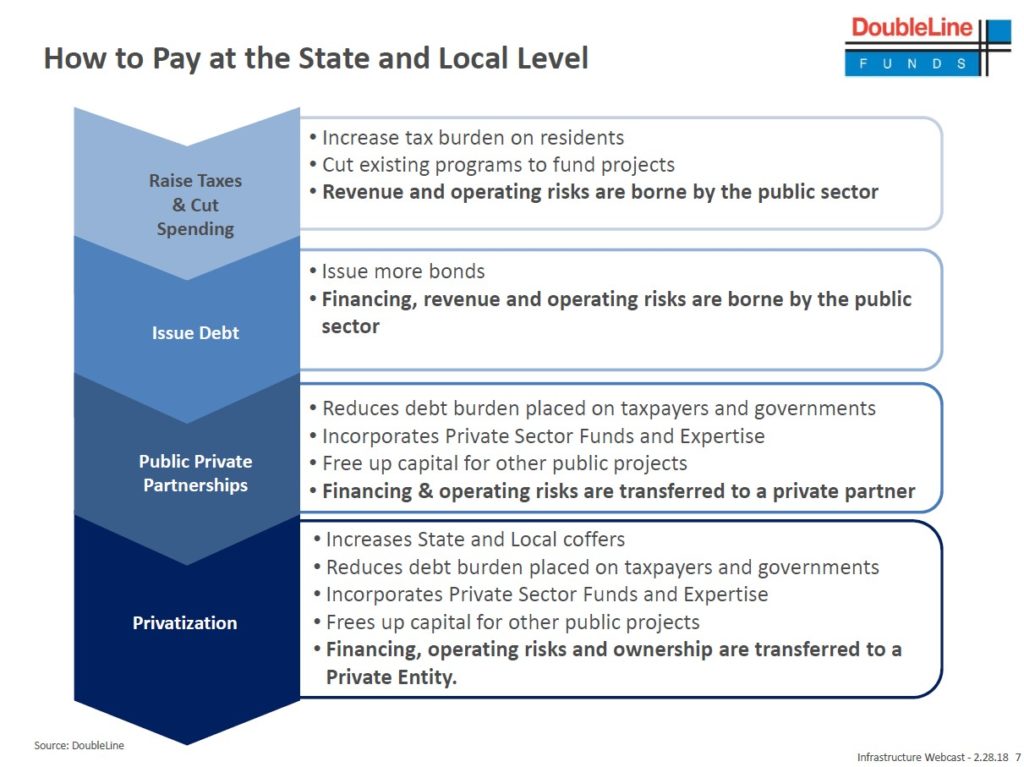 Issue Debt

Issue more bonds
Financing, revenue and operating risks are borne by the public sector

Public-Private Partnerships (PPPs)

Reduces debt burden placed on taxpayers and governments
Incorporates private sector funds and expertise
Frees up capital for other public projects
Financing and operating risks are transferred to a private partner

Privatization

Increase state and local coffers
Reduces debt burden placed on taxpayers and governments
Incorporates private sector funds and expertise
State of U.S. Infrastructure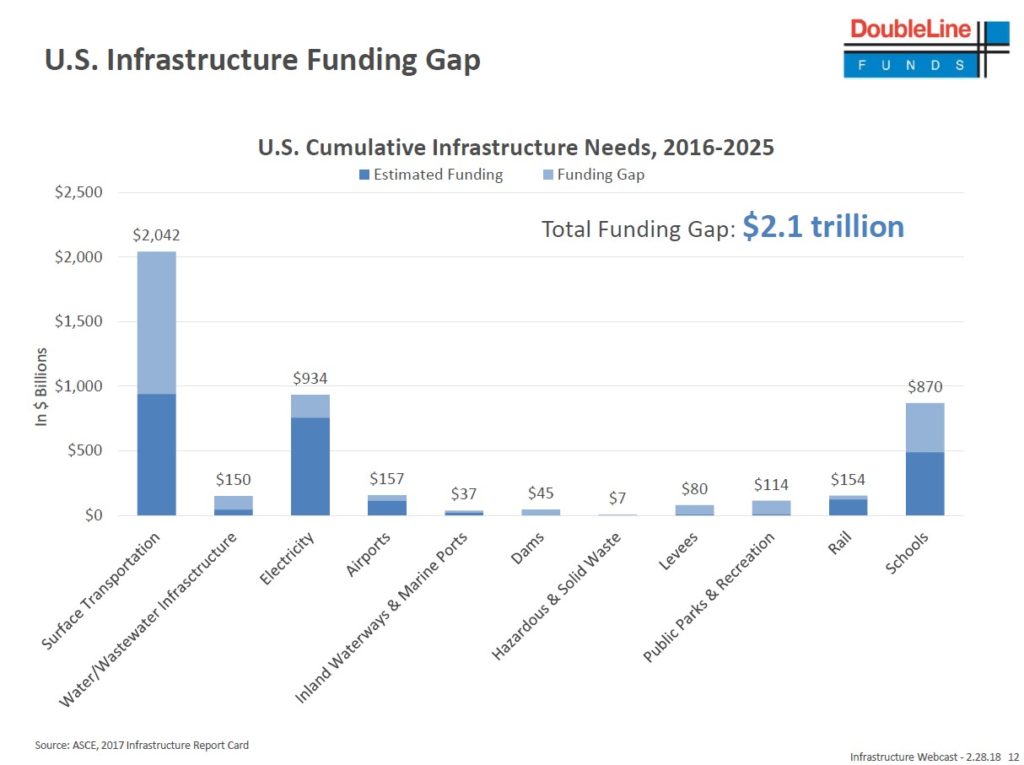 U.S. Infrastructure in Despair
56,007 of the nation's bridges structurally deficient
15,498 dams identify as high-hazard potential
240,000 waste main breaks per year, wasting 3 trillion gallons of water
20% of highway miles are in poor condition
U.S. Infrastructure Funding Gap
Over the next 10 years there is roughly $2.1 trillion needed to fill the funding gap
The funding gap is mostly concentrated in the transportation sector, which is currently 50% unfunded and requires roughly an additional $1 trillion
Infrastructure Debt
DoubleLine's belief is that investors who seek Infrastructure debt are looking for the qualities of Infrastructure itself: stability, cash flow predictability and low volatility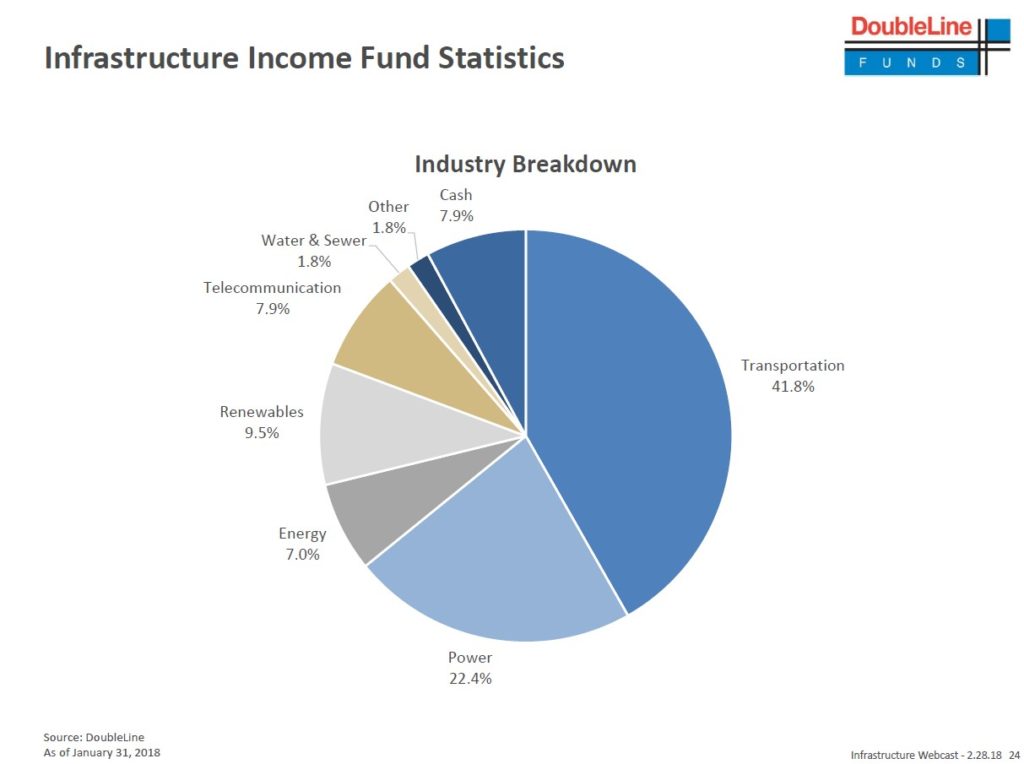 Infrastructure Income Fund Overview
Infrastructure Income Fund Statistics
Industry Breakdown

Transportation, 8%
Power, 22.4%
Renewables, 5%
Telecommunication, 8%
Energy, 0%
Water & Sewer, 8%
Other, 8%
Cash, 7.9%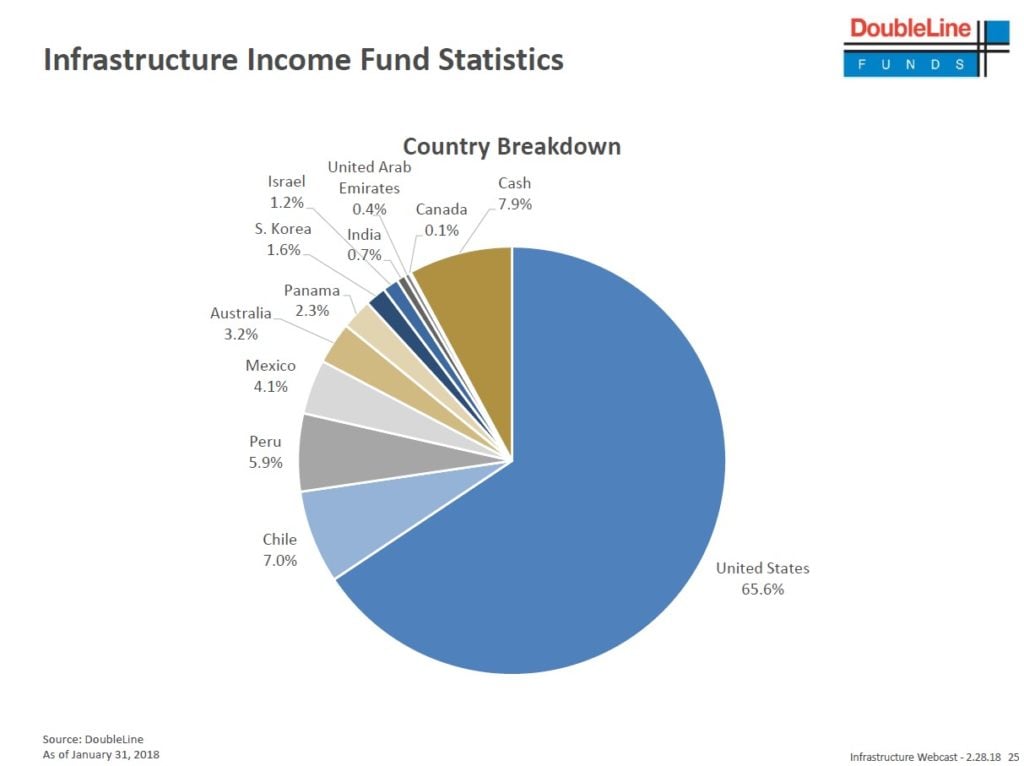 Country Breakdown

United States, 6%
Chile, 0%
Peru, 5.9%
Mexico, 1%
Australia, 3.2%
Panama, 3%
South Korea, 6%
Israel, 2%
India, 7%
United Arab Emirates, 4%
Canada, 1%
Cash, 7.9%
Security Type

Structured Products, 1%
Corporate Bonds, 1%
Project Bonds, 2%
S. Treasury, 1.8%
Cash, 7.9%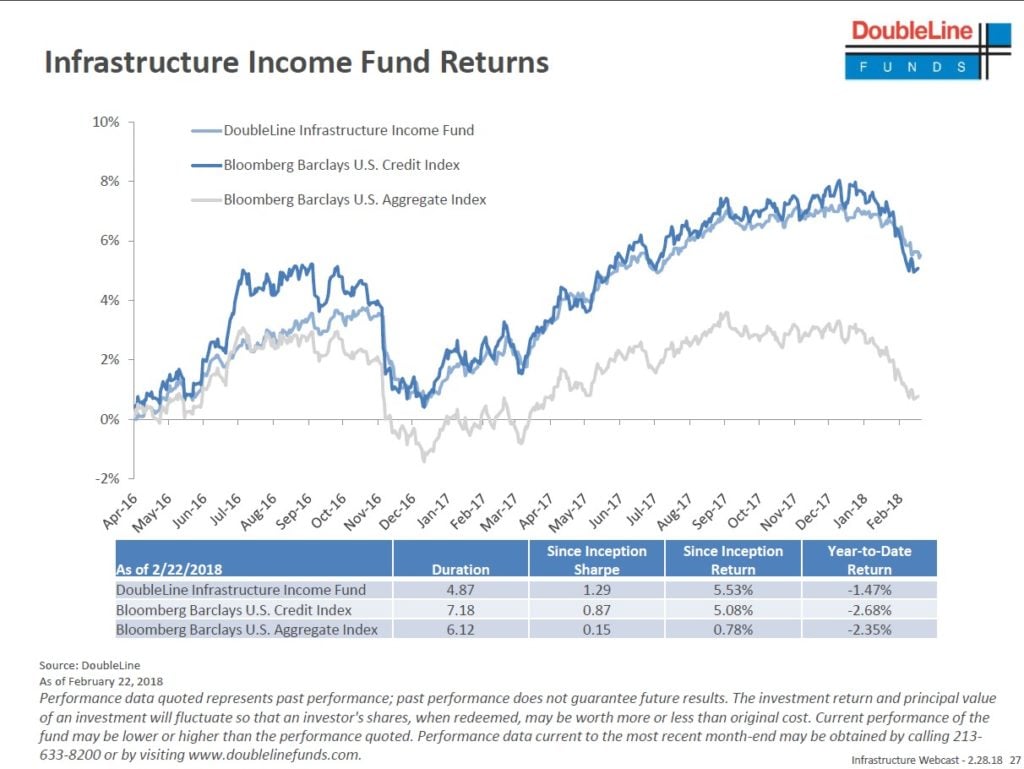 Seniority

Secured, 0%
Unsecured, 1%
Cash, 7.9%
Infrastructure Income Fund Returns
Duration, 4.87 years
Since Inception Annualized Sharpe Ratio, 29
Question & Answer
Is there a liquidity problem with Infrastructure Debt?
"Infrastructure debt is a relatively new asset class, and I would say throughout our time being involved – and it's been many years now – we've seen more and more participants enter the Historically speaking, I think if you were to get involved in a transaction, there only might be a handful of participants. But now as we enter the markets, there are a number of participants and, in some cases, you're talking north of 20-30 participants, in these transactions. It's a bit of a double-edged sword. Liquidity is definitely improved. But at the same time, as you have more and more participants come into this market, you should expect that the spreads will compress."
What do you do with the Infrastructure assets that are not bankable? I understand the PPP concept, but what if there is no clear path to profit?
"As we see in the Infrastructure market, over all, if you look at the private equity world and if you follow Infrastructure investment there, you can see that on the private equity side, currently, there is over $150 billion of "dry powder" in this type of "
What if President Trump's plan does not go through? And what's the impact on the funds?
"This particular fund that we put in place about two years ago was not created around this particular We have seen this opportunity coming, and it was years in the making. Since 2009, really, when the heavy regulation on the banks were put in place, we started to see that more and more opportunities were opening up in the Infrastructure space. We do feel that the opportunity is here and does not hinge, whatsoever, on this particular plan."
See the full slides below.