We examine the current market for private equity buyout activity in the information technology (IT) industry, including key deals, the successes of fund managers raising capital for IT-focused investment and how they have performed compared to the wider market.
Check out our H2 hedge fund letters here.
The information technology (IT) industry provides a variety of potential investment opportunities to private equity fund managers and investors – from venture capital strategies targeting smaller investments in start-up companies, to private equity-backed buyout activity
focusing on more established firms. The past decade has seen significant advances in technology, which has led to an everincreasing demand for new hardware, software and services. Coupled with the increasing applications and uses of this technology, the demand for IT has led to a surge in private equity-backed buyout activity in the sector, with record levels of fundraising and deal activity seen in recent years.
Vanguard's move into PE may change the landscape forever
Private equity has been growing in popularity in recent years as more and more big-name funds and institutional investors dive in. Now even indexing giant Vanguard is out to take a piece of the PE pie. During a panel at the Morningstar Investment Conference this year, Fran Kinniry of Vanguard, John Rekenthaler of Morningstar and Read More
It Buyout Deals
The IT sector is one of the fastest growing areas of private equity-backed buyout deal activity: in 2017, a record 823 deals were completed over the year (Fig. 1). Following a substantial dip in IT deal activity in the aftermath of the Global Financial Crisis, activity over the past decade has generally followed an upward trend, reaching a record level of aggregate deal value ($140bn) in 2015. More recently, however, annual aggregate deal value has been on a downward trend, perhaps due to fund managers' concerns with asset valuations. That being said, this decline in aggregate deal value is a trend seen across the entire private equity industry, and IT deals are accounting for a growing proportion of the market. In 2008, IT deals represented 9% and 4% of all buyout deals and aggregate deal value respectively – a decade later and both of these figures have increased to roughly one-fifth in 2017 (Fig. 2). As technology continues to advance and competition for assets increases, private equity firms could risk paying a premium on portfolio companies in the IT sector, perhaps more so than in other sectors.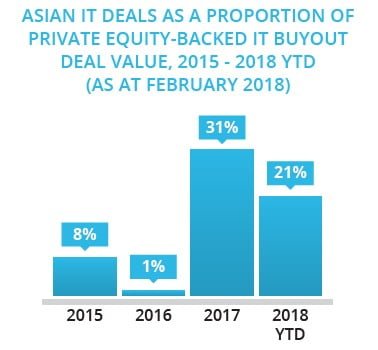 Deals By Region
Unsurprisingly, North America accounts for the majority of private equity-backed buyout deals completed in the IT sector in recent years (Fig. 3). However, the aggregate value of deals completed for Asia-based IT companies in 2017 reached a record high, driven by the announcement of the purchase of Toshiba Memory Corporation by a Bain Capital-led consortium, including Apple Inc. and SK Hynix, for JPY 2.0tn in September.*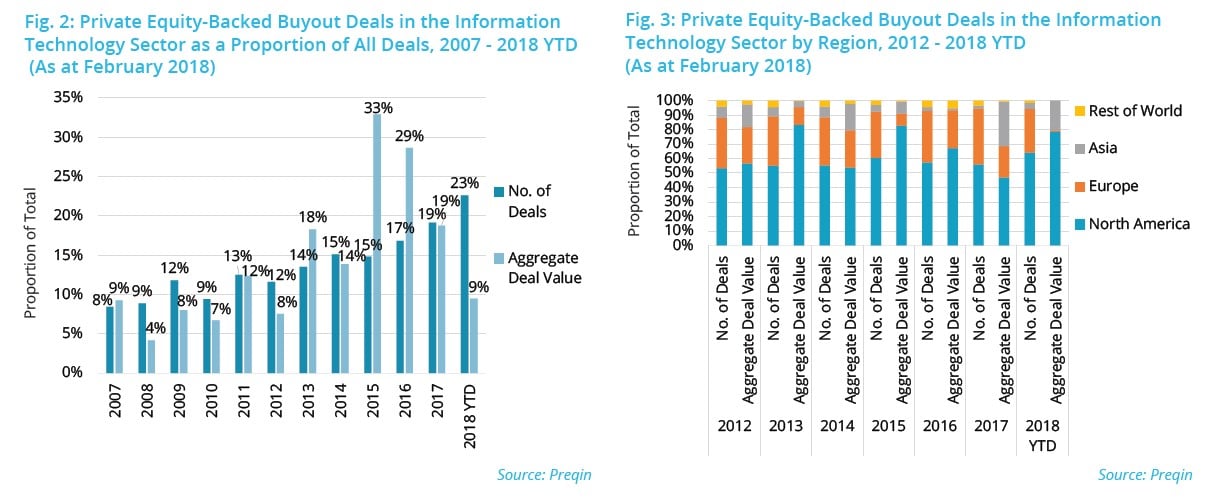 Europe has also seen strong deal activity in recent years, representing one-quarter of all private equity-backed buyout deals for IT firms in 2016 and 2017. Key deals include the Tencent-led $8.6bn acquisition of Supercell OY, the gaming company behind mobile applications Clash Royale and Boom Beach, in 2016. As technology continues to evolve, and both businesses and society further embed technology into their day-to-day lives, the potential for returns and company expansion has led to increased deal activity in this growing sector.
IT-focused Buyout Fundraising
Following years of high net distributions to investors across the private equity industry, fund managers have experienced a positive fundraising environment as LPs look to re-invest their distributed capital.
Since 2011, buyout funds targeting investment in IT have consistently raised large amounts of capital, peaking as recently as 2017 when 16 vehicles secured just under $40bn – over twice as much as the previous record year (2013, Fig. 5).
Much of this increased activity is driven by larger funds entering the market. The average size of IT-focused buyout funds closed in four of the last five years reached over $1bn, something not seen in the period 2008-2012 (Fig. 6). On top of this, 2017 saw two IT-focused buyout funds raise over $10bn: Silver Lake Partners V ($15bn) and Vista Equity Partners Fund VI ($11bn).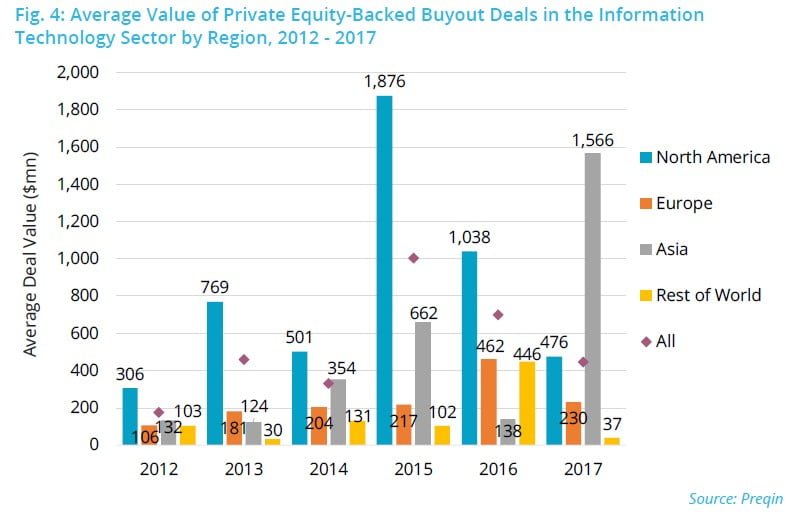 IT Buyout Fund Performance
Over the longer five- and 10-year periods, IT-focused funds have outperformed the wider buyout market, posting the strongest returns over the five years to June 2017, second only to business services. Fig. 7 shows that, where funds targeting business services companies have remained some of the strongest performing funds, IT-focused funds have not been able to generate returns with such consistency.
Over the one- and three-year periods, funds targeting IT companies have underperformed the buyout industry benchmark. Furthermore, following stronger performance from funds targeting investment in the healthcare and consumer discretionary sectors, IT-focused funds sit towards the lower end of the return spectrum compared to other sectors over the 12 months to June 2017.

Risk/Return
Across all fund vintages, however, IT-focused funds sit at the higher end of the return spectrum, generating a median net IRR of 14.7% (Fig. 8). Buyout funds targeting investment in the healthcare sector have a median net IRR at the same level as IT-focused funds, but have added risk. The gap in both the level of risk and return between IT-focused funds and the wider buyout industry highlights the generally stronger performance of investments in the IT sector. The median net IRR of IT-focused buyout funds is over two percentage points higher than that of the buyout industry average, while the lower volatility in their returns depicts consistent outperformance.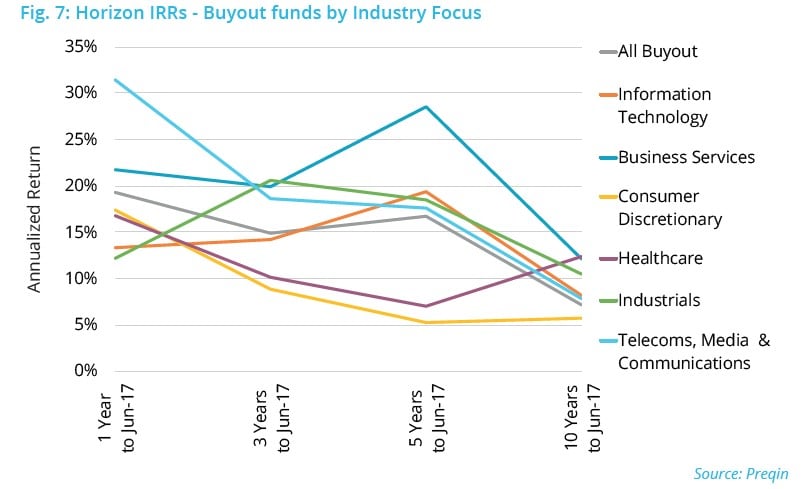 Outlook
IT is an ever-growing industry. Advances in technology and the increasing adoption of technology by both businesses and society has driven demand for private equity investment in the sector and investor appetite for exposure to the industry. IT company valuations have increased in recent years for varying reasons: fund managers have greater levels of dry powder than ever before, success stories and strong performance from the sector have driven increased demand, and the increasing applications for technology and therefore the potential returns have led to a price premium for IT assets.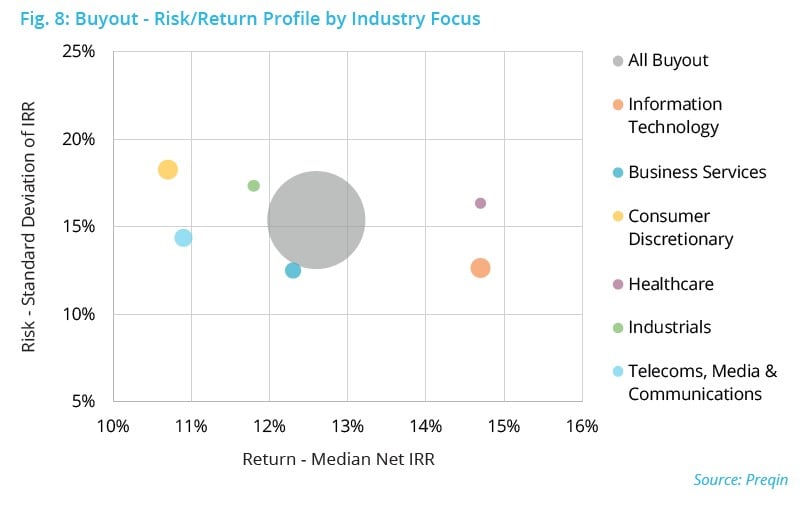 These factors have cultivated a positive fundraising environment for private equity managers targeting the IT industry. However, as investors continue to seek exposure to private equity, the challenge for fund managers is to efficiently deploy their capital in an industry in high demand and of growing importance to the private equity landscape.

Article by Preqin