Brandywine Asset Management commentary for the month of February 2018, titled, "Volatility Shifts Gears."

Check out our H2 hedge fund letters here.
Stock Market Volatility Leads to Largest Loss in the History of the Managed Futures Industry
Is First Gen An Overlooked Power Play That Deserves A Re-Rating?
The post was originally published here. Highlights: Resolving gas supply issues ensures longevity A pioneer in renewable energy should be future proof Undemanding valuation could lead to re-rating Q1 2022 hedge fund letters, conferences and more
The managed futures (CTA) indexes suffered their largest losses on record during the first week of February. For the full month the BTOP SO dropped -5.69% and the Barclay Trend Index dropped -8.96%.
Unfortunately, Brandywine also suffered record losses during the period. Although our performance is not generally correlated with that of other CTAs, our performance began to correlate in January when we, along with the managed futures indexes, posted some of our strongest monthly returns on record (Brandywine's Symphony program was up +6.32% in January).
But historically, Brandywine's performance is uncorrelated to both stocks and CTAs. For example, the past seven years have been the most difficult performance period in the history of the managed futures industry. The BTOP 50 has lost money in five out of seven of those years. In contrast, Brandywine was profitable in 4 of those 5 down years for the index.
While the losses are painful when they occur, we feel the forces that caused those losses will be beneficial to our performance going forward, as we explain in the write-up to the right.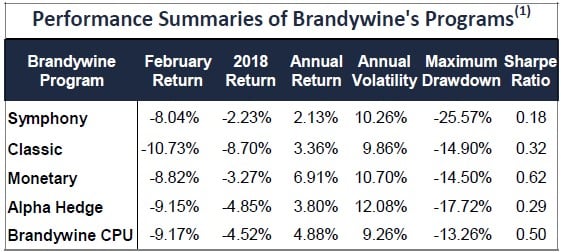 Brandywine Posts Largest Monthly Loss
Last month we talked about the extended period of record low volatility recorded by U.S. equity markets. This low-vol environment has held for most of the past decade, a period during which central bankers have established price-control policies towards interest rates. This has served as a headwind for the majority of managed futures traders, who tend to exploit volatility in global financial and commodities markets. Many of those same headwinds applied to us as well. And while we're displeased that our performance has not matched our long-term expectations, we are encouraged by our outperformance relative to our peers over such a difficult period.
We believe the environment is now changing to become more favorable. Although equity investors obviously prefer the steady gains they have achieved over the past decade and generally dislike volatility, we believe the resumption of free(er) market forces will provide us with opportunities similar to those that existed prior to the end of the financial crisis in 2009.
The spike in stock market volatility last month was just the first indication of this change in environment. Our performance over the past two months is also indicative of the start of a regime change. After one of our strongest monthly performances on record, Brandywine suffered a record one- month loss in February. This follows two years (both 2016 and 2017) of double digit gains combined with single-digit target volatility. Of course, past performance is not indicative of future performance. But while the early February spike in volatility had the initial effect of negatively affecting Brandywine's performance, we believe it may also have ushered in a new market environment that may present us with better opportunities than we have seen in years.
As always, please feel free to email or call us for more information.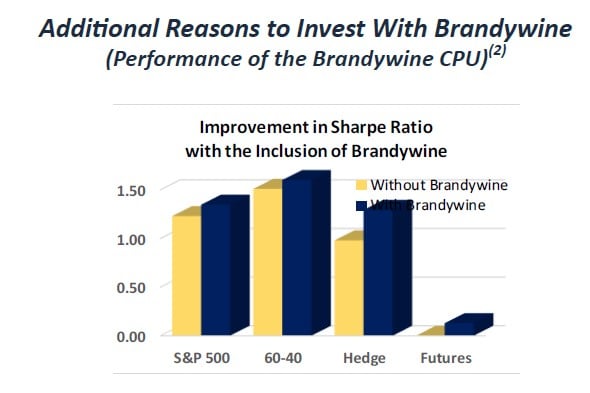 The value of adding Brandywine to a portfolio that contains stocks, bonds, hedge funds or managed futures is due to Brandywine's noncorrelation to those other investments. This is highlighted in the table to the right It is this non-correlation that makes Brandywine such a positive addition to most investment portfolios and results in the improvement in risk-adjusted returns shown in the chart above.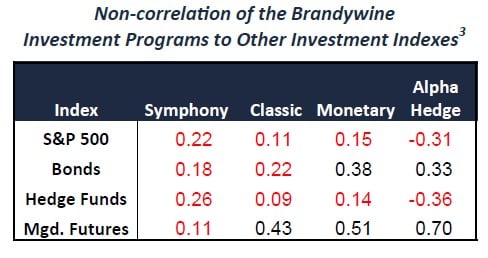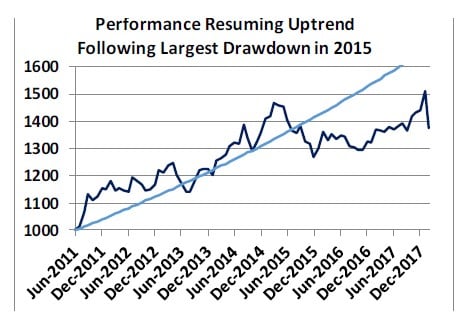 Descriptions & Performances of Brandywine's Investment Programs
Brandywine trades pursuant to a fully-systematic model that incorporates a wide range of both fundamental and technical
trading strategies. Brandywine's Symphony Program began trading in July 2011 and the performance of the other programs is
extracted from the actual performance of trades executed within the Brandywine Symphony Program.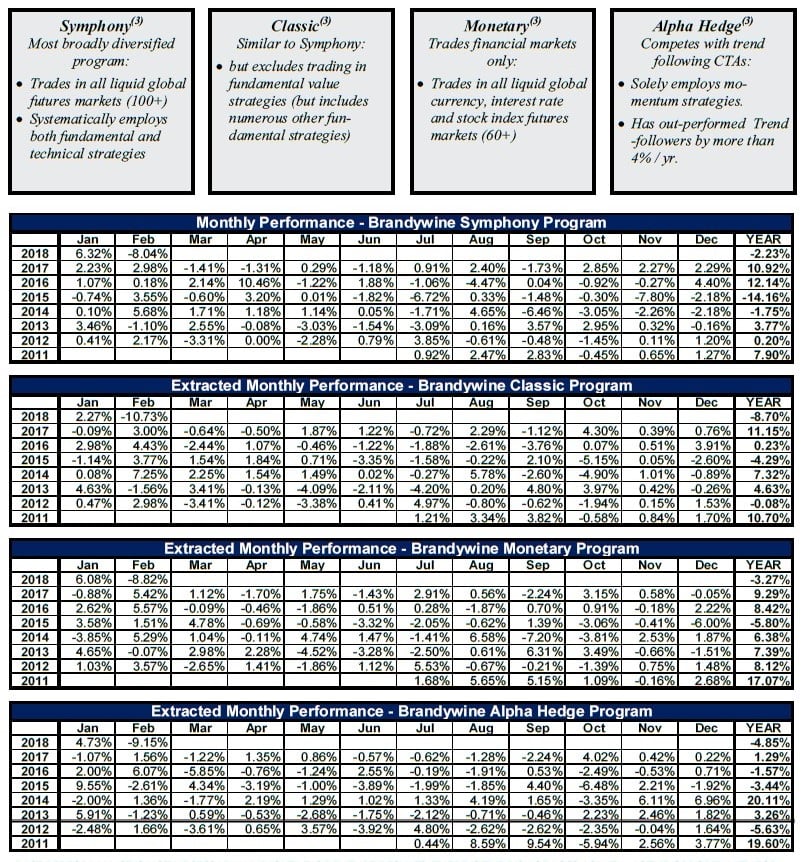 Monthly Performances of Brandywine's Investment Programs
"Brandywine CPU" is the composite performance that could have been achieved by allocating 1/3 to Brandywine's Diversified
Programs (split equally between Symphony and Classic) and 1/3 each to Monetary and Alpha Hedge, reallocating monthly.
Brandywine Symphony Preferred Fund began actual trading in July 2011 and is managed pursuant to Brandywine's Symphony
program at between 3x and 5x the standard risk of that program. As a result, the Fund is cash efficient (a $1 million allocation provides the returns that would be earned on a $3 million to $5 million investment in Brandywine's Symphony program) but extremely high risk relative to the potential and actual losses relative to the actual cash invested.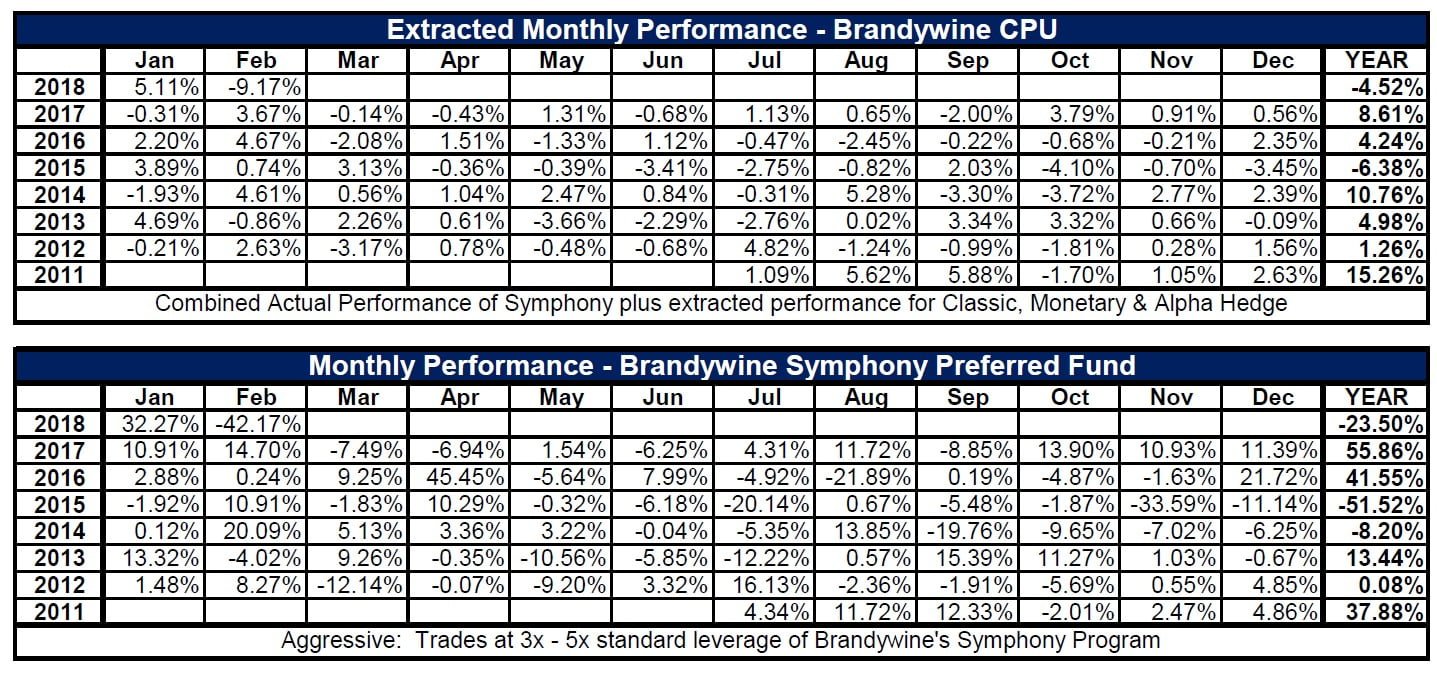 See the full PDF below.