A few days ago, a leaked image of HTC's upcoming flagship U12 Plus showed us what the device would look like. Now folks at Concept Creator have teamed up with TechnoBuffalo to create HTC U12 Plus concept renders based on the leaked image. The phone has been in development under the code-name 'Imagine.' It is rumored to have all the elements of a true 2018 flagship such as slim bezels, dual cameras, a beautiful design, and the Snapdragon 845 processor.
Recent rumors indicated that HTC would launch only one handset instead of two as consumers tend to prefer larger screens. The HTC U12 Plus concept images have a glass and metal design. The front and rear glass panels are supported by an aluminum frame in the middle. Unlike last year's U11 and U11 Plus, the U12 Plus's rear glass is not curved. The device appears sleeker and more rectangular than its predecessor.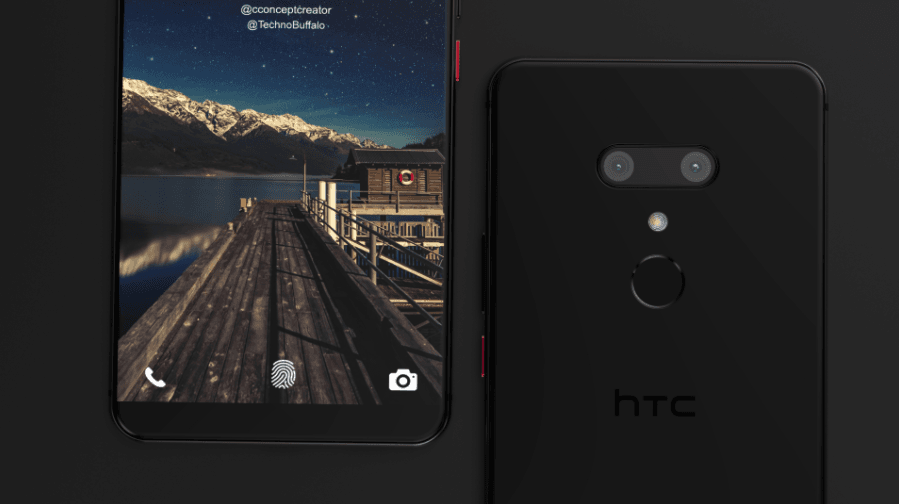 On the front, it has a giant 6-inch LCD+ display with an 18:9 aspect ratio. It has extremely slim bezels on the sides, though you can still see bezels at the top and bottom. The top bezel houses the ear speaker, two 8-megapixel selfie cameras, and other sensors. The volume rockers and the eye-catching red power button are on the right side. The concept phone envisions a bottom-firing speaker and a USB Type-C port. As expected, the 3.5mm headphone jack is absent.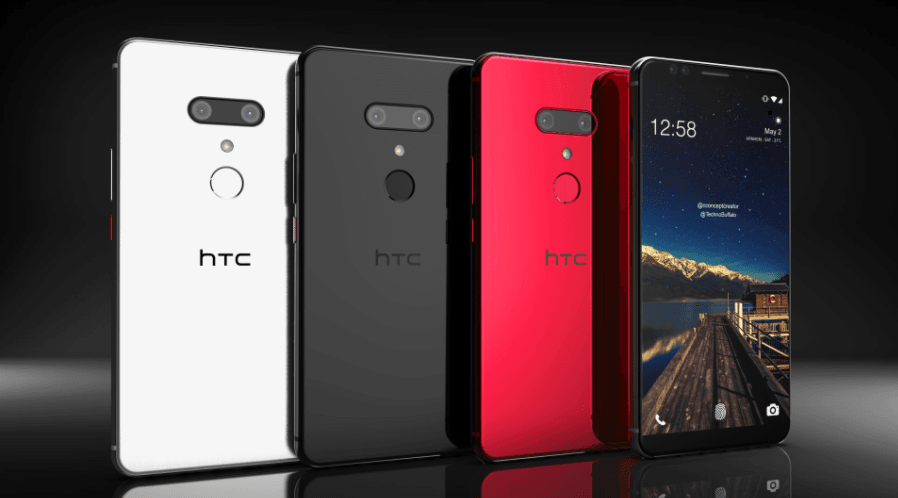 On the back panel, you'll find a horizontally arranged dual camera setup. The camera system consists of a 16-megapixel primary lens and a 12-megapixel secondary sensor. Both the sensors would be supplied by Sony. Right below the camera system is an LED flash and a circular fingerprint sensor. The distance of the fingerprint reader from the cameras is enough to prevent users from accidentally smearing the lenses while trying to unlock the device. The HTC logo appears in the center of the back panel.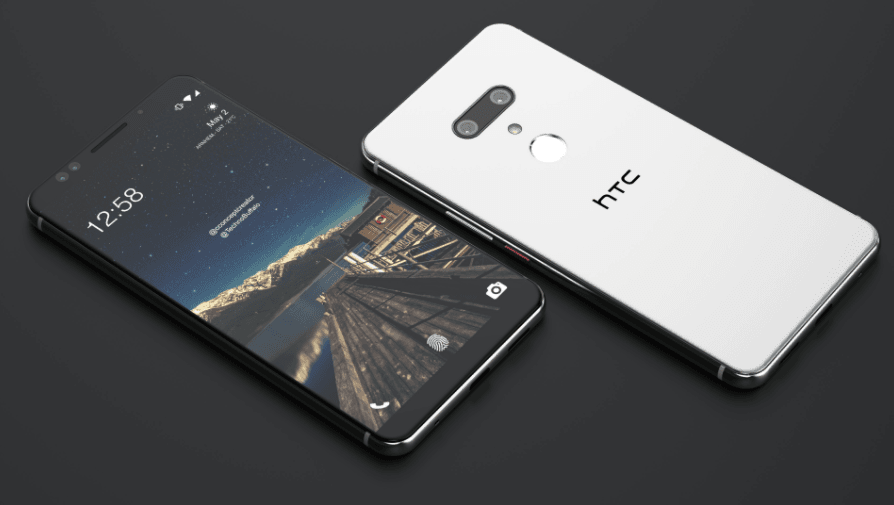 The HTC U12 Plus concept has 6GB RAM, and is powered by Qualcomm's Snapdragon 845 chipset that also runs Samsung's Galaxy S9 and S9 Plus. Concept Creator expects the device to have 128GB of internal storage. It would run Android 8.1 Oreo-based Edge Sense 2.0 UI on top. It packs a huge 3450mAh battery, which should be enough to last a full day of normal usage.
Concept Creator has imagined the device in Black, Silver, and Solar Red colors. The handset is also expected to be water- and dust-resistant with an IP68 rating. Recently, HTC secretly previewed the device at a 5G event organized by Chunghwa Telecom in Taiwan. The device previewed at the show had a giant bezel-less display. It was powered by the Snapdragon 845 SoC and the X20 LTE modem that achieved a download speed of 810Mbps.
According to VentureBeat contributor Evan Blass, the HTC U12 Plus would be unveiled in late April or early May. Noted Twitter tipster LlabTooFer, who is well known for their scoops on HTC products, expects the flagship phone to be unveiled in April. LlabTooFer added that the HTC U12 Plus would come with a Face Unlock feature to let you unlock the device simply by looking at it. It is too early to say how secure it would be. The inclusion of a rear-mounted fingerprint sensor would suggest that it's not fast and secure enough to authenticate financial transactions.
HTC has lost much of the ground to Samsung and Chinese Android OEMs such as Huawei, Xiaomi, Oppo, OnePlus, and Vivo in the last few years. It has been incurring losses for almost three years now. In 2017, HTC recorded its lowest revenue in more than a decade. The company has decided to launch fewer phones in 2018 to focus on the mid-range and premium segments in an attempt to reduce its losses. It also recently laid off employees in the US.
Last year, the Taiwanese company sold part of its smartphone division to Google in a $1.1 billion deal. In what seems like further trouble for HTC, its president of smartphone and connected devices business Chialin Chang has resigned ahead of the HTC U12 Plus launch. The company says he left because if his "personal career plan," though local media reports claim he resigned from HTC to launch its own AI startup.
The HTC U12 Plus will face tough competition upon launch. Samsung's flagship Galaxy S9 and S9 Plus have just hit the store shelves, and they are touted as the best smartphones of this year so far. LG is also planning to launch LG G7 in the second quarter this year. Chinese vendor OnePlus is gearing up to launch OnePlus 6 in June. OnePlus devices offer premium specs at ridiculously low prices.