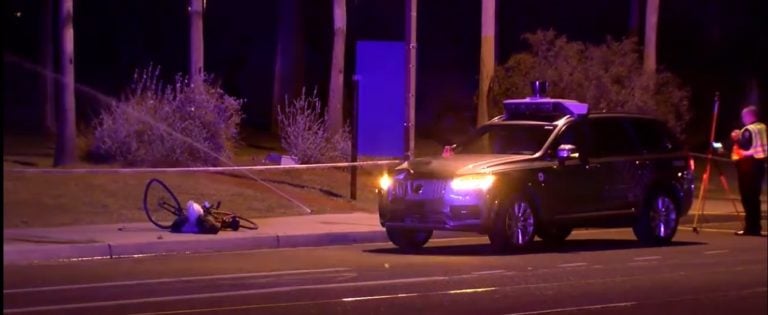 Police in Tempe, Arizona have reported that a self-driving car was involved in an Uber accident last night – the first instance of a self-driving car causing a death.
Uber Crash
The Uber crash occurred as the self-driving car was in autonomous mode. Reports confirm that the crash occurred near Mill Avenue and Curry Road early this morning. Initial reports show that the pedestrian was struck while walking outside of the crosswalk.
ADW Capital's 2020 letter: Long CDON, the future Amazon of the Nordics
ADW Capital Partners was up 119.2% for 2020, compared to a 13.77% gain for the S&P 500, an 11.17% increase for the Russell 2000, and an 8.62% return for the Russell 2000 Value Index. The fund reports an annualized return of 24.63% since its inception in 2005. Q4 2020 hedge fund letters, conferences and more Read More
The woman injured in the Uber accident was taken to the hospital where she later died from her wounds.
A statement from Uber confirms that they're aware of the incident and will do their best to rectify the situation.
"We are fully cooperating with local authorities in their investigation of this incident."Apparently, although the self-driving car was in autonomous mode, there was also a driver behind the wheel – raising the question of whether the driver is at fault due to a failure to react to the presence of the pedestrian in order to potentially avoid this fatal Uber crash.
The company will now halt all of their self-driving car testing in every city as a result of this Uber accident – an unfortunate occurrence that sets back the progress of the self-driving car movement in addition to taking a life.
A Legal Dilemma
The safety of a self-driving car has long been emphasized, as they are generally much more reliable than a human driver. However, as this sort of technology is uncharted territory, there are a number of legal and safety questions that have been brought up time and time again – questions that are now at the forefront of the discussion after this fatal Uber accident.
While human drivers may be less reliable than a self-driving car on average, there's usually a clear party at fault when it comes to an accident. With an incident like the Uber crash, who do you blame? Is Uber at fault, or the car manufacturer or the programmers who developed the self-driving car software? It's an interesting legal dilemma and now, as we have the first self-driving car fatality as a part of this Uber accident, we'll have to take a look at how these situations will be handled moving forward.
The Future Of The Self-Driving Car
While the most significant part of this unfortunate Uber crash is the fact that a woman lost her life, it also adds fuel to the fire of those who are hesitant to embrace the self-driving car movement. With the ability to point to this Uber accident as a reason to avoid this autonomous technology altogether, it's possible that the breakneck speed at which the idea of the self-driving car had been advancing will be further slowed. If there's one thing that's clear from this Uber accident, it's that there are still a number of problems that need to be ironed out before we can safely give the reins to a driving software in totality.
While the autonomous car is much safer on average than a human driver, that just isn't good enough. Until we have a clear idea as to how liability is to be handled in these uncharted waters, we'll have to keep developing the self-driving car until occurrences like the Uber accident are unheard of.
With the majority of Uber's expenses being payments to drivers, the move to add the self-driving car to their arsenal was viewed as a large investment for a large long term payoff. It remains to be seen whether this Uber crash will scrap their plans altogether or whether they will come back in full force with a redesigned software and a renewed commitment to safety.
UPDATE 05:11 PM: Uber has released a statement expressing their sympathies for the victim of the crash, stating that "Our hearts go out to the victim's family. We are fully cooperating with local authorities in their investigation of this incident."
Uber CEO Dara Khosrowshahi has also tweeted out that the company was hard at work trying to figure out what went wrong.
"Some incredibly sad news out of Arizona," he said. "We're thinking of the victim's family as we work with local law enforcement to understand what happened."
The victim of the crash has been confirmed as 49-year-old Elaine Herzberg, who passed away after a fatal Uber crash from one of the self-driving cars at around 10 pm on Sunday evening. Police have said that the Uber accident happened as the car was headed north on Curry street. Herzberg crossed from the west side of the street and was struck and killed. The area is a busy intersection with multiple lanes going in every direction.
The National Transportation Safety Board has now opened an investigation into the crash, according to NTSB spokesman Eric Weiss.
Thus far, the National Transportation Safety Board has relied on voluntary safety reporting as far as autonomous driving technology goes. The industry has repeatedly stressed the life-saving potential of a future filled with driverless cars, but it appears as if the technology has yet to get to the point it needs to be in order to make it truly safer when compared to a skilled vehicle operator.
While the self-driving car industry has argued against government mandates, it's possible that an investigation from this regulatory body may lead to stricter rules regarding safety after the unfortunate fatality of the Uber accident.
Multiple experts have come forward since the Uber crash to stress that there are still gaps in the ability of computer vision to recognize pedestrians – a flaw which may have led to the death of Elaine Herzberg.