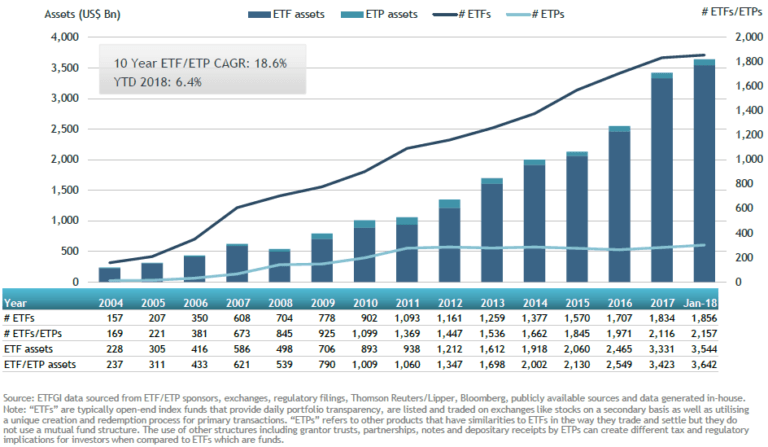 ETFGI reports that assets invested in ETFs and ETPs listed in the US increased by 6.40% in January 2018 to reach a record high of US$3.642 trillion
LONDON — February 13, 2018 — ETFGI, a leading independent research and consultancy firm on trends in the global ETF/ETP ecosystem, reported today that assets invested in ETFs and ETPs listed in the US increased by $219 Bn or 6.40% in January 2018 to reach a record high of US$3.64 trillion, this represents the greatest monthly growth in assets since October 2015, when assets increased by $150 Bn. (All dollar values in USD unless otherwise noted.)
According to ETFGI's January 2018 US ETF and ETP industry insights report, an annual paid-for research subscription service, the US ETF industry had 2,157 ETFs and ETPs, assets of US$3.64 Tn, from 132 providers listed on 4 exchanges.
Qualivian Investment Partners July 2022 Performance Update
Qualivian Investment Partners performance update for the month ended July 31, 2022. Q2 2022 hedge fund letters, conferences and more Dear Friends of the Fund, Please find our July 2022 performance report below for your review. Qualivian reached its four year track record in December 2021.  We are actively weighing investment proposals. Starting in November Read More
Highlights
Assets invested in ETFs/ETPs listed in the US increased by a record $219 billion during January to reach a new high of $3.64 trillion
In January 2018, ETFs and ETPs listed in the US gathered net inflows of $78.8 billion
Assets in Equity ETFs/ETPs increased by 7.45% in January, which is significantly more than the 1.01% increase in Fixed Income ETFs/ETPs
This record was achieved on the eve of another milestone for the ETF industry: the 25th anniversary of the listing of the first ETF in the US, the venerable SPDR S&P 500 ETF (SPY US), on 22nd January 1993. At the end of January 2018, SPY on its own accounted for assets of $307 Bn.
January 2018 marked the 24th consecutive month of net inflows into ETFs/ETPs listed in the US, with $78.8 Bn gathered during the month; 88.3% more than net inflows at this point last year.
The majority of these flows can be attributed to the top 20 ETFs by net new assets, which collectively gathered $60.9 Bn in January 2018. The SPDR S&P 500 ETF Trust (SPY US) on its own accounted for net inflows of $19.8 Bn.
Top 20 ETFs by net new assets: US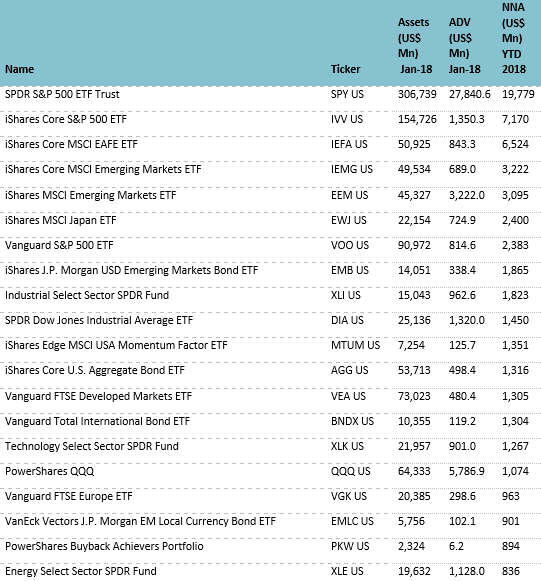 Similarly, the top 10 ETPs by net new assets collectively gathered $3.54 Bn during January 2018.
Top 10 ETPs by net new assets: US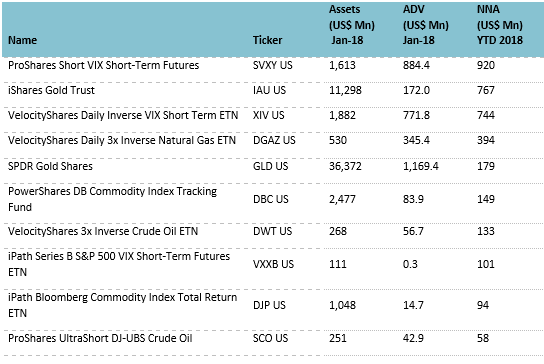 Equity ETFs/ETPs listed in the US saw net inflows of $64.8 Bn in January and Fixed Income ETFs and ETPs gathered net inflows of $8.78 Bn. Investors have tended to invest in core, market cap and lower cost ETFs in January 2018.
Please contact deborah.fuhr@etfgi.com if you would like to discuss the cost to subscribe to any of ETFGI's research or consulting services.
Updated on