Whitney Tilson's latest email is all over the place – presented without comment
1) If you're going to Charlie Munger's Daily Journal annual meeting in LA next Wed (Feb. 14th at the Doubletree Hotel, 120 South Los Angeles St.), which I highly recommend (at 94, he's isn't getting any younger!), please join Glenn and me afterward for a free lunch/reception we're hosting in the Thousand Cranes room on the first floor. It's open to all – just come by to say hi, meet fellow Munger junkies, and grab a drink and bite. Please RSVP here: www.eventbrite.com/e/kase-learning-lunchreception-registration-42726049765
Consistency is what makes the top 50 best-performing hedge funds so strong
Every month and quarter, multiple reports on average hedge fund returns are released from several sources. However, it can be difficult to sift through the many returns to uncover the most consistent hedge funds. The good news is that Eric Uhlfelder recently released his "2022 Survey of the Top 50 Hedge Funds," which ranks the Read More
2) I'm quoted in this WaPo article on Berkshire, Warren Buffett's Berkshire Hathaway had an amazing 2017. 2018 isn't looking too bad, either., www.washingtonpost.com/news/get-there/wp/2018/01/18/warren-buffetts-berkshire-hathaway-had-an-amazing-2017-2018-isnt-looking-too-bad-either. Excerpt:
"The promotion of these two men indicates that most likely one, or possibly both, of them are his successor," said Whitney Tilson, a Berkshire shareholder for more than two decades and a close follower of Buffett, 87, and his longtime business partner and sidekick, Charlie Munger, 94.
Tilson and other Berkshire observers are betting on Abel as the sole successor because of his relative youth and because Jain has made it clear he wishes to remain focused on Berkshire's vast, and highly profitable, insurance operations.
… Tilson sees Buffett running the show for another five to seven years.
"He is in­cred­ibly energetic, healthy and mentally he has never been sharper," Tilson said, who three months ago closed his hedge fund and now operates an online investing education service called Kase Learning. "I pray in the church of Buffett and Munger. They have been my mentors and teachers as an investor, but they have had an even bigger impact on the non-investment things through the life lessons they have taught."
3) To see the dangers of certain ETFs and the volatility currently roiling the markets, look no further than the VelocityShares Daily Inverse VIX ST ETN (XIV), which was down 14% during the day and (this is not a typo) is down 85% (!) after hours. Folks are worried about contagion risk. Here's the Fund Summary:
The investment seeks to replicate, net of expenses, the inverse of the daily performance of the S&P 500 VIX Short-Term Futures index. The index was designed to provide investors with exposure to one or more maturities of futures contracts on the VIX, which reflects implied volatility of the S&P 500 Index at various points along the volatility forward curve. The calculation of the VIX is based on prices of put and call options on the S&P 500 Index. The ETNs are linked to the daily inverse return of the index and do not represent an investment in the inverse of the VIX.
4) What exquisite timing – missed the record by a day! This is from last week's WSJ: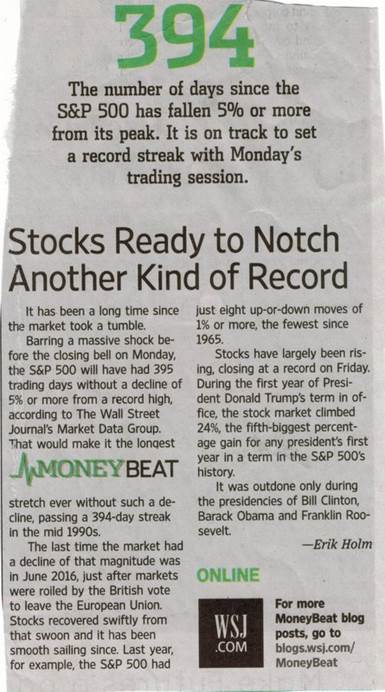 5) I've just started watching this Netflix series – it's great! (And not just because it exposes the obvious truth that our President is and always has been a world-class grifter/con man; for more on my views on him, see: www.tilsonfunds.com/Trumpimpeachment.pdf), The Epic Grift of Dirty Money, www.theatlantic.com/entertainment/archive/2018/01/dirty-money-review-netflix/551819. Excerpt:
Dirty Money is a fascinating and frequently enraging new documentary series on Netflix that tackles capitalism run amok—portraits of people and companies whose greed was so extreme and so untroubled by ethical boundaries that they engaged in truly historic acts of grift. The series explores how HSBC laundered money for drug cartels, how a race car driver was engaged in an illegal payday loan business that involved millions of Americans, and how Volkswagen cheated and lied to consumers globally about how dirty its diesel engines were. And then there's Trump: In an episode called "The Confidence Man," Dirty Money traces the origins of the president's wealth, his lean years in the 1990s, and his more dubious business entanglements in Azerbaijan in the lead-up to his run for office.
6) What a total disgrace. And to think some people actually believed that Donald "Fill the Swamp" Trump would look out for average Americans. Payday Rules Relax on Trump's Watch After Lobbying by Lenders, https://nyti.ms/2FFGH8s. Excerpt:
In mid-April, hundreds of members of the payday lending industry will head to Florida for their annual retreat featuring golf and networking at a plush resort just outside Miami. The resort just happens to be the Trump National Doral Golf Club.
It will cap a year in which the industry has gone from villain to victor, the result of a concentrated lobbying campaign that has culminated in the Trump administration's loosening regulatory grip on payday lenders and a far friendlier approach by the industry's nemesis, the Consumer Financial Protection Bureau.
Gone is Richard Cordray, the consumer bureau's director and so-called bad cop, who levied fines and brought lawsuits to crack down on usurious business practices by an industry that offers short-term, high-interest loans that critics say trap vulnerable consumers in a feedback loop of debt. In his place is Mick Mulvaney, the White House budget director and a former South Carolina congressman, who was chosen by President Trump to assume temporary control of the bureau and has emerged as something of a white knight for the payday lending industry.
"I think now we're in a period that is relatively passive," said Dennis Shaul, the chief executive of the Community Financial Services Association of America, the primary lobbying group for payday lenders. "I think it is advisable for us to largely draw a curtain on the past and try to go forward."
7) Bitcoin was down another 16% today to under $7,000, on its way toward $2,000 I think. The hilarious memes are everywhere – this one cracked me up: Hitler Rages at 10k bitcoin, www.youtube.com/watch?v=0Hl-t4uRJvI
8) It would be hard to find better evidence of investor complacency/ignoring risk: Greece's two-year government bond (today at 1.34%, down from nearly 10% less than a year ago) now yields less than the US two-year (at 2.03%):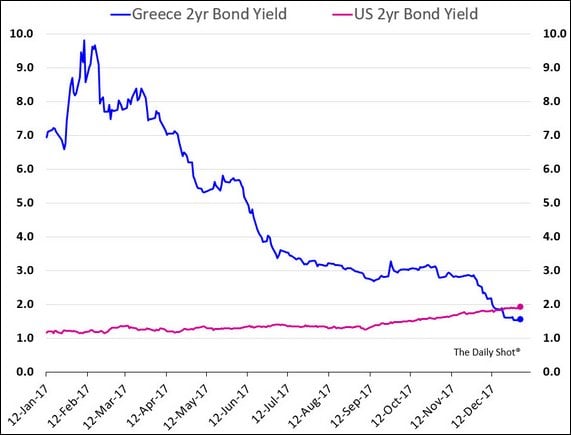 9) From a friend – email him directly at: walter_chang@yahoo.com
I booked some extra rooms for the Berkshire weekend using Marriott Reward Points and will not be using them, so I have 6 extra rooms which I can give out if Berkshire fans want to use their Marriott or Starwood hotel points to take them. That weekend is the best time to use the hotel points since the rooms are very expensive.
May 4-7 Element Hotel in midtown and Dodge Street (3 rooms) - Starwood
May 4-6 at Marriott Courtyard La Vista (1 room)
May 4-7 at Marriott Courtyard Bellview Beardmore Conf Center (1 room)
May 4-7 at Marriott Courtyard Old Market (1 room)
I am happy to work with Berkshire fans to transfer the reservations to their names and let them use their points to take over the reservations.
Updated on