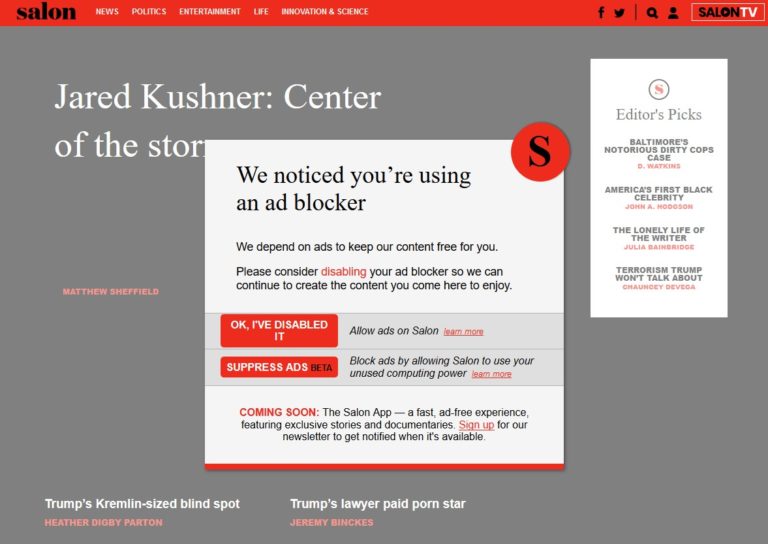 It's no secret that the advent of ad blocking software has negatively affected the profits of online websites. For news sites like Salon, the majority of their revenue comes from online advertisements, and with many people blocking these ads using browser plugins, they're struggling to turn a profit. A Salon cryptocurrency miner may be able to change that moving into the future, however, and it represents a novel technique as a media outlet tries to adjust to the changing times.
In a note addressing the launch of the Salon cryptocurrency miner, the company stated that "Like most media sites, ad-blockers cut deeply into our revenue and create a more one-sided relationship between reader and publisher."
Fortune reports that company CEO Jordan Hoffner explained the Salon cryptocurrency miner, stating "We saw a business problem, we saw a potential way out – potential being the key word – and we took it."
Carlson Capital Thinks The SPAC Boom May Be Over [Q1 Letter]
Carlson Capital's Black Diamond Arbitrage Partners fund added 1.3% net fees in the first quarter of 2021, according to a copy of the firm's March 2021 investor update, which ValueWalk has been able to review. Q1 2021 hedge fund letters, conferences and more At the end of the quarter, merger arbitrage investments represented 89% of Read More
The Salon cryptocurrency miner has a few users already, but the profitability of the method in its current incarnation is questionable. Essentially, users will be given a prompt to either view ads as normal or remove ads and allow their computer processor to be used in a Salon cryptocurrency miner. The software mines Monero using a program called Coinhive, which has recently seen a decent amount of controversy after hackers started using the software to mine coins on unwitting users' computers through malware. Coinhive and Monero aren't shady by design, however, so the Salon cryptocurrency miner appears to be on the up-and-up.
Eventually, the company wants to diversify their cryptocurrency lineup in order to see better profits moving into the future.
"The coins will change over time as the demand for whatever currency changes," Hoffner said. "We'll end up building a portfolio of [cryptocurrencies]."
Despite these plans, it's still pretty unclear as to how much money the Salon cryptocurrency miner is actually capable of making with the current value of Monero. Fortune reports that Coinhive estimates put one million visits of five minutes resulting in around 0.27 cryptocurrency every 30 days – equating to $64 a month at the current Monero value of $238. Salon has much more than one million viewers each month, with around 13.1 unique visitors a month just in the last quarter of 2017. Still, the amount earned is a pittance compared to what the company would receive if ad blockers didn't pose such a significant threat to their profits.
The Salon cryptocurrency miner plan is banking on the fact that the value will continue to rise, and there's not much of a risk to the plan considering that the company isn't investing any of their own resources in mining Monero. If the exponential growth of cryptocurrencies we've seen in the past few years continues and pulls the market out of its downward trend, this strategy could definitely pay off for Salon. Whether the plan pans out or not remains to be seen, but the Salon cryptocurrency miner represents a company taking steps to adapt to the changing times to increase profits rather than bemoaning the increasing prevalence of ad blockers.