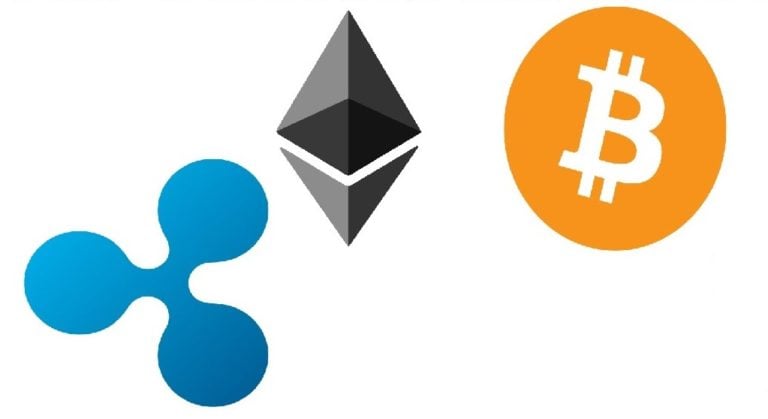 The past couple of months have been a wild ride for the Ripple, Ethereum, and Bitcoin price. From record highs at the end of December, the currencies proceeded to see a huge crash in early 2018. Some experts believe that the Bitcoin price may start to bounce back in a major way, but the future of cryptocurrency is all but guaranteed.
Being able to accurately produce the Ripple, Ethereum, and Bitcoin price would pay off in a major way, allowing investors to buy low and sell high for massive profits. However, the Bitcoin price and the value of cryptocurrencies, in general, has been all over the map during the short history of these new investment opportunities, making it difficult to tell when the best time is to buy and when it's best to sell. Many investors bemoan selling their Bitcoin when the price was just a few hundred dollars a coin, but a large portion is also upset about buying into the currency during the record high near the end of December only to have the price see a huge crash just a few weeks later. Long story short, it's next to impossible to accurately predict Ripple, Ethereum, and Bitcoin price. That doesn't keep financial experts from trying, however, and many authorities feel that this downturn is only temporarily, with Bitcoin price having the potential to grow by more than 50% in 2018.
Thomas Lee, a managing partner at the financial research Firm Fundstrat Global Advisors, expects to see a new high for Bitcoin by July. This information is based on analysis of the currency's 22 corrects since it was first started tracking back in 2010. Although the Bitcoin price is currently far lower than it was a couple of weeks ago, the price of Bitcoin climbed more than 1300 percent in 2017, reaching a record high of almost $20000 per bitcoin before crashing by more than 70%.
GrizzlyRock: Long Thesis For This European Travel Company [Q1 Letter]
GrizzlyRock Value Partners was up 16.6% for the first quarter, compared to the S&P 500's 5.77% gain and the Russell 2000's 12.44% return. GrizzlyRock's long return was 22.3% gross, while its short return was -2.9% gross. Compared to the Russell 2000, the fund's long portfolio delivered alpha of 10.8%, while its short portfolio delivered alpha Read More
Metro reports that Lee states "Bitcoin recoveries take 1.7 times the duration of the decline, and this implies that 85 days are needed to recover prior highs…this is July 2018."
Whether we ever see a Bitcoin price as high as we did near the end of December remains to be seen, but some experts certainly seem optimistic about the future of cryptocurrencies like Ripple, Ethereum, and Bitcoin.
However, despite the experts' optimism regarding the currency, there's another crowd that is less convinced that Bitcoin and cryptocurrency, in general, is the future of investment. The Bitcoin price by is all over the map by default, largely due to the fact that the price is based on speculations rather than an entity with a real-world value such as how a company's stock is a reflection of its performance. With such a volatile value, where the Bitcoin price will be in a few months is anyone's guess. While the huge growth in the last year is certainly an indication that we may continue to see the price bounce back from the extremely low prices we saw just a few weeks ago, there's also a political climate abrew that could spell trouble for the Ripple, Ethereum, and Bitcoin price moving forward.
A major benefit to currencies like Ripple, Bitcoin, and Ethereum is the fact that they're easy to transfer, anonymous, and have a lack of major regulations stifling their growth. All three of those aspects are in danger of disappearing due to interference from governments and regulatory bodies, however, which may have a marked effect on Bitcoin price moving forward.
Recently leaked documents from China have suggested that the country will soon start raising taxes on Cryptocurrency miners, which is a major blow to the organizations that call the country home due to the low costs of utilities. This news comes shortly after China shut down one of the country's major cryptocurrency exchanges and banned Initial Coin Offerings. Considering how big of a market China is and how much money it has to contribute to the global cryptocurrency arena, having the government seemingly opposed to this new investment opportunity is definitely not doing the Bitcoin price any favors.
China is far from the only country to be dealing with this sort of regulation, with Israel also expressing concern over the lack of regulations or stability in the cryptocurrency market. The country has shown interest in even halting cryptocurrency activity altogether pending an investigation from their financial regulators. While this hasn't happened as of yet, it sets a precedent worldwide. If more countries were to follow suit and start regulating cryptocurrency activity within their borders, there's definitely a potential for the price to continue to crash.
The Bitcoin price has thrived due to the lack of regulations and the ability for the value to run rampant. However, as the market cap reaches the hundreds of billions with the 100+ currencies combined, it's no longer possible for the financial industry to ignore the impact of these powerful newcomers to the investment scene. There's no doubt going to be regulation coming in the near future, which could certainly put a wrench in the supposed meteoric rise of Ripple, Ethereum, and Bitcoin price we are supposed to see in 2018.
At the end of the day, it's advisable to not make any rash decisions regarding investing in cryptocurrency. Despite what any expert might say one way or the other, there's really no way to understand which direction cryptocurrency will go in 2018. While the Bitcoin price may continue to spike, there's also the chance it will continue to decline. All we can really do is wait and see whether cryptocurrency is here to stay or if it's on a path towards burning out.