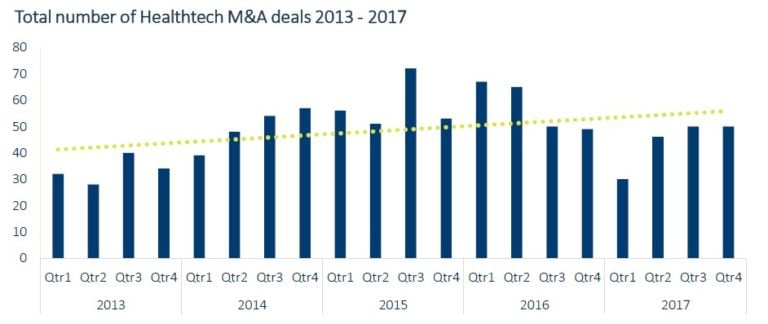 Wearables, connected systems, mission-critical healthcare software and new entrants into the sector are driving the future of Healthtech M&A
London, 8 February 2018 - The latest Healthtech M&A Report from international technology mergers and acquisitions advisors, Hampleton Partners, reveals how the 'perfect storm' of rapidly converging digital technologies and societal changes, coupled with the entrance of tech giants, such as Amazon into the healthcare and medical systems market, is driving intense innovation and M&A activity in the Healthtech sector.
A wave of deals delivered disclosed amounts of nearly $9.5bn, up fourfold from 1H2017 and up 140 per cent year-over-year.
Exclusive: Third Point is diving into the private and SPAC markets [In-Depth]
Dan Loeb's Third Point returned 11% in its flagship Offshore Fund and 13.2% in its Ultra Fund for the first quarter. For April, the Offshore Fund was up 1.7%, while the Ultra Fund gained 2.3%. The S&P 500 was up 6.2% for the first quarter, while the MSCI World Index gained 5%. Q1 2021 hedge Read More
Express Scripts' $3.6bn acquisition of eviCore healthcare, the health benefit and claims management market serving 100 million people, topped the table as the Healthtech sector's largest deal in 2H 2017.
The next largest deal was KKR-backed Internet Brands' purchase of WebMD for $2.8bn. This brought a string of popular online health websites, including Medscape.com; DentalPlans.com and AllAboutCounseling.com under one umbrella company. KKR also closed a $1.45 Billion health care strategic growth fund during the same period.
North America led the way in Healthtech M&A, with 77 out of the 100 announced deals driven out of the U.S., to help meet the huge domestic demand and ability to thrive in the competitive private healthcare market.
Jonathan Simnett, director, Hampleton Partners, said: "Advanced healthcare systems around the world are struggling to deal with the perfect storm of spiraling costs allied to rising patient expectations, more expensive treatments, and the consequences of dealing with ageing populations and chronic lifestyle diseases.
"This vast healthcare sector where patient care systems have remained largely unchanged for decades is experiencing a seismic shift in funding and technology innovation. The customer care and logistics expertise that comes with Amazon's market-moving plan to offer healthcare services is an indication of just how big this shift is going to be," continued Simnett.
Other key points from the Hampleton Healthtech M&A Market Report:
Bertelsmann's Relias Learning and Royal Philips led the buyer table, with seven acquisitions each over 30 months
Of the five announced deals in the Medical Hardware category, three involved a private equity buyer. The largest disclosed deal was the acquisition of Servelec Group, a UK-based automation systems & healthcare software firm, by pan-European buyout fund, Montagu, for just under $300 million and 3.6x revenue
Indian investors ramped up spending when the country's government introduced a new National Health Policy aimed at raising public health spending. Indian investors quickly contributed to two of top ten highest valued deals in the Health IT services and BPO space, including Tech Mahindra, the Indian IT Services, outsourcing & IT consulting group, paid $89.5 million upfront for an 84.7 per cent stake in CJS Solutions Group LLC, a US-based healthcare information technology consulting company. The remaining 15.3 per cent stake is to be acquired of a period of three years at an enterprise value of $110 million.
As for the coming year, Hampleton expects a raft of new players into the healthcare M&A market, driven by the likes of Amazon, Apple and Google, which have access to consumers, devices, data and vast resources to drive change even in a highly-regulated market.
Hampleton anticipates that the incumbents' response to new competitive pressure will be to increase the intensity of their M&A activity with a resulting upward pressure on valuations.
Hampleton healthtech M&A expertise
During the period, Hampleton advised on the sale of BaseCase Management GmbH, a data visualisation software as a service (SaaS) company, headquartered in Berlin, Germany, with offices in New York, on its sale to Princeton, New Jersey-based Certara, the global leader in model-informed drug development and regulatory science.
As budget pressure on healthcare providers increased, the healthcare industry is under increasing pressure to demonstrate the value delivered by new medications and devices. BaseCase's interactive platform improves how life science companies communicate and present that value, whether to C-suite executives, physicians and healthcare providers, or payers and health authorities.
---
Field dominated by old players ripe for technology disruption
Amazon's market-moving plan, announced at the start of 2018, to offer healthcare services, alongside Berkshire Hathaway, and JPMorgan, is the surest sign yet that something big is brewing in the Healthtech market.
M&A and investment in Healthtech, which uses technology to improve the delivery and consumption of care, accelerated last year. Driven by profound changes in society and advances in technology, the demand for software, IT-enabled services, as well as high-tech devices, provided a strong boost to dealmaking and the provision of healthcare.
Spanning life sciences, biotech and medtech, the vast sector is experiencing a seismic shift in the funding and modernization of a broad range of assets from consumer-facing apps and more advanced technology for healthcare workflows to electronic healthcare records and machine-learning backed data for disease prevention, communication services and host of other demands.
Key reasons behind the pace of change in the merging of the medical and tech industries include global health and population trends, as ageing societies put pressure on public health services. Moreover, with regulatory changes fuelling growth in the North American market, and as customers place increased focus on apps and wearable tech targeting their personal health, the world of Healthtech is fast evolving to meet this opportunity.
As a result, the perfect storm of rapidly converging digital technologies and societal changes, coupled with the entrance of large tech giants will increasingly make it an imperative for healthcare and medical systems to innovate and provide improved outcomes at lower costs.
Total number of Healthtech M&A deals 2013 - 2017
M&A summary
Values and valuations on the rise
A wave of deals delivered disclosed amounts of nearly $9.5 billion, up fourfold from 1H 2017 and up 140 per cent year-over-year, giving the year 2017 the highest aggregate of disclosed values on record.
The second half-year deal count came in at 100 transactions, which was slightly lower than the peak seen in 1H 2016, but higher than the prior half-year. The strongest gains by both deal count and value were in the Healthcare Vertical Software sub-sector, which accounted for nearly half of the half year's total deal values and transactions.
After hovering around the 2.1x mark, the trailing 20 month revenue multiple climbed to its highest ever level, settling at 2.8x, while the EBITDA multiple remained stable.
Private equity buyers eclipse 2016 activity
Private equity investors have gradually stepped up their investment in Healthtech providers and are a growing force in the industry, particularly in the Medical Hardware segment and among some of the larger ticket deals.
If KKR-backed Internet Brands' purchase of WebMD for $2.8 billion is anything to go by, this sector could be braced for an incoming wave of consolidation as portfolio companies seek to add Healthtech solutions to their wider offering.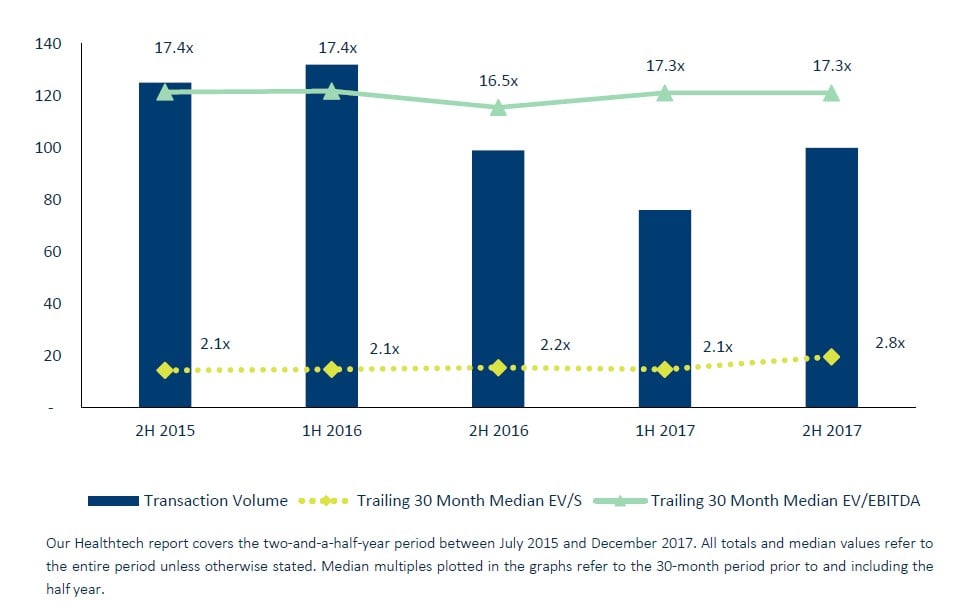 ---
Download the full Hampleton Healthtech M&A Market Report here: https://hampletonpartners.com/hampleton-partners-healthtech-m-and-a-market-report-2018
About Hampleton Partners
Hampleton Partners is at the forefront of international Mergers and Acquisitions advisory for companies with technology at their core. Hampleton's experienced deal makers have built, bought and sold over 100 fast-growing tech businesses and now provide hands-on expertise and unrivalled international advice to tech entrepreneurs and the companies who are looking to accelerate growth and maximise value.
With offices in London, Frankfurt and San Francisco, Hampleton offers a global perspective with regional and sector expertise in: Automotive Tech, IoT, AI, FinTech, Hi-Tech Industrials, Cybersecurity, VR/AR, HealthTech, Digital Marketing, Enterprise Software, SaaS & Cloud, E-commerce. Download sector reports here: https://hampletonpartners.com/research/