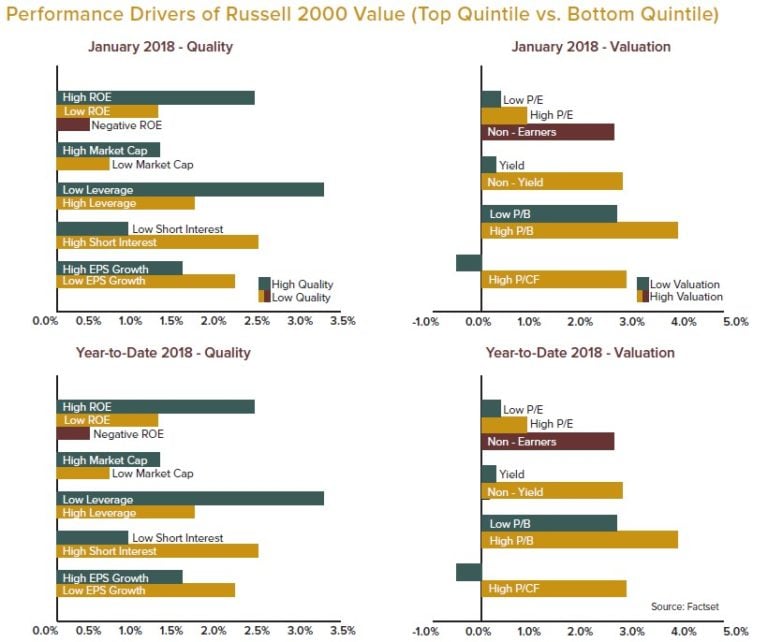 Given the significant uptick in volatility since the close of January, this may seem like old news. However, consistent as we are, I wanted to share with you our January review of U.S. Small Caps. Below are some highlights.
Picking up where 2017 left off, January marked the strongest start to the market since 1989.
Continuing another theme from 2017, Growth outperformed Value.
With analysts updating estimates to reflect tax-reform, growth expectations have begun to rise – leading to decreasing valuations within small caps, which were still trading at a 12% premium to large caps.
Rising interest rates helped those firms with lower leverage.
62% of Value managers outperformed in January.
Key Points
Corsair highlights SPAC FG New America ahead of OppFi merger
Corsair Capital highlighted its investment in a special purpose acquisition company in its first-quarter letter to investors. The Corsair team highlighted FG New America Acquisition Corp, emphasizing that the SPAC presents an exciting opportunity after its agreement to merge with OppFi, a leading fintech platform powered by artificial intelligence. Q1 2021 hedge fund letters, conferences Read More
The market is off to its strongest start since 1989 as January picked up right where 2017 left off. U.S. small caps continued to march forward, returning 2.6%. This month, the market's performance was shaped by $50B in ETF flows, increased volatility, rising interest rates and a weakening U.S. dollar. For over 400 days in a row, the S&P 500 has closed within 5% of all-time highs, breaking the previous record of 394, which was set in the mid-1990s.
Last year's key themes continued to lead the market in January as large outperformed small and growth beat value. Though a strong absolute return to start the month, U.S. small caps' 2.6% return could not keep pace with its larger brethren, which returned 5.7%. After a dominating performance last year, Growth, which outperformed Value by 14.4%, continued its market leadership, besting Value by 2.7%.
With analysts updating estimates to reflect tax-reform, growth expectations have begun to rise, leading to decreasing valuations within small caps. Even with this, small caps trade at a 12% premium to large caps, which is relatively high compared to the historical average of 5%. With weaker relative performance and strong revisions, the Russell 2000 Value Index (R2KV) now trades at a forward P/E of 17.8x, well below the level seen in December of 18.8x. On the other hand, the Russell 2000 Growth Index (R2KG), who has seen significant outperformance against the R2KV, saw its P/E increase from 23.5x to 23.7x since the end of the year.
The performance discrepancy between Growth and Value was driven by two factors: increasing interest rates creating a bond-proxy sell off and increased speculation of M&A within biotechs, driving the Health Care return. Interest rates are rising based on better economic growth and higher inflation, which ultimately hurt those sectors that benefit from lower rates, Utilities, REITs, and Staples, all of which are overweights in Value compared to Growth. Furthermore, Health Care, a significant weighting in Growth relative to Value, returned almost 10%, fueled by biotech returns. Energy and metals & miners also proved victorious in January as the reflation trade started to gain momentum.
When interest rates rise, companies with lower leverage typically outperform, which was the case during January. With biotechs, Energy, and metals & miners performing well this month, non-earners were the big winner. Once again, valuation factors did not work. Dividend yield was out of favor this month and has been for quite some time. The market also favored companies with higher short interest.
With rising rates and increased volatility, active managers performed well in January. Managers tend to benefit from higher weights as the group is underweight bond-proxies, i.e., Utilities, REITs, and Staples, all of which, underperformed during the month. For the month, 44.6% of small cap core managers outperformed their relative benchmarks, while Value and Growth managers fared better with 62.4% and 64.1% outperforming, respectively. For the last twelve months, figures are slightly below  anuary's results as 19.4% of small cap core managers outperformed and 54.1% and 47.5% of Value and Growth managers bested the benchmark, respectively.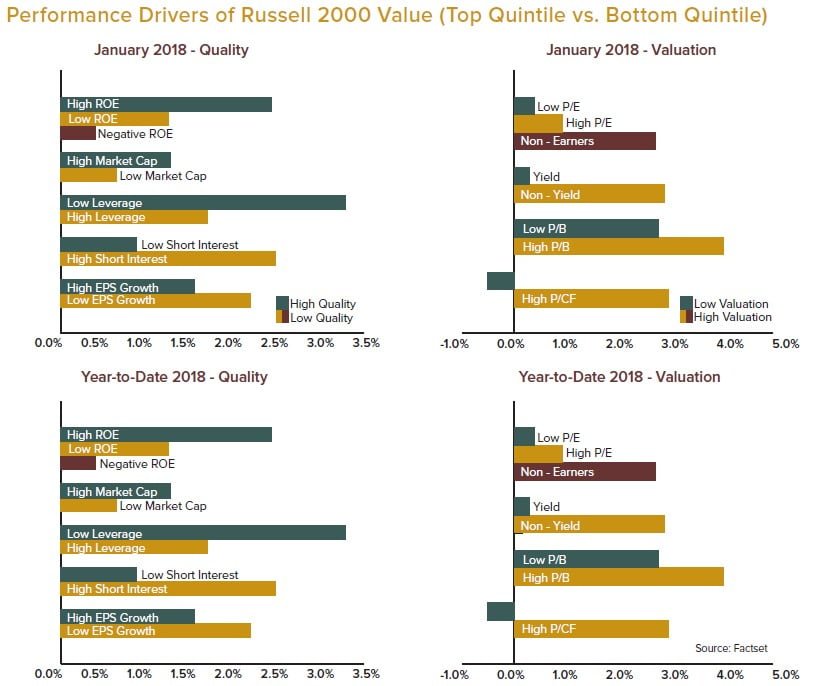 About Opus Capital Management
Opus Capital Management, based in Cincinnati, Ohio, is a 100% employee-owned registered investment advisory firm specializing in high-quality investments. Opus offers separate account management for public funds, corporations, endowments, foundations, Taft-Hartley and registered investment companies.
Opus' investment solutions leverage decades of experience discovering value in high-quality companies and include:
Small Cap Value Plus
International Small Cap
Microcap Value
Small Cap Value
Follow Opus on LinkedIn and Twitter, or subscribe to the Insights Blog, for regular updates and insights from the firm's portfolio managers and research analysts.